Intercultural Business
A Culturally Sensitive Path to Achieve Sustainable Development in Indigenous Maya Communities
Abstract
Under the premise that the lack of economic growth is preventing the achievement of sustainable development in poor indigenous communities, this paper analyzes, and builds upon, the cultural bases of successful and unsuccessful local businesses, and presents a conceptual framework that helps to understand the differences in the processes that indigenous Yucatec Maya and nonindigenous people follow in their business. Observation and induction, using Western terms, seem to be at the core of the cultural process of coexistence, a driving mechanism that explains the success of local indigenous businesses. When coexistence is replaced by competition, a dominant paradigm that guides nonindigenous commercial processes, the community businesses have greater probabilities to not succeed. Understanding cultural processes related to business could help to design public policy and programs that can provide the economic growth needed to achieve sustainable development in poor indigenous regions.
Keywords
Intercultural business 
Sustainable development 
Intercultural education 
Yucatec Maya 
UIMQRoo 
Introduction
Soon after the Brundtland Report in Rio, 1987, Mexico fully embraced the concept of sustainable development . Although in 1983 Mexico officially created the Secretary for Urban Development and Ecology, it was not until 1988 that an environmental legislation was decreed (Ley General de Equilibrio Ecológico y la Protección al Ambiente, LGEEPA); the idea was to promote economic growth under the concept of sustainable development (Escobar Delgadillo 2007). Almost 30 years later, in 2016, with a population of 125.4 million people, Mexico's economy represents 1.67% of the world's GDP, and is considered the 15th economy (ProMexico 2017).
On the other hand, the indicators of poverty in Mexico show little or no progress for a large segment of the population. For example, the report presented online by CONEVAL (2017), the Mexican council that evaluates social development as a result of public policies, indicates that in 2010, 11.3% of the population in Mexico was in extreme poverty, and 46.1% in poverty; in 2014, the population in extreme poverty declined to 9.5% and poverty was present in 46.2% of the population. Specifically, for the state of Quintana Roo, in 2010, 34.6% of the population was in extreme poverty and 6.4% in poverty; in 2014, extreme poverty was present in 35.9% of the population and 7:0% was in poverty. The same trend is still present in recent years (CEFP 2015). Using the Human Development Index for Indigenous Population in Mexico, Schmelkes (2013) reports a value of 0.7057, as compared to 0.8304 for the nonindigenous population; the trend is similar regardless parameters of education, health, income, and jobs. Prior to the embracement of sustainable development, 1950–1990, poverty was a great challenge for development in Mexico (Lusting and Székely 1997).
According to Merchand Rojas (2011), Mexico has promoted economic growth as a strategy to achieve sustainable development , under the premise that both are not incompatible, and financial resources are needed for development. However, so far in Mexico there is still highly unequal economic growth (Rodil Marzábal and López Arévalo 2011), there are few acknowledged pockets of sustainable development (De la Rosa Leal 2014), and several praises to indigenous communities for the sustainable management of their natural resources (García Frapolli et al. 2008; Toledo et al. 2007).
In 2010, OECD presented several key policies to achieve sustainable development in Mexico. In the economy section, this report recommends to "continue strengthening competition legislation, trough Senate passage of the current reform initiative, and facilitate implementation of the proposed changes"; it also devotes a segment on competition as a driving concept for the economy (pp. 17–20), and for the inequality section recommends the "replacement of subsidies by cash transfers for the poorest," as well as "to promote rural development, strengthening collaboration among numerous actors involved" (p. 23). Achieving financial inclusion, fighting poverty in other words, has been the target of several international organizations, thus acknowledging the importance of economic growth for sustainable development. Klapper et al. (2016), on behalf of the Consultative Group to Assist the Poor (CGAP) , and the United Nations Secretary General's Special Advocate for Inclusive Finance for Development (UNSGSA) , present a set of priorities to articulate actions in order to achieve a vision for a sustainable world in the year 2030. Access to a bank account and digital transactions for poor people are the strategies presented for financial aid to work better than in the past. One of the examples Klapper et al. (2016) use to sustain their strategies is the work by Angelucci et al. (2015), which demonstrated for Mexico that access to microcredit increased the ability of microentreprenours to cope with risk.
In 2001, Deruyttere presented a report for the Inter-American Development Bank (IDB) showing a strong correlation between poverty and indigenous ethnicity. This was the bases to promote investment from IDB not only for reducing negative impacts of projects financed by them on indigenous territories but to include opportunities for social and economic advancement in indigenous populations. With this approach, they achieved good levels of success in areas of intercultural education , land tenure, and management of protected areas. Basically, the strategy was to articulate development with participation of indigenous stakeholders. Deruyttere (2001) also presents the concepts of intercultural economy and intercultural environmental management, which are the result of the interactions between the indigenous system with the conventional [Western] market-driven system (pp. 9, 10).
Based on the above literature reviewed, poverty is a limiting factor to both economic growth and sustainable development in Mexico; thus, social entrepreneurship and social responsibility are at risk. The examples of successful strategies to overcome poverty, mainly based on public participation in the process, are not having the desired impact. Assuming that policies and strategies for economic growth and sustainable development in indigenous communities have been based on Western thinking, not understanding the cultural differences, and thus not having the expected results, this contribution examines examples of businesses in indigenous Yucatec Maya areas, and identifies the driving concepts that explain the success in the resilient ones. When those concepts are substituted by Western thinking, the businesses have greater possibilities to fail.
Trade and Commerce in Pre-Hispanic Maya
Trade and commerce were not strange to many indigenous civilizations. The sophistication included routes, products, timing, exchange, and the like, as described in a book published by Long Towell and Attolini Lecón (2009) for the Chichimeca, Maya, and Nahua people, all inhabitants of Mexico. Hutson (2017) edited a book that provides details of commerce and trade in ancient Maya times based on experiences from the Chunchucmil community in northwest Yucatan. In the description of commerce among the Classic Maya, Hutson et al. (2017) confirmed the hypothesis established by Rathje in 1971, who challenged the paradigm held in the field of cultural ecology, that complex societies emerged only in areas with environmental heterogeneity. The civilization of the Classic Maya in the Yucatan emerged, in an apparently homogenous and resource-poor environment, because the cooperation of households, especially for resources located far away from their communities. To Hutson et al. (2017), Chunchucmil was a gateway community for much of the northern lowlands, trading different goods originated in faraway places like the Gulf coast; they claim that competition among quadrangles (community marketplace like) engendered cooperation between them and households by sharing prosperity. This view of commerce among the Maya does not follow the two-tiered model of Maya economies that has prevailed in past decades, meaning managerial models or political economy models, both representing a Western view of a non-Western society, as described by Brumfiel (1994).
Studying the commerce among the pre-Hispanic Maya, Attolini Lecón (2009) points out that once the Maya adaptation to their great biodiversity was the specialization of diverse products that were concentrated and distributed strategically. In this system, a sophisticated network of terrestrial, fluvial, and marine routes was developed; and the driving concept was the exchange of products, needed by their communities, rather than price or market.
The concept of community market place developed by the Maya, and other indigenous cultures, is still present all over Mexico. It is, for indigenous communities, the place for social and economic activities, for exchange of goods, where families could sell or exchange their products with other families, share news, ideas, or knowledge (King 2015; Silva Riquer and Escobar Ohmstede 2000). A great variety of products are available in a market place: fruits, vegetables, roots, plants, and transformation of them for food or other house needs. These products are harvested mostly in home gardens and milpas (Mariaca Méndez 2015), two agroecological systems that have provided most of the food for the Maya, and play a critical role for food sovereignty and sufficiency in the culture (Rosado-May 2012b).
Other evidences of trade and commerce in the Maya culture are in the religion realm and in the language. Ek Chuah (Ek means star, Chuah means black), was the God for the merchants, as well as for the travelers and the cacao (Attolini Lecón 2013). Cacao beans were once used as currency by the Maya (Vail 2009, p. 3). In present times, the words "buy" and "sell" exist in Maya, maan and koonol, and are widely used; according to Gómez Navarrete (2009), the Maya have words for trade (koonol), for the initiative to start a business (chumbesik), for exchange of goods and bartering (k'ex, paklan, jeel). On the other hand, it is very common to hear the word meyaj, meaning work, but in two contexts; one is múuch' meyaj, meaning community work, usually nonpaid job, and only meyaj, mostly meaning a paid job. Although there is no solid evidence on how long the words maan (to buy) and koonol (to sell) have been used by the Maya, whether they are of pre-Hispanic of post-Hispanic origin, it would be safe to assume that the words maan and koonol are adaptations of the language to the system of commerce brought by the Spaniards. The other words reflect cultural attitudes for trade and commerce in pre-Hispanic times.
Based on the research on pre-Hispanic trade and commerce, it is possible to argue that the Maya reached a sophisticated and efficient system that built an important economy (Storey and Widmer 2006) and use concepts such as market, initiative to commerce, trade, and bartering, among others, to name the processes that support their commerce and economy. Thus, there seem to be a contradiction between a long tradition of successful trade and commerce in pre-Hispanic Maya communities and poverty in present days for lack of successful business.
Since the words that describe those concepts are still in use, it is possible to say that the cultural bases that sustain the processes of what we now call business are still in effect and have not received sufficient attention. This assumption can explain the success or failure of local businesses and government programs aimed at increasing the economic growth as an important step to achieve sustainable development in indigenous communities.
Trade and Commerce in Modern Yucatec Maya Communities, Implications for Sustainable Development
Modern Mayas, even in poor communities, have a great diversity of goods that are used for trade and commerce. Most of it is not visible but carries quite a potential for increasing the economy of their communities. The main sources are natural, forest and lakes or cenotes, and managed ecosystems, home gardens and milpas (See Ford and Night 2010 for details about Maya milpa).
One of the first researches on the commercialization of traditional vegetables grown in home gardens was reported by Rosado-May (1985) for Maya Chontales in Tabasco, Mexico; in the dry season, with no irrigation, a total of 51 species were sold in local market. According to a review of the literature by Toledo et al. (2007), there are between 2,500 and 3,000 plant species in Maya forest of the Yucatan Peninsula, and around 900 of them are known to be used for different purposes; home gardens may be from 500 to 5,000 m2 and have between 50 to 387 species including plants and animals; the milpa system may have up to 50 plant species for human use, mostly for food. In addition, the Maya people produce honey and other products from bee keeping practices that include European and stingless bees, as well as hunting and fishing; around 24 animal species have been documented in their hunting practices. In communities with water bodies, 14 fish species have been recorded, mostly for food, and a few species of small turtles and crocodiles.
A study in a Maya community, Punta Laguna, Quintana Roo, indicates that typically 52.6% of the annual work of a farmer is devoted to produce goods for self-consumption; the remaining 47.4% is for creating products (most likely to sell), providing services (e.g., house construction), or being employed. The milpa gets about 25% of the annual work, whereas the home garden gets around 20%; both activities represent about 40% of the return flow (based on the economic value of the goods and services produced), whereas honey bee products, handcraft, services and temporal employment represent another 40% (Toledo et al. 2007; García Frapolli 2006).
The above information indicates a high level of understanding the natural and managed ecosystems by modern Yucatec Maya . It also implies risks to a system that can be considered sustainable, if the equilibrium in the appropriation of resources in both, the natural and management ecosystems, achieved over time, is disrupted. One possibility for disruption is by increasing commercial activities using their natural resources as bases for economic growth; however, those studies do not offer insights about trade and commerce and potential impacts, especially when the government programs created to promote business in indigenous areas do not consider local cultural elements. Thus, learning insights about the processes on trade and commerce in the economy of modern Maya families is critical, and it is one of the objectives of the Intercultural Business Program at the Intercultural Maya University of Quintana Roo (UIMQRoo in Spanish).
Based on the pedagogy expressed by Rosado-May and Cuevas Albarrán (
2015
), students and faculty have conducted research on the business processes in several Maya communities, to identify processes that validate the move from the individual to the collective approach important for achieving sustainability. The students enrolled in the Intercultural Business Program at UIMQRoo , in the years 2015 and 2016, come from 21 Maya communities. Of those, five communities representing a wide array of population, based on the 2010 census, were chosen to learn about how trade and commerce are carried out and how important they are for the economy in the life of families. The communities are José María Morelos, with 11,750 inhabitants; Tzucacab, with 9,967 inhabitants; X-Hazil Sur, with 1,422 inhabitants; Kankabchen, with 1,083 inhabitants; and Miguel Hidalgo, with 676 inhabitants; (Fig.
1
). X-Hazil Sur and Miguel Hidalgo have a lagoon.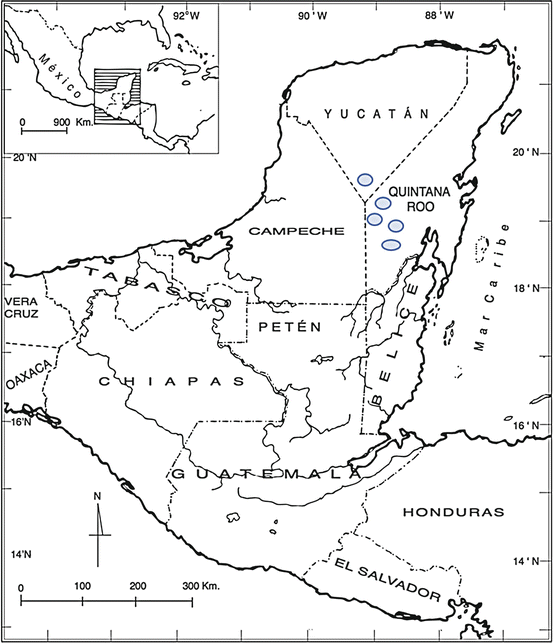 Using a participatory research technique (Bergold and Thomas 2012), the first action was a diagnosis, collecting quantitative and qualitative data on activities related to the economy of the community. This process was facilitated by the fact that the students were natives of the community surveyed. After more than a year of work, all the students and faculty gathered together and used a focal group technic (Morgan 1997) to create a general understanding of business processes for each of the Maya communities chosen.
The first objective was to determine the percentage of families/community that carry out activities related to trade or commerce, both formal and informal. Table
1
shows very interesting results: between 80% and 90% of families in those communities are actively involved in trade or commerce; not only it was a surprising high number, but between 35% and 55% of the families generate through commerce at least 40% of their income. Between 20% and 60% of families, depending on the communities, transform primary products obtained from natural or managed ecosystems in their communities, for selling. Particularly in handcrafting, from 5% to 15% of families bring external elements in important quantities to transform them into products that are sold after the transformation (e.g., the making of hammocks uses tread brought from larger cities).
Table 1
Percentage of families with activities of trade or commerce per community. In parenthesis, under each community, the population according to the 2010 census
Families with activities of trade or commerce

Community

JMM (11,750)

Tzucacab (9,967)

X-Hazil Sur (1,422)

Kankabchen (1,083)

Miguel Hidalgo (676)

Total

90

80

85

90

90

T/C representing at least 40% of their income

35

55

45

30

50

T/C that transforms primary products

43

60

30

20

40

T/C that uses important amount and number of elements from outside their community

15

15

10

5

10
Knowing that trade and commerce is widely spread in Yucatec Maya communities, the next objective was to determine the role of the natural and managed ecosystems in the economy of the families. In this case, the figures shown in Table
2
are the combination of all communities, showing the average percentage of families using, selling or transforming for sale the primary products, and the range of percentages for each case. The data indicates that both natural and managed ecosystems are still very important for modern Yucatec Maya communities. From the forest, wood is a resource that is used heavily for self-consumption, for selling or transforming and then selling (e.g., charcoal); not less than 50% of the families depend on the forest, either for meat, plants, or even raising their cattle. Home gardens and milpas are also very important, obtaining all sorts of products, including animals, plants and different parts of plants and there is a combination of timing for harvesting goods. The milpas are the main source of primary goods, such as grains, fruits, and vegetables, during the moths of May–September, whereas the home garden provides all year round. Between 2% (for honey) to 100% (for fruits) of families, use products from those managed ecosystems for self-consumption, whereas for selling the range is between 2% and 55% of the families. The range of families that transform the primary products and then sells them (e.g., corn grain into corn dough or food) goes from 0.1% (honey) to 48% (wood).
Table 2
Sources and use of products in five Maya communities (José María Morelos, Tzucacab, X-Hazil Sur, Kankabchen, and Miguel Hidalgo). The values indicate the average and the range of percentages, in parenthesis, of families in the five communities studied. The tendency is that the larger the figure, the smaller the community
Source

Parts

Use

Self

Sell/trade

Transform and Sell/Trade

Forest

Hunting (meat, skin, teeth)

35 (30–40)

49 (15–80)

35 (20–80)

 

Soil

41 (10–100)

7 (5–15)

0.7 (0.5–1)

 

Wood

70 (30–95)

50 (30–85)

48 (10–90)a

 

Vines

4 (2–7.5)

0.8 (0–2)

0.2 (0–0.5)

 

Whole plant

8 (5–10)

6 (4–15)

3 (3–7)

Lagoonb

Fish

16 (0–50)

18 (0–60)

2 (0–10)

 

Shell

6 (0–30)

0 (0–0)

0 (0–0)

 

Turtles

3 (0–15)

0 (0–0)

0 (0–0)

Home garden

Animal

100 (100–100)

51 (30–85)

33 (5–80)

 

Bee keeping

2 (1–3)

2 (1–3)

0.1 (0–0.5)

 

Whole plants

65 (50–80)

82 (20–50)

14 (5–30)

 

Leaves

85 (70–100)

34 (30–35)

19 (10–30)

 

Roots

28 (10–50)

10 (5–15)

10 (5–20)

 

Fruits

100 (100–100)

55 (40–80)

26 (15–50)

 

Vegetables

50 (20–70)

30 (20–50)

10 (5–20)

 

Seeds

8 (5–10)

5 (3–5)

5 (3–8)

Milpa

Animal

65 (30–90)

35 (20–60)

12 (5–20)

 

Bee keeping

26 (20–40)

24 (20–35)

2 (1–5)

 

Whole plants

6 (3–5)

3 (2–5)

2 (1–5)

 

Leaves

34 (20–50)

21 (20–25)

16 (10–25)

 

Roots

33 (20–40)

23 (10–30)

8 (5–15)

 

Fruits

45 (40–50)

43 (30–50)

6 (5–10)

 

Vegetables

53 (40–80)

41 (20–80)

7 (5–10)

 

Seeds

63 (40–80)

54 (35–80)

25 (20–40)
Knowing the large percentage of families conducting some activity related to commerce (Table
1
) and having identified the sources of the primary products (Table
2
), the next objective was to have an idea of the diversity of sources of income from transformed products traded or sold in the Yucatec Maya communities studied. Table
3
presents a list of goods resulting from transforming products from natural and managed ecosystems that are then used for trade or commerce. All the products were grouped in four categories: food, a total of 106 possibilities were recorded; household needs (e.g., firewood), a total of 11 possibilities were recorded; handcraft (e.g., clothes, hammocks), a total of 83 possibilities were recorded; and services (e.g., use of medicinal plants for health care), a total of 90 possibilities. The information on Table
3
indicates that there is a great diversity of goods that are sold resulting from transforming primary sources obtained from natural or managed ecosystems, a total of 290, but could be more with more detailed studies or more communities studied. A transformed product has changed the original shape, look or presentation. For instance, a corn seed, original, can be transformed in tortillas, corn dough, drinks, or different types of food. In addition, people use products from somewhere else (e.g., threads, fabric, jars) to make hammocks, clothes, handcraft, or preserved food, among other goods.
Table 3
Goods resulting from the transformation of products from natural and managed ecosystems, for trade and commerce identified in five Maya communities
| Food | Household needs | Handcraft | Services |
| --- | --- | --- | --- |
| Traditional food ready to eat (at least 12 varieties) | Firewood | Clothes for adults, children, men, women | Palapa (hut) construction (at least 3 types) |
| Traditional beverages ready to drink (at least 9 varieties) | Vines (liana) | Shoes (for men and women, adults and children) | House furniture (at least 9 types) |
| Tortillas | Lumber (madera) | Hammocks (at least 10 varieties | Milpa management |
| Corn dough | Gourd for drinks (Jícara) | Earrings (at least 10 varieties) | Grafting (at least for 15 species) |
| Chili sauce (at least 20 types) | Gourd for tortillas (lec) | Necklaces (at least 10 varieties) | Weeding |
| Seasonings (at least 10 varieties) | Scourer | House ornaments (at least 10 varieties) | Health (use of at least 35 species of medicinal plants) |
| Annato paste (colorant) (at least 5 varieties) | Charcoal | Religious symbols (at least 10 varieties) | Massages (for pregnancy, muscle pain, stress) |
| Snack (at least 10 varieties) | Water container | Kitchen and bathroom accessories (at least 10 varieties | Delivering babies |
| Dried and salted meat (at least 8 varieties) | Broom | Wooden figures (at least 10 varieties) | Therapeutic cleansing (using at least 3 types) |
| Sweets (at least 20 varieties) | Baskets | Dream catchers (at least 5 varieties) | Chiropractic (for at least 8 different injuries) |
| Preserved food, fruits and vegetables (at least 10 varieties) | Kitchen utensils |   | House cleaning |
|   |   |   | Baby sitting |
|   |   |   | Translation Maya-Spanish-Maya |
|   |   |   | Escort for shopping |
|   |   |   | Masonry |
|   |   |   | Praying (at least for 5 diverse ceremonies) |
| ∑ 106 | ∑ 11 | ∑ 83 | ∑ 90 |
Most of the selling or trading, either the original or transformed products, is informal; there are no records of them. Through participatory observation, it was possible to determine that the transformed products, from raw meat, or fruits, or leaves, or roots, or any of the parts produced in the milpas or home gardens, or collected in the forest, are in the form of edible food, sauces, seasoning products, colorants, ingredients for food, handcraft, or services.
This information and the data from Punta Laguna, presented earlier, seem to support Toledo (2003), regarding the appropriation of nature, in which the household articulates several activities carried out by the farmer and his/her family, for both self-consumption as well as for trade and commerce to meet family's needs. This point of view demands decisions not only regarding a sustainable management of their eco- and agro-eco-systems, but also the use of time, the organization of activities and participation of family members, the adaptations to changes around the community, and participating in community endeavors, including religious, political, and social activities. All of them reflect cultural values which in turn rest on concepts that need to be identified and described. This is the context in which trading and commerce are happening in Maya communities.
It is important to mention that the use of family as the unit of study in a community resulted not only from literature like Toledo (
2003
), and Morrison et al. (
2014
), but also based on observations and opinions from the students participating in the research. Thus, the use and distribution of time among family members, in activities related to transforming primary products to trade or sell, became the next objective. On Table
3
four groups of transformed products were identified; Table
4
shows the range of time devoted by members of the family, husband, wife, and children for production of food, household needs, handcraft or providing services, all for transforming primary products from natural or managed ecosystems. In general, the wife dedicates more time to each of the four groups; the husband does not allocate as much time because of his activities in the milpa or the forest or community services. Because of schooling, the children also participate a few hours in each of the four groups. Generally speaking, there is a family consent on the distribution of time and activities. Apparently, families that reach some kind of equilibrium in their distribution of time and activities are more able to succeed in selling their products.
Table 4
Fluctuation of time, minimum-maximum number of hours, devoted per day by each family member to activities related to business. Values reflect all five communities
| Business | Husband | Wife | Children |
| --- | --- | --- | --- |
| Food | 0–4 | 1–5 | 0–1 |
| Household needs (e.g., furniture) | 0–3 | 0–2 | 0–2 |
| Handcraft | 0–3 | 1–4 | 0–2 |
| Services | 0–6 | 1–5 | 0–3 |
The above information indicates that the modern Maya do have an economical system as a framework for their activities and carry out activities related to trade and commerce. Whether that framework facilitates or inhibits their potential for commerce and business, to promote economic growth and sustainable development , needs to be examined considering cultural processes. This is a very important aspect to consider, usually overlooked; if the programs aiming at promoting economic growth to achieve sustainable development are implemented in areas where the culture is different than the one from which the program was originated, then the possibility for success is very limited. Cultural differences lead to epistemological differences, which can explain lack of success of centralized policies designed to promote sustainable development, as demonstrated by Haenn (1999) and García-Frapolli et al. (2009), in the field of natural resources conservation.
In other words, trade and commerce, considered business in modern world, do exist in Maya communities, but under different processes and can be important component to achieve sustainability in the area. This paper claims that the potential is there for economic growth and sustainable development , but the cultural processes need to be better understood. This statement seems to contradict the present conditions of poverty and lack of economic growth that prevent sustainable development in Maya communities. How do they work? How are they different from conventional businesses? How to explain the failures of business in Maya communities? How do successful businesses scale up? How are business innovation and social innovation incorporated in successful business? What can we learn from them and propose changes to government policies regarding sustainable development? This paper contributes to answer the above questions from a cultural perspective. The information presented in the previous section needs to be interpreted and complemented with local cultural bases. To do so, an intercultural approach was used to understand local cultural processes involved in trade and commerce in Yucatec Maya communities. The intercultural approach, developed at UIMQRoo , is described in the following section. Based on this approach, information about the processes behind modern trade and commerce in Maya communities is presented to identify the driving concepts of commerce in these communities, which are rooted in their culture, and can be the bases for economic growth to achieve sustainable development.
The Intercultural Model for Higher Education in Quintana Roo, Mexico, and the Intercultural Business Program
Mexico embraced the intercultural model for higher education based on the reform of Art. 2 of the Constitution, in 2001. The first intercultural university was created in 2004, in the state of Mexico; nowadays 11 states in Mexico, out of 32, have an intercultural public university. UIMQRoo was created in October 2006, but started academic activities in August 2007 with the goal to contribute significantly to the sustainable development of the Maya region. To do so, UIMQRoo developed a specific intercultural model for the Yucatec Maya based on the following working definition: "Intercultural education is the result of a process in which different systems of creating knowledge (local and western, e.g., scientific method) coexist in a safe environment, thus creating conditions for synergy and new knowledge that articulates the views and understanding of the cultures involved, to understand the same phenomena/issue" (Rosado-May 2015, p. 130). In 2012 UIMQRoo opened the Intercultural Business Program and offered a BA degree. One of the arguments presented to support the opening of this program was that the region had no encouraging signs of overcoming poverty, and another argument was that without proper economic growth there will be no opportunity to achieve sustainable development ; thus, there should be an opportunity to develop a new approach and paradigms on how to conduct successful business considering the cultural foundations of the communities in the region. These arguments assume that the indigenous Maya people are able to run business successfully, fight poverty, and increase their possibilities to achieve sustainable development , only if there is good understanding on how the cultural system, that supported successful commerce in the past and still present nowadays, can be incorporated in the training of future business people, intercultural business people.
For the intercultural business program, some of the most important components of the academic model are described next (see Rosado-May and Cuevas Albarrán 2015, for details). The students are selected mostly based on their interest on commerce, business, not necessarily using the results of the national admission test. To do so, the students take, in addition to the national test, a vocational test mostly designed to identify their ability to successfully face challenges. Also, whenever needed, the opinion of faculty in the program and leaders from the community where the student comes from are considered for admission. Although most of the students at UIMQRoo are from Maya communities, because it is located in a heavily populated indigenous area, the university is also open to students from other indigenous cultures or nonindigenous people as well.
Once the student is enrolled, and starts school (August) he/she must decide who from his/her community will serve as voluntary tutor (in Maya is called nool iknal, an elder who provides advice and guidance to young people). The university also assigns him/her an academic tutor. Thus, the student enters a system called iknal in Maya, which the Maya have used for centuries to provide excellent conditions for young people to learn and construct knowledge (for more details on this system see Rosado-May 2012a, 2017). The first academic year the students take courses designed to help them overcome issues that can limit their academic performance, and to help them to boost their self-confidence in their own culture, language, and knowledge system. They also have conditions to create, with other students from other communities, a network of support and problem solving, which substitutes the one he/she had built in previous years.
In 4 years, the student is trained to obtain the same competencies that students from other universities have, in business programs, but in addition he/she strengthens his/her abilities, competences, and knowledge on his/her own language and culture, which provides an added value that graduates from other schools do not have.
To receive the BA diploma in intercultural business, in addition to successfully complete all courses, a student must present and defend before an academic committee a written final report which is built upon the following steps (Rosado-May and Cuevas Albarrán 2015): (1) At the end of the first school year, in May, every student enrolls in a summer program, with credits, that takes place in his/her own community (June–July). He/she goes back full time with the objective to carry out a diagnosis on issues related to the business major. Each year a diagnosis is led by the academic program and sets goals with the purpose of collecting specific information, updating existing ones, or evaluating the result of programs financed mostly by the government. The students apply diagnosis techniques previously learned in class. Each student reports to a faculty assigned to a specific community, as well as to his/her nool iknal. (2) At the end of the second school year, every student goes back full time with his/her community, enrolled in the second summer program, with credits, with the objective of defining a project to carry out with the consent of the community. At the end of the summer the student must have decided, with the support of the community, a project that must be developed and presented to different agencies for finance. In this process, the student has the support of a faculty who could be, later, the head of his/her graduation committee. The topic of the project must be the result of the interest of the student, the interest of the community and the possibility to obtain financing. This is very challenging but very important for the student, he/she is getting trained in real aspects of life, applying his/her knowledge from the program and meeting the expectations of his/her community with university standards. Not easy at all, but critical for the success of the intercultural model. (3) During the 3rd and 4th year each student has the time to carry out the project, evaluate results and present a report to both, the community and the academic committee. The students have opportunities to start working on his/her project not only until the 3rd summer; they can start earlier. The class schedule, during school term (August–May), is designed to have Fridays free to work on the project, and maintain contact with their families and communities. The final report will be defended in a public event. If the student has completed successfully all courses load and defended successfully the final project, then a BA diploma is granted by the university.
The process described in the previous paragraph sets conditions for an intercultural process to happen. In the classroom, the students are exposed to knowledge and ideas from other cultural sources, different than the local one, and at the same time re-learn and strengthen his/her own. It is a process in which a lot of internal and external discussion happens. There is a re-connection, a re-encountering, a re-validation of the local knowledge; there is an inevitable comparison of the local knowledge with the external one, not necessarily to decide which one is best but paving the road to a new understanding of processes that had been hiding. For instance, recognizing the important cultural elements that explain attitudes and reactions to external knowledge and policies and decisions on how to overcome critical issues such as poverty, and thinking of alternatives that are not culturally biased represents a critical step in understanding complex social processes.
Having students working in their own community in a well-structured, but flexible process, trained on techniques like participatory action research, the intercultural business program has been able to obtain basic but critical information on the ways that trade and commerce, meaning business for the non-Maya, that have shed light on the cultural bases that support their system. This describes a complete process behind the exercises from which the data for Tables 1, 2, 3, and 4 were collected in five communities, José María Morelos, Tzucacab, X-Hazil sur, Kankabchen, and Miguel Hidalgo, that were described in the previous section.
The information described provides important insight about the context in which business, trade, and commerce is carried out in modern Maya communities. Important elements that can be considered culturally based identified thus far are the following: All family members are involved in all activities; diversification seems to be an important component of the strategy, both in terms of producing primary goods as well as their transformation for commerce; there is a well-designed schedule of activities per day and season.
To identify driving cultural concepts behind the commerce/business, interviews were conducted with people running business that are locally considered successful for at least 3 years, and people who have failed in business. Some business did not have government support and others did. The students interviewed the stakeholders in different moments, using an open format, understanding as much as possible of the whole process (e.g., the motivation/inspiration to start a business, reflections on the cultural conditions that helped to succeed or to fail, strategies for scaling up, strategies for innovating, and vision for the future) and emphasizing the cultural elements of the success or failure, including analysis of the language used in the description and evaluation of the process. The students then exchange their findings with other students from the same and different communities, and with faculty.
Case Studies
Five case studies were chosen that illustrate the cultural bases that explain successful entrepreneurship in Yucatec Maya communities. A brief description is provided below. Each case had to overcome several hurdles from both the government/institutional and the community settings. By making visible the positive elements of their success, culturally speaking, it is expected that public policy could be adjusted and thus create conditions for economic growth much needed to achieve sustainable development in indigenous areas.
(a)

JFCM, and his family, owns a chili sauce business, in Tzucacab, Yucatan, that has been in the local market for over 5 years.

Since I was a kid I liked to watch with lots of attention how my father and my mother used to sell things to other people. My mother was known for making a delicious chili sauce. Before the chili sauce business started, I had a food stand where I used my own version of the sauce. It did not take long for people to ask extra sauce to take home, then I decided to try selling it in small bottles. People liked it and gave me suggestions. In the beginning, we use plastic bags to give the sauce to people, then we use small jars. Although I based the recipe on the original from my mother, over the years I learned some tricks to make the sauce tastier. The sauce was a success, people who knew me started recommending the sauce to other people. With time, I tried using different containers to make the product more attractive and I talked to local business to have them selling my sauce. It seems to be working fine. My wife and I run the business, sometimes we get help from other people, 2 or 3, especially when some of us is ill or I am traveling, but we know those people, we trust them. We want it to be a family business, not to grow much, not because if we grow we need to hire accountant, deal with other retailers in other cities, but because that is how we feel our business should be, a family tradition. Knowing our customers, talking to them, and them trusting that we deliver a fine product is probably our secret to succeed. The original recipe has changed a little, but before we make a full production, we let our customers know and have them taste the new product, if they approve it, then we make the move for changing the whole production, a new generation. Nowadays I write down every formula for my children; in the future, they will decide what to do with the business. In the meantime, I encourage them to keep it in such a way that is family controlled, earning the confidence of our customers and getting to know as many as possible of them. Yes, I have been tempted to bring my product to Merida and other big cities, I go slow, take one step at the time, learn from customers and improve my product. I also have started other businesses; the idea is to diversify and have them connected. Here, in our community, I am not the only one selling chili sauce, there are at least three or four more, some of them from other cities; but so far, I do not have any problem selling my product, and I do not expect any in the near future, there seem to be enough room for all of us, none of us feel threated by the others.

 

(b)

FJMX graduated at UIMQRoo and earned a master's degree in Business in a conventional technological institute. He owns a couple of businesses in Tzucacab, Yucatan, in which he is applying an intercultural approach successfully.

Now that I understand more broadly the concept of business and learning about the role of culture in commerce, I realized that business runs in my family for at least two generations. My mother still sells food and my father has tried several business avenues. When I was a kid I was not sure what would I be in my adulthood. I used to help my family in different ways, mostly related to their business activities. I listened carefully how the conversation for each sale went and how my father and the customer agreed on a price for the product, only words no papers. Some of the goods were produced by my father and others he bought from somebody else. My father had other businesses, like selling food, he did not fully rely on his milpa. My mother and my brothers used to help in the milpa, in the house and in preparing the things that my father would sell. I tried different ways to make money once I grew up, one of the activities was selling chicken, but I wanted to have a more formal business. By observing the context, talking and listening to people about the activity of selling chicken, I realized that with patience I could have my own farm business selling chicken or turkey. I figured out how to introduce the product understanding the culture of my community. Today I run two business, with the help of close friends and relatives, producing turkey and watermelon. In both cases I combine my learnings from conventional education and local Maya knowledge. It is working well and looks strong for the next several years. It took me a lot of thinking to realize the difference between competition and coexistence. Competition is quite a strong driving concept in business that is hard not to relate to it; however, most successful businesses in Maya communities do not even think about competition. The word competition does not exist in the Maya language. People think about the well-being of others in their community when doing what we call business. In Maya, we use the word múuch' meyaj, which means working, collaborating, together, and applies to all activities in the community.

 

(c)

Several years ago, in 2001, in X-Hazil Sur, a Maya community located in the municipality of Felipe Carrillo Puerto, Quintana Roo, the state government promoted economic growth through the implementation of greenhouses to produce some chili species, tomatoes, coriander, and cucumber. The community accepted the government proposal as well as technical and financial support. Following is an account by RWPC, a native of X-Hazil and student of the intercultural business program.

Upon acceptance of the government's proposal, the community organized three groups, one of 14 women, and the other two of six men each. Each group had three large greenhouse structures. After less than two years one of the men's group basically quit, the other one was reduced to two members and the women's group was reduced to four members. The main reason for quitting were the high demand of work, very little earnings in the beginning, lack of technical support by the government, and, I'd say, not enough patience. After 16 years of work the remaining four women who decided to move on and make the project work, have been very successful. Their production is considered one of the best in the region. In the beginning, they sold their products to a state company, but now they sell to international retail stores. They explain their success basically because they knew that new projects require time and hard work to succeed, to be patient, something they learned from their parents. They used ways they learned from childhood to discuss and solve all kind of problems and make sound and collective decisions, including dealing with government requirements, community conflicts, technical skills for managing crops in greenhouses, accounting, personnel management and not making feel other community members that they were smarter or not appreciating the effort by others in the community to produce the same species. Talking to each other in an open and direct way, and willing to understand and to present solid arguments, helped greatly the process of understanding and solving many issues related to organization and management, because they trust each other. None of the women feel to be the boss or employee. In planting and harvesting season, they incorporated family members or close friends, trying not to treat them as employees but family. They also had to learn how to sell under contract to their big customers, not only using words. When their production is not enough to cover the expected demand, from areas such as Cancun or Playa del Carmen, big tourist resort areas, they talked to other producers in the community and treated them as equal as possible, sharing the market of their products. They had a long-term vision for their work, but not emphasizing the accumulation of capital but to satisfy their needs and provide well-being to their families and other community members.

 

(d)

In 2013, the federal government approached the community of Miguel Hidalgo, Quintana Roo, to offer financial and technical support to those women interested in bee keeping for producing honey, candies, and marmalades. Following is an account by GAM, a native of Miguel Hidalgo and student of the intercultural business program.

After listening to the government representatives, several women showed interest in working together; voluntarily 10 of them decided to be part of the organization. Only a few of them had some experience in bee keeping, but the government offered training, technical and financial support. They had to start from nothing, preparing the field, which was located way outside of the community; learning, and not getting income from the project for several months. Before a year went by, a few women quitted the project, and just after the first year, many more did, frustrated for having to work very hard with basically no income. There was a moment in which only three of the original 10 were still working on the project, my mother, my aunt and my mother's sister in law; that is when they thought of incorporating myself and a cousin, because the government agency demanded that the group should be at least with five women. When I joined the group, I had some years working on my BA in intercultural business. First I decided to learn, by listening, observing and participating for as much as I could during the days that I did not have to attend school, which is located about three hours away. At the university, I brought questions to understand business processes and I read about conventional business. I notice that there was something not very clear, the books would mention strategies, methods and concepts that were not present in the women's organization. For instance, there was no formal structure (boss-employees), the decision making was participatory, they were willing to take risks and decisions were made based on trust and instinct. They set priorities based on some kind of vision that they had and shared, first in making sure to learn about bee keeping, about handling the products, about transforming fruits into candies, and so on. This required a lot of patience, hard work, and commitment, all of which my mother and aunts had to develop when they were kids, working with their families. My cousin and I were also learning about those skills along with the technical part of bee keeping. Their strategies worked; today, a couple of years after I joined the group, we have three sites with 50 bee colonies each; in the beginning, they had 30 in only one site. They started selling the honey, almost door to door, looking for people to get to know them and trust their product, today they distribute honey and candies to not less than five communities. Business is doing well, people in my community acknowledge the hard work of my mother's group and respect them; the original women now wish to have another opportunity to develop their own business. With my studies at UIMQRoo, I have been contributing with ideas on how to expand, although slowly, geographically, and how to meet the criteria set by national organizations to register a mark related to our products, and the like. It seems to me that understanding different cultures we can figure out how best to successfully do business without imposing one upon the other.

 

(e)

Almost 40 years ago, a Maya mother started a small business in Felipe Carrillo Puerto, Quintana Roo, using coconut as the main ingredient to make empanadas for dessert. More and more people liked it, so the business became very important for the economy of the family. Years later, her older son moved to Dziuché and started a similar business, which has been around for not less than 25 years. Following is an account by LMY, a native of Dziuché, Quintana Roo, and student of the intercultural business program.

When I had to decide a project for my graduation, I chose the coconut empanada business that a close friend's family had been doing for several years in my hometown. I was curious to know how the system worked and how to make it better. At first I assumed that the business had no structure, no logic, and could grow much more and have greater earnings in a short period of time. My academic adviser cautioned me about this thinking and guided me to learn more about my own Maya culture. The reasoning that resonated in me was that if the business has been around for so long there is got to be an explanation which not necessarily follows the same logic that conventional businesses have. It is not because the empanada business has a well-structured system, nor it is because the brand is trademarked, nor it is because they are the best competitors in the region, nor it is because they have great facilities and effective marketing trough ads in papers, TV or online. I started to understand that the business runs smoothly because the family is well integrated and articulated, there is no need for a boss, everyone knows what to do, when to do it and how to do it so that things flow naturally; everybody relies on the other family member to do the actions that he/she should do in proper ways. The product is only sold in small community stores, not big business. This is not because the product does not have all the needed requirements to be displayed in big stores but because selling the product in community stores allows a closer contact with customers and thus learning about how to improve the product. The business has grown over the years but in a way that is not highly visible, stores from 21 communities now sell the products, without a contract. Not bad. After several interviews and participation in the process, I am learning that many aspects of the business, like its organization, management, quality and efficiency, are present but adapted to the local culture. There is no sense of competition, but to belong to the community; there is no vertical decision making, but more horizontal; there is no employee-boss relationship, but family and friendship ties; there is a system of improving the quality of the product by keeping close contact with customers, there is no need for advertisement trough regular media but the trust and mouth to mouth opinions about the products and relying on the community reputation of the family that runs the business. The business in Carrillo Puerto did not do as well as the one in Dziuché, they tried to go big and had the support from the government. I think that because they tried to compete with similar business they rushed their organization and production system but they were not prepared to fully leave behind a lot of their cultural principles; so, they failed. Based on this case, and other that I have heard from my classmates from other communities, I can perceive that there is room for improvement local indigenous business, using modern, western, concepts. Indeed, but I am still learning how to apply them without disrupting the traditional business system that has proven to be highly resilient.

 
Developing a Conceptual Framework
The construction of conceptual frameworks to incorporate businesses into sustainable development is not new; for instance, Schaltegger et al. (2011 p. 17) show interrelations between generic business model pillars (value proposition, customer relationships, business infrastructure, and financial aspects) and core drivers of business cases for sustainability (costs and costs reduction, sales and profit margin, risk and risk reduction, reputation and brand value); all in the context of market competition (p. 6). Competition is a powerful driving concept for businesses and development, according to a classic author (Porter 1990), and it is the bases for public policies (OECD 2010). But competition is not important in indigenous business systems. The findings by Morrison et al. (2014), in a report prepared for the Australian Research Council and Indigenous Business Australia, aiming at determining the factors influencing the success of private and community-owned indigenous business, suggest a new model of indigenous business development that involves helping early start indigenous business improve a range of business practices through in-depth skill development, mentoring and network engagement. They identify that indigenous enterprises play a critical role in indigenous economic, social, and cultural development; culture, networks, women, and mentorship play a critical role in business, in the context of family and social values. Indigenous business owners in Australia consider multiple criteria when measuring the success of their business venture, including conventional measures such as profitability and growth of business, self-satisfaction elements such as life-style and recognition, and contributions to the community (p. 142).
Based on the empirical information, quantitative and qualitative, presented in previous sections, and literature reviewed, there are elements to propose an initial conceptual framework to understand the differences between a business run successfully in Yucatec Maya communities as compared to conventional ones. The premise behind this exercise is that by understanding how successful business in indigenous areas work, policies and programs aiming at sustainable development would have better chances to succeed.
The first step toward the conceptual framework was to identify parameters that both successful and not successful indigenous business share, based on the interviews. Table
5
shows seven parameters: labor, motivation, role of observation (as described by Rogoff
2014
; Rosado-May
2017
), scaling up and increasing capital, cultural aspects based on community values, vision for the future, and time and schedule management. The contrast between successful and not successful indigenous business are very noticeable. The successful businesses have similar features like the ones described, for example, by Dana (
2007
), Morrison et al. (
2014
), Schaltegger et al. (
2011
); for instance, whereas family and community values play a critical role for successful businesses, employing people and competition are for the nonsuccessful ones.
Table 5
Differences between successful and not successful business in Maya communities
Parameter

Business

Successful

Not successful

Labor

Family or close friends

Hired formally

Motivation

Role in the community

Increase wealth

Role of observation

Very strong, comprehensive, holistic

Not relevant, rely on business plan

Scaling up, increasing capital

Slowly, only if there is no disruption in the production system and the vision

As soon as possible

Accumulation of capital

Cultural aspects

Cooperation, coexistence

Competition, exclusion

Vision for the future

Still family, small, community oriented

Selling in other markets, going international if possible

Time and schedule management

Diversified and distributed in other important activities, some related and some not related to the business

As much time, as possible, for the business
The second step was to identify the stages of indigenous business similar to the conventional ones. Three stages were identified: cultural principles that drive the process, operationalization, and innovation. The operationalization is divided in two parts: one relates to the system implemented for production, and the other is related to sales and marketing. The cultural principles, the foundations and drivers of the processes of any decision making, are different. Whereas coexistence is more important for indigenous business, competition is for conventional business; whereas community values and well-being are in the core of cultural principles for indigenous business, individual and accumulation of capital are for conventional business. The production system relies on family and close friends, and thus there is no need for a formal structure, for the indigenous business; whereas for the conventional ones, there is a relationship between boss and employees relationship that requires a formal, pyramidal structure. Patience and agreement based on words are other cultural principles present in Maya traditions contrasting with short-term expectation for returning the investment and signed contracts present in conventional business. As for marketing and sales, the indigenous business relies on trust, confidence, and knowing almost personally their customers; the conventional business rests on market analysis and the reputation of their brand. Innovation is present in both business systems; for the indigenous one, innovation is important but a slower process, whereas the conventional business rests on a continuous and dynamic process to keep its competitiveness (Table
6
).
Table 6
Conceptual framework to understand the different processes that lead to successful business in indigenous Yucatec Maya and nonindigenous context
Stage

Indigenous

Nonindigenous

Innovation

Context

Context

Slow process

Continuous process

Trial and accumulation of experience

Scientific research

Operationalization, sales, marketing

Knowing personally the customers

Not relevant

Trust

Branding

Community acknowledgment

Not relevant

Incorporates direct opinion from customers

Market analysis

Trial and accumulation of experience

Scientific research

Operationalization, production system

Family/close friends

Employees

No formal structure

Formal structure

Natural flow mostly horizontal

Vertical flow

Community is the basis for mission/vision

Mission/vision defined based on business and competition

Trial and accumulation of experience

Scientific research

Cultural principle.

Coexistence

Competition

Observation

Strategic planning

Community values

Individual/organizational values

Well-being

Accumulation of capital and profitability

Trial and accumulation of experience

Scientific research

Patience, long-term expectation for results

Short-term expectation for results

Agreements based on words

Agreements based on documents
This conceptual framework offers sound explanations to nonsuccessful indigenous business. Based on the accounts from business owners and studies carried out by members of the intercultural business program at UIMQRoo , those indigenous people interested in developing a business based on principles not related to their culture face greater probabilities to fail. For instance, the idea of accumulating capital in short period of time brings along the need for implementing a system based on loans, employees, formal structure, accounting, etc., all of which most likely the business-interested person would not be prepared for. The same explanation can apply to government programs that encourage business in indigenous communities without considering the cultural context, imposing cultural principles that are not related to the local people, or not being flexible enough to carry out adaptations as required by the local people.
Discussion
This contribution presents a context that supports the assumption that sustainable development in indigenous areas cannot be achieved due to poverty, despite investment from the state and federal government to encourage decreation of business. Another assumption confirmed is that the Yucatec Maya traditional food systems are great sources for businesses. One explanation is that the cultural principles of the community might be in contradiction with the pillars of the types of businesses supported by the government. Based on quantitative and qualitative findings, successful and not successful businesses, ran by indigenous people, have been identified along with the processes that explain their performance. The findings suggest that businesses that work based on cultural principles developed by the Maya have greater possibilities to succeed; whereas those that rest on principles from conventional business reduce greatly their possibilities to succeed. A conceptual framework is constructed upon those findings designed to understand the differences in the processes driven by cultural principles, not for demonstrating which one is better than the other.
Presenting a conceptual framework to help understand the similarities and differences between the Yucatec Maya ways of conducting business and the conventional ways should not be interpreted that one is better than the other. It rather provides an opportunity to understand processes that can help to make better and sound decisions. Observation and induction, using Western terms, seem to be at the core of the cultural process of coexistence, a driving mechanism that explains the success of local indigenous businesses. When coexistence is replaced by competition, a dominant paradigm that guides nonindigenous commercial processes, the community businesses have greater probabilities to not succeed.
There is no question about the importance of business in sustainable development . The book on business strategies for sustainable development, published by the International Institute for Sustainable Development (IISD) in 1992, has encouraged research and education along those lines. The role of culture in business has received attention as well; the works by Schaltegger et al. (2011) and Morrison et al. (2014) are examples of changes, adaptations, and inclusion of the cultural dimension in business. On the other hand, the role of culture in sustainable development has also been investigated (Dessein et al. 2015), including the economic dimension and acknowledging that cultures offer possibilities of business in the areas of products, services, tourism, and place branding (p. 43). Another influential book, by Trompenaars and Hampden-Turner (2012), attempts to articulate business with culture and provides solid arguments grounded on a premise that it is never possible to understand other cultures (p. 1). In those examples the cognitive aspect of indigenous cultures, to identify the cultural principles that explain the processes in successful businesses, is not addressed fully.
This work indicates that we can understand at least the most important cultural principles that reflect cognitive aspects that explain processes in business carried out in different cultures. So many years of programs and public policies failing, not reducing poverty and thus making it almost impossible to achieve sustainable development, especially in indigenous areas, should at least open room for new ideas and research to set new understanding of those issues.
The cognitive and cultural aspects of business processes related to indigenous people are not new in the literature. For instance, assuming entrepreneurship as a function of opportunity is an ethnocentric approach, for the Canadian sub-Artic people; Dana (2007) demonstrates that the causal variable behind enterprise is not an opportunity, but rather one's cultural perception of opportunity. But for the modern Yucatec Maya , this is perhaps the first detailed report.
One of the most common comments by a foreigner, with university education, when visiting any Maya community is that too many people try to do the same kind of business. It is true. For instance, anybody going to the market place in José María Morelos (Quintana Roo) will notice that there are between five to eight people selling the same kind of food (e.g., salbutes, panuchos, and tamales – local names), and they had been there for not less than 5 years, doing the same thing. The foreigner might also notice that there are not many people buying that food, and could mention that if any of those people selling the same food make a different food or try to sell something else, they would have better chances for successful business. The foreigner's understanding of the situation is influenced by his/her culture, just like the activities of the five-eight people selling the same food are reflecting their culture. If the foreigner would have time and observe for a longer period, than just a short visit, he/she might notice that all five to eight business are doing enough to cover their needs and that they are not trying to compete but to coexist; eventually the foreigner could understand the cultural processes that explain how those local businesses determine when the number of eight sellers be increased or reduced and under what process of decision making.
Publications on intercultural business focus mainly on communication; for instance, Trompenaars and Woolliams (2003) based their book on the idea that knowledges of cultures are not enough for successful business across cultures, there is a need of knowledge for cultures. On the other hand, there is the work by Möller and Svahn (2004) who acknowledge the influence of ethnic culture on knowledge sharing in different types of intercultural business nets; one of the frameworks that they presented is based on the acknowledgment of a culture-classification scheme that identifies the individualism-collectivism and the vertical-horizontal dimension.
The works by Trompenaars and Woolliams (2003), Möller and Svahn (2004), and others in the literature on intercultural business base their analysis on the same cognitive platform regarding the understanding of business. In other words, the idea is how to understand and communicate between different cultures so that the basic cultural drivers of conventional business can be successful, regardless the culture in which the business is developed. There is nothing wrong with that approach. But there is another approach to expand the understanding of intercultural businesses, especially when it comes to indigenous people: understanding and encouraging the local cultural cognitive processes, which function as drivers, offers greater possibilities for business to succeed in indigenous areas. Education plays an important role to achieve sustainable development , but the educational model is much more important as presented in this contribution.
Hopefully the thoughts expressed in this contribution will find their way to influence public policies and programs to overcome poverty in indigenous areas and, thus, get closer to achieving sustainability in the region.
Notes
Acknowledgments
The development of the field of intercultural business for the Intercultural Maya University of Quintana Roo (UIMQRoo), and thus for the students, mostly Maya, to have methodologies and concepts that help their training and increase their possibilities to succeed in business, has been with the support of the following organizations and people. The Kellogg Foundation who has funded different activities through the project "Training and research for young local college students to design and implement entrepreneurial activities that are socially and culturally sensible, while also environmentally sound"; Deborah Schimberg and Verve Inc., who funded a program with UIMQRoo that helps students get their first funding to develop businesses related to using their natural resources; and Steve Bell with whom the first author has discussed important issues that large international corporations face when it comes to the point of understanding the local culture, and thus paving the road for increasing their possibilities for success. The authors are grateful to Hilario Poot Cahun, for his support in the translation of Maya words, and to the students, juniors and seniors 2017, and faculty of the Intercultural Business Program at UIMQRoo for contributing with data, information and discussing important key aspects of this paper.
Copyright information
© Springer International Publishing AG 2018