Low-Carbon Economies (LCEs)
International Applications and Future Trends
Living reference work entry
Abstract
After decades of living without regard to the health of the biosphere as evidenced by unbridled consumption, energy waste, disproportionate wealth, and disparate access to resources, the world's population is now collectively facing an existential threat. Global nation-states and territories universally acknowledge that climate change, or global warming, as marked by massive environmental degradation, species extinction, increasing incidences of extreme weather events, death and displacement of whole societies, and rising population growth with accompanying energy demands, must be addressed with full awareness, comprehensive engagement, and immediacy. Several nations, territories, and regions are stepping up to the plate to effectively wage the battle. This is evidenced by policies and strategies propounded by both the private and public sectors – and complemented by rapid advancements in clean energy generation and storage technologies – to achieve a low-carbon economy (LCE), one which answers the energy needs of its constituents in a manner of producing the lowest greenhouse gas (GHG) emissions possible with the ultimate objective of achieving complete carbon neutrality.
Keywords
Low-carbon economies (LCEs) 
Renewable energy (RE) 
Paris Agreement 
Cap and trade 
Carbon tax 
Climate change 
Global warming 
Carbon emissions 
Greenhouse gases (GHG) 
Introduction: Transitioning to LCEs
Addressing climate change requires a transformative agenda and cooperative efforts of both the private and public sectors. Ostensibly, more countries are curbing emissions through the implementation of carbon reduction policies such as carbon pricing , regulatory intervention, and targeted assistance to promote innovation in low-carbon, sustainable technologies. But GHG emissions (comprised of carbon dioxide (CO2), methane, nitrous oxide, hydrofluorocarbon, and perfluorocarbon – with carbon representing the most pervasive component) have risen to dangerously, unprecedented levels resulting in severe impact which warrants immediate action. Fossil fuels (i.e., coal, oil, and natural gas) have fueled global economic development since the dawn of the Industrial Revolution, leading to poor economic and infrastructure choices. For too long, public policy mechanisms have continued to be geared toward fossil fuel use and carbon-intensive activities. The failure to align modern-day policy strategies with the current science has largely failed to take the deleterious consequences of GHG emissions into account. Such misalignments have neglected action upon the development of low-carbon transport and energy systems. Decarbonizing electricity is the key to promoting cleaner air and water, better health, tightened national security, and a more diversified energy supply. This is most effectively done through governmental core climate change mitigation commitments, intelligent utility regulations, incentivizing long-term finance tools, and a well-trained workforce. Support of renewable energy (RE) technologies and low-carbon business models and sustainability are key to successful low-carbon transitions. Input from private businesses and implementation of a diversified host of incentivizing strategies are needed to embark upon combatting this existential threat.
Years of Excessive Consumerism
The transition to LCEs has failed to evolve uniformly among emerging and developed economies. Unfortunately, such streamlined approaches are nonexistent, and in certain areas, developing countries have advanced further than wealthier nations, even when carbon-reducing technologies are more prevalent and consumption rates uncircumscribed in more developed nations. For instance, while the United States has a population of approximately 326 million (4.5% of the world's population), it consumes more than 20% the world's nonrenewable resources, making it one of the highest GHG emitters in the world. China moved beyond the United States in 2007 in emissions, but it has a population (1.39 billion) of roughly four times that of the United States (Biello,
Scientific American
2014
). Energy consumption is almost as prevalent in Canada, Russia, Australia, and the EU countries. This changing market was a by-product of the Industrial Revolution (1880–2010) which was demarcated by a series of transitions: wood to fossil fuels, carriages to gas-burning and more currently electric vehicles (EVs), kerosene lights to LED bulbs, and paper journals to online news. These changes undoubtedly generated expediency and comfort for its beneficiaries but generated vast amounts of CO
2
in the process. Energy use is still soaring in developed countries, with the United States, much of Europe, and China carrying the dubious distinction of being the largest consumers and polluters (Worland
2017
). Unfortunately, emerging economies are bearing the brunt of the consumption rates of wealthier nations yet are moving toward a similar phase. Those with growing populations and rising urban growth are especially in line to emulate such levels of consumerism and fossil-fuel-based energy consumption. World energy consumption rates and the resulting CO
2
emissions generated therefrom are shown in Fig.
1
. According to data provided by Olivier et al. as part of a
2016
energy report presented to the European Commission, such findings verify that while China has moved ahead of the United States as the largest CO
2
-emitting country worldwide, the United States remains the leader in per capita emissions.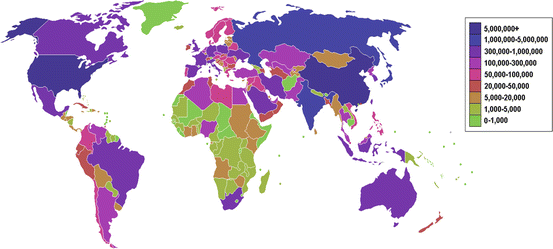 Years of production and consumption have resulted in the pollution of waterways, aquifers, soil, and air. How – and to what level – governments and private industries are responding is, at least in several instances, predicated upon the degree to which each jurisdiction is being threatened by climate change.
Urgency of Decisive Action and Increasing Climate Vulnerability
According to the World Data Center for Paleoclimatology and the National Oceanic and Atmospheric Administration (NOAA), CO
2
levels are greater now than at any time in the last 800,000 years. Every ecosystem is currently in decline. In the healthcare sector, asthma rates in children have increased by 28% and nearly 80% of all new cancers that stem from nonhereditary factors (
US Centers for Disease Control
). Extreme weather events have killed or displaced hundreds of thousands of people worldwide, causing billions of dollars in physical damages. Sea levels are rising, and drought and diseases are proliferating (e.g., Zika virus originating in Brazil ). Industrial sectors, including insurance, energy, transportation, healthcare, agriculture and forestry, construction, investment, and waste management, have all been severely impacted by the forces and consequences of climate change. And over 1.2 billion people – from a world population of 7.5 billion – completely lack access to electrical power (World Bank Group Report
2016
). Specifically, according to the World Bank and other research institutions:
The last decade was the world's hottest on record and 2016 was the hottest year yet.

Fifty percent of all coral reefs have declined in the last 50 years.

The world population of 7.5B is predicted to reach 9.7 billion by 2050.

Factory (livestock) farming and landfill waste produce dangerous levels of methane gas – the most toxic greenhouse gas.

Over the past 20 years, floods, storms, heat waves, droughts, fires, hurricanes, tornadoes, and record snows have resulted in more than 600,000 deaths, and 4.1 million people have been injured or left homeless.

Every ecosystem in the world is currently in decline, and traces of mercury have been found in fish from every body of water on Earth (NOAA).

Between 0.01% and 0.1% of all plant and animal species are facing extinction each year (World Wildlife Fund).

Climate change costs the United States over $100 billion each year (CNBC Money).
Many governments and private businesses have steered their respective countries, provinces, and states to become low-carbon economies by focusing on the reduction of chiefly one of the major gases contributing to climate change: carbon dioxide (CO2). Business operations and residences have been steered to minimizing their output of carbon emissions in a variety of ways to fulfill this commitment.
Low-Carbon Economies (LCEs) Defined
Also referred to as decarbonized , green, or low-fossil-fuel economies, low-carbon economies (LCEs) are premised upon the generation and use of energy which minimizes GHG emissions due to anthropogenic (human) activity – the primary cause of global climate change. One of the most often-used definitions of LCEs has been provided by the United Nations Environment Programme (UNEP) which states that a low-carbon economy is "an economy that results in improved human well-being and social equity, while significantly reducing environmental risks and ecological scarcities." It thus serves to not only reduce emissions to mitigate the destructive impact of climate change but also strives to create employment and investment opportunities, strengthen trading, improve infrastructure, and close the inequities of disparate wealth distribution.
Since most governments – particularly major oil producers – own 50–70% of global fossil-fuel-based resources (i.e., oil, gas, and coal), as well as assess and collect taxes and royalties on the portions they do not own or control, they are at a heightened risk of being abandoned in the new world economy. Therefore, these governments are in the best position to effectuate policy that could transition to cleaner environments and overall financial savings (Nelson et al. 2014a, b).
Many territories, countries, and regions throughout the world have designed and implemented low-emission development strategies (LEDS) which seek to reduce GHG levels while concomitantly achieving socioeconomic development goals. These governing bodies seek to achieve a carbon-neutral economy through mitigation strategies created to assign a cost per unit of production. These tools include carbon taxing, emissions trading or cap and trade, auction markets, government subsidies/tax credits in renewable energy, transactive energy projects, and green financing and investment (UN Division for Sustainable Development 2012). Many LCEs tout that implementing such low-carbon initiatives creates jobs, lessens rural poverty, encourages sustainable land use, furthers trade and industrial competitiveness, and safeguards energy security – all while buttressing ecosystem resilience. Low-carbon strategies often encompass technologies that produce goods and energy with low GHG emissions, mitigating carbon use from the energy, transport, manufacturing, and agricultural sectors. Fossil fuel systems are transitioning to low-carbon alternatives at an accelerated rate. Already by 2008, approximately 19% of all global energy consumption was generated by renewables, with grid-connected photovoltaics increasing the fastest (Renewables Progress Report 2010).
Collective Action: The Paris Agreement
Given the dire predictions of unmitigated climate change – i.e., the death and displacement of millions of people across the globe, abject poverty, famine and drought, and floods and rising ocean levels – both public and private stakeholders agreed to join together to craft climate action plans in an historic display of international cooperation at the 2015 Conference of Parties (COP 21). This level of collusion between signatory countries, intergovernmental agencies, and private actors was unprecedented in drafting the Paris Agreement (The Paris Agreement
2015
). Bill Gates (Microsoft), Mark Zuckerberg (Facebook), Richard Branson (Virgin Group), Jeff Bezos (Amazon), and other business leaders comprising the
Breakthrough Energy Coalition
announced an initial pledge of 7 billion USD toward the advancement of clean energy, transportation, and agriculture. The initiative was launched in conjunction with
Mission Innovation
– a joint effort launched by 21 governments, including the United States, Britain, Australia, Germany, China, and Brazil, to double the amount of public money invested in clean energy innovation (The Guardian
2015
). According to the United Nations Framework Convention on Climate Change (UNFCCC), the primary objectives of the Paris Agreement were to:
1.

Hold the increase in the global average temperature to below 2 °C above preindustrial levels and to pursue efforts to limit the temperature increase to 1.5 °C above preindustrial levels.

 

2.

Increase the ability to adapt to the adverse impact of climate change and support climate adaptation and low greenhouse gas emissions development.

 

3.

Make financing consistent with a pathway toward low greenhouse gas emissions and climate-resilient innovation.

 
The Paris Agreement original signatories (excepting Syria and Nicaragua, the latter opting out for the express reason that the carbon control limitations had not gone far enough) left with a commitment to expedite efforts to move to lower-carbon economies. But in tandem with the United Nations' classification of nation-states according to particular socioeconomic indicators (i.e., developed, developing, and least developed countries (LDCs)), participating countries were not expected to design and deploy similar strategies at coordinated timetables. What was predicted was that wealthier nations would move more quickly to implement LEDS while emerging economies' attempts to transition would be more measured in comparison. Surprisingly, however, while many LDCs find themselves the greatest victims of climate change, many are leading the way in establishing low-carbon economies – largely due to the unchecked consumption practices of wealthier nations. Researchers and intergovernmental agencies have classified "more than 10% of countries as 'free riders,' ranking in the top fifth in terms of emissions and the bottom 20% in terms of vulnerability. These countries include the United States, much of Europe and Australia" (Worland 2017). Moreover, emerging economies face the multifaceted challenge of controlling greenhouse gas (GHG) emissions while reducing dependence on foreign sources of energy, growing their own economies, and solidifying national security interests. Sound governance and financial incentives are ostensibly imperative. Thus, the sustainable use of a nation's resources to satisfy a rising demand for energy without causing further environmental degradation is the optimal goal. Achieving this objective in abundance – i.e., producing an excess of clean energy for subsequent storage and transportation in the global market – is becoming more than a vision; it has transcended into a working reality for many governments, particularly those of LDCs, while leaving some of the wealthiest nations behind.
To fulfill the Paris Agreement commitments, many nation-states have implemented specific carbon-reducing strategies and policies, several of which are outlined below.
Low-Carbon Energy Strategies
How each country approaches control of its GHG emissions is generally distinguishable between more developed nations – most often demarcated by a democratic form of government, educated workforces, and a technologically advanced infrastructure – and emerging economies, often characterized by postcolonial struggles, poor infrastructure, underdeveloped utility grids, and disparate trading policies. However, with the signing of the Paris Agreement by nearly every country in the world, the collective commitment to lower carbon emissions and invigorate the clean energy sector (hydroelectric, wind, solar, geothermal, and biofuels) has established a parity of approaches of sorts. Many nations have engaged in emissions trading, subsidized renewable energy (RE) development, or imposed a carbon tax – or have adopted a combination thereof.
RE production has faced daunting obstacles in the past, most predominantly the cost of its manufacture and the ability to store any surplus. Within the last decade, however, two phenomena have occurred worldwide: (1) clean energy generation and storage technologies have rapidly advanced; and (2) the cost of constructing and installing renewable projects has declined sharply. With favorable topographical features and an abundance of particular mineral deposits available to use in the manufacture and storage of clean energy, LDCs are now emerging as formidable world leaders in this field. Although many of these nation-states (particularly located in Africa, and Central and South America) were former colonies of Western European powers, such nations have been participating in clean energy projects, often aligning with more advanced economies, including their former colonizers. In essence, they are leapfrogging over some of the deleterious aspects of the Industrial Revolution, including massive contamination and environmental degradation, to embrace modern LCEs. Yet all have one common, guiding principle: to reduce atmospheric carbon levels as effectively and expeditiously as possible.
World Trade Organization (WTO) Support of LCEs
The commitments made by countries to reduce carbon levels by any of the tools aforementioned have received unequivocal support from the WTO. Following WWII, trading tariffs were high, most notably on manufactured goods, and fossil fuel dependence had become the hallmark of the postwar era. Within the next half century, wealthy nations, primarily driven by North America and Western Europe, liberalized trade through the establishment of the General Agreement on Tariffs and Trade (GATT) and its successor, the World Trade Organization (WTO) (Baldwin 2006). Regional trade agreements (RTAs) and free trade agreements (FTAs) provided the forum for trade liberalization, opened new markets, and governed international commerce, often incorporating certain environmental protections and incentives for RE project development. Underscoring these changes in trade is the WTO's declared support of the World Intellectual Property Organization's (WIPO) new division, WIPO Green – established in 2015 to guide and monitor how climate change-related technologies are developed and used worldwide. WIPO Green effectively complemented the WTO's agreement on Trade-Related Aspects of Intellectual Property Rights (TRIPS) – by providing a forum of innovation of ways to reduce GHG while encouraging sustainable economic development. WIPO Green functions as an interactive marketplace promoting both the creation and diffusion of green technologies by connecting technology with various service providers (WIPO Green 2017). Additionally, it is dedicated to the issuance and protection of patents worldwide – the majority representing clean energy generation and storage advancements. As of 2016, Germany, Japan, South Korea, and the United States led in the number of clean energy patents issued.
Leading Nations, Businesses, and Industrial Sectors in Carbon Reduction Strategies
The fate of the planet and long-term sustainability of its nation-states and businesses lies in the drastic reduction of GHGs – particularly carbon. Several countries and industries emanating from both developed and emerging economies have attracted attention by the level of progress made as well as the methods used to achieve this objective.
Sweden. Sweden claims title to the nation heralding the lowest amount of GHG emissions, ranking first in the world for carbon-neutral practices. Applying the "Polluter Pays Principle" – similar to the taxation structure of British Columbia – the Swedish government has two different taxes on fuels: one on petrol and diesel levied in the 1930s and the second on fossil heating fuels which began in the 1950s. Subsequently in 1991, the Swedish government introduced the CO2 tax to curb use of fossil fuels at an initial rate of 27 € per ton of fossil carbon. To expedite the country's transition to an LCE, this carbon tax has been increased dramatically over the last decade to a level of 123 € per ton of carbon expended. And while the government has not fully earmarked the revenue generated by the CO2 tax for specific purposes, a significant part of the national budget has been allocated to various projects including those which target lower emissions in the public transport sector and an increased use of biofuels in heating. Sweden has not sacrificed economics as the country continues to reduce emissions. From 1990 to 2013, its GDP increased by 61%, while its carbon emissions were reduced by 23%. However, since Sweden is a member of the EU and the EU Emissions Trading Scheme (EU ETS), its policies have had to comport with a community-wide economic instrument covering GHG emissions from energy-intensive industrial installations. But industries outside the EU ETS, already operating with relatively low-energy costs, have been taxed separately and have responded positively to the CO2 tax by switching, en masse, to non-fossil-fuel heating sources of energy CO2 (Akerfeldt and Hammar 2016).
Costa Rica. Costa Rica has already succeeded in leading the world in the protection of natural habitats and is on the cusp of becoming fossil-free nationwide. In 2015, energy generation plants and projects had already weaned off fossil fuels. Like Sweden, its government subsidization efforts have been substantially aided by a dramatic uptick in investment in both wind and solar, with massive geothermal and hydroelectric generation already established and growing. This Central American country has sustainably utilized its natural resources and topographical features to further its transition to an LCE. Harnessing the power of its heavy tropical rainfalls and pervasive river system, hydroelectric generation has, to date, gained the greatest success. According to the Costa Rican Electricity Institute (ICE), 99% of clean energy generation was achieved by 2015 (Costa Rica – AFP 2015). This small country, situate in a developing, often war-ravaged region comprised of six other Central American nation-states, has assumed an unforeseen position of leadership in the development of clean energy and LCE formation. Its government remains committed to energy independence policies which have accentuated the possibilities of excess capacity production and active participation in global trade.
Nicaragua. Costa Rica's northern neighbor, Nicaragua , is turning its overwhelming coastal winds and earthquake-prone land masses to its advantage by working with, once again, its natural resources. By mid-2015, Nicaragua was producing more than half of its electricity needs through renewable resources. Through early governmental commitments, this country had already invested the 5th highest percentage globally of its GDP in the development of clean renewables and stands to become nearly 90% fossil-fuel-free by 2020 (Climate Reality Project 2016). This success highlights the primary reason why this country is not a signatory nation to the Paris Agreement – the accord's voluntary commitment paradigm was simply not sufficiently stringent and binding.
Uruguay. Lacking entrenched interests in fossil fuel dominance which has undermined progress in clean energy development and trade, both the private and public sectors of this small South American country decided nearly a decade ago to invest – without any special subsidies – in wind and solar energy generation. This collaboration has weaned the nation nearly completely off all of its fossil fuel usage in both the residential and commercial sectors.
Morocco. One of the world's largest concentrated solar plants is in the final stages of construction and has been primarily funded by the EU. Located on the edge of the Sahara Desert in northern Africa, Morocco is taking full advantage of its intense sun exposure by building this RE installation. The plant consists of curved mirrors totaling approximate 16 million square feet – or the equivalent of 200 football fields (or soccer pitches) – and will have the ability to generate 580 MW to serve nearly 2 million people (Vast Moroccan Solar Plant 2016). Morocco represents a model for other African nations and for those countries with similar topographical and meteorological traits to move to a low-carbon-based economy.
Kenya. Kenya is a country currently plagued by devastating drought. It has historically been dependent upon foreign oil but nevertheless has managed to supply over one-half of its energy needs through geothermal power. Kenya, in fact, was the first African country to use geothermal power and still maintains the largest installed capacity of this form of renewable energy in Africa at 200 MW (Singh 2015). The Kenyan government has also recently added wind power as a supplementary power source as it is already home to Africa's largest onshore wind farm (Climate Reality Project 2016). In fact, winds are a dominant resource throughout the east central coast of Africa. Topping this country's energy mix is solar as Kenya represents a dominant world leader in the number of solar power systems installed per capita with more than 30,000 small solar panels sold in that country annually. Within the last 5 years, Kenya's nascent renewable energy sector has attracted significant foreign investment, primarily led by 20 British privately held companies. It is estimated that the renewable sources of energy could produce sufficient power for its own citizens with an excess to be channeled through foreign trade (Rubadiri 2012).
Denmark.
Denmark , and other coastal countries including the Low Countries (Netherlands, Belgium, and Luxembourg), stand to lose the majority of its land mass with the melting of the polar ice caps and steadily rising sea levels (see Fig.
2
).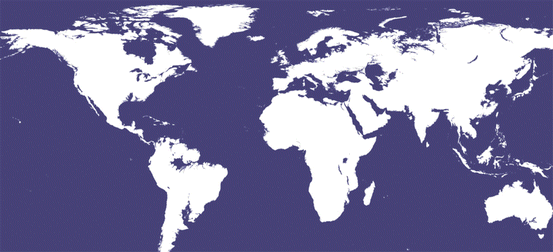 Answering this urgent call to reduce its carbon emissions, Denmark's environmental and energy taxes contribute to a better understanding of the environmental costs of production, consumption, and disposal of goods and foodstuffs. This country's main energy initiatives have included the energy-efficiency labeling of construction materials, appliances, and entire buildings, the enactment of building codes (which directly focus on energy consumption), and the establishment and incentivization of electricity-saving financial trusts. Strategic planning for future RE grid investments has followed the current political energy agreement with adopted measures and hybridized policies toward the Danish government's long-term goal of full conversion to renewable energy by 2050. Denmark's planning procedures have been supported by a variety of different support mechanisms which include tax credits and exemptions, feed-in tariffs, and clean energy investment grants. The country's Energy Agreement of 2012 and the Climate Change Act of 2014 propose a transition to a fossil-free economy. In support thereof, the entire energy supply for all sectors – electricity, heating, manufacture, and transportation – is slated to be supplied by renewable energy by mid-century (Lilleholt 2015).
Tesla Motors, Inc. Born and raised in South Africa, Elon Musk emigrated to the United States where he was educated in engineering at Stanford and eventually earned his American citizenship in 2015. Elon Musk is a singular powerhouse in the areas of low-carbon and carbon- neutral manufacture and renewable energy products and technologies. With the announcement of the Tesla 3 in March of 2016, the activation of the Gigafactory in Fremont, Nevada, in July of 2016, the rollout of the Powerwall II and the solar-shingled roof in late 2016, and the acquisition of Solar City also in 2016, Musk's Tesla company is claiming dominant market shares in clean energy development in the United States and throughout the world. For instance, Tesla partnered with the State of California – the world's 6th largest economy – to lead clean energy initiatives and to reduce its fossil fuel reliance. One tangible example is the company's joint venture with Southern California Edison to construct the world's largest energy storage facility. The Mira Loma substation is comprised of nearly 400 Tesla Powerpack units (i.e., grid-connected, commercial-scale, lithium-ion batteries) which are used to offset a peak demand load. Tesla's commercial-grade storage battery is also being used in conjunction with 54,978 solar panels to help power the Hawaiian island of Kaua'i and has implemented in to a power grid used similarly to Mira Loma at the Vector utility company in New Zealand (Muoio 2017). Tesla's second Gigafactory in Buffalo, New York, is helping to make that state less dependent on fossil fuels, while negotiations continue in Europe with respect to the location of Tesla's third Gigafactory.
Siemens AG (Industrial Energy Development). As larger companies can rightfully be designated as truly global – operating throughout the world both with and without particular home countries – such entities have created spheres of low-carbon emission manufacturing. Albeit officially known as a German company headquartered in both Berlin and Munch, Siemens is a well-recognized world leader in low-carbon and renewable energy technologies. It has recently constructed the London Array off the coast of Great Britain – the largest offshore wind farm in the world, consisting of 175 wind turbines with the capacity to serve homes and factories. It has declared a primary objective to become climate neutral by 2030 (with CO2 emissions scheduled to be cut by 50% as early as 2020) through energy-reducing measures to reduce its carbon footprint at its own production facilities (committed to invest €100 million to improve energy efficiency and increase automation), innovative technology investments (the company is the world leader in offshore wind turbine construction), energy-efficient drive systems for manufacturing, the substitution of low-emission vehicles for its global vehicle fleet, and working with nation-states to implement RE initiatives company (active in nearly every country in the world, focusing on the areas of electrification, plant automation, and process digitalization). According to the company's media releases, "Solutions from Siemens enabled customers to reduce their CO2 emissions by 428 million metric tons – an amount equal to half of Germany's total carbon dioxide emissions" (Siemens Global 2016).
Conclusion: Future Trajectories
Leaders on the world stage are quickly emerging as pioneers of true change – engaging in serious attempts to remedy the long-term consequences of hundreds of years of carbon emissions. "Business as usual" is no longer sustainable, and those who acknowledge this must first educate those they lead about the consequences of unimpeded lifestyles and improper management of a nation's resources.
Both the passage of an agreement to reduce GHGs by 2030, officially entered into by174 countries on April 22, 2016, and the accelerated intensity and frequency of weather events with resulting loss of life and property, have incentivized world and business leaders to identify and acknowledge their own contributions to climate change and propound ways to mitigate its consequences. Those who have steered their respective countries, territories, and states to accelerate their transition to low-carbon economies have focused on CO2 emission reduction through government actions including the levying of a carbon tax, tax credits and subsidies, emissions trading, and transactive energy projects. Many business operations and private individuals have adopted fossil-fuel-cutting measures in cooperation with presiding governmental strategy as well as on their own accord.
Continued emission of greenhouse gases will ostensibly cause further warming and long-lasting, devastating changes worldwide, increasing the likelihood of severe, pervasive, and irreversible impact for both people and ecosystems. The strategies that seek to balance social, economic, and environmental development goals while lowering long-term GHG emissions and increasing resilience to climate change impact will constitute the tools needed to effectively transition to low-carbon economies and hopefully avoid catastrophic climate change.
Copyright information
© Springer International Publishing AG 2018