Atmospheric Turbulence
Living reference work entry
DOI:
https://doi.org/
10.1007/978-3-319-51727-8_137-1
Definition
Atmospheric turbulence is irregular fluctuations occurring in atmospheric air flow. These fluctuations are random and continuously changing and are superimposed on the mean motion of the air (American Meteorological Society 2018).
Introduction
It has long been established that the behavior of wildland fires and the dispersion of smoke during wildland fire events are influenced by ambient and fire-induced winds (Crosby 1949; Byram and Nelson 1951; Byram 1954; Gifford 1957; Rothermel 1972; Raupach 1990; Beer 1991). Fundamentally, ambient and fire-induced winds affect the horizontal and vertical convective flux of heat in the fire environment and the ability of spreading fires to transfer heat convectively to potential fuels (Rothermel 1972). The transport of firebrands away from active burning locations and the opportunity for spotting ignitions are also governed by the ambient and fire-induced wind fields within and near the fire environment (Koo et al. 2010). Finally, ambient and fire-induced circulations in the lower atmospheric boundary layer (ABL), the lowest layer of the atmosphere, act to disperse emissions away from fires, which often results in the subsequent long-range transport of smoke plumes by winds in the ABL and above to locations far downwind of the burning location (Liu et al. 2009; Heilman et al. 2014).
As described in Stull (1988), the wind field at any location, regardless of whether a fire is present or not, can be partitioned into three components: the mean wind, waves, and turbulence. The rapid transport of heat, moisture, momentum, pollutants, and other scalars is accomplished via the mean wind, with horizontal mean wind speeds usually much larger than vertical mean wind speeds in the ABL. Waves in the wind field are often generated by shears in the mean wind and by wind flow over obstacles and are very effective at transporting momentum and energy. The relatively high-frequency fluctuations that can occur in the wind field, particularly in the ABL, are characterized as turbulence or wind gusts superimposed on the mean wind. Turbulence is often visualized as eddies or swirls (i.e., vortices) of atmospheric motion of many different sizes superimposed on each other (Stull 1988).
Ambient turbulence (i.e., no fire-induced turbulence) in the daytime ABL is generated in part by buoyancy associated with solar heating of the surface, which leads to rising warmer air within thermal plumes and compensating sinking motion and horizontal convergent and divergent flows over areas adjacent to and outside the thermal plumes (Stull 1988; Wyngaard 1992). Ambient turbulence in the ABL is also generated by wind shears associated with frictional drag imposed on air as it flows over the ground. The presence of obstacles like forest canopies and structures can deflect atmospheric flow near the surface and generate additional turbulent eddies adjacent to and downwind of the obstacles (Raupach and Thom 1981; Finnigan 2000; Roth 2000). The turbulent eddies generated by these processes can range in size from ∼10−1 to 103 m, with most of the energy contained in the large eddies. Large eddies are continually broken down in size to smaller and less energetic eddies via the energy cascade process and then eventually dissipated (Batchelor 1950).
Many observation- and modeling-based studies have been carried out to investigate the properties of ambient atmospheric turbulence regimes that characterize the ABL, and they have laid the foundation for subsequent studies focused on how wildland fires affect ABL turbulence (i.e., the combination of fire-induced and ambient turbulence) and its feedback on fire behavior and smoke dispersion. The following sections provide an overview of the key findings from these studies.
Ambient Atmospheric Turbulence Overview
The properties of atmospheric turbulence have been studied extensively over the past 100+ years. Counihan (
1975
) provided a comprehensive summary of some of the early atmospheric turbulence studies that set the stage for more recent observational and modeling studies relevant to turbulence effects on wildland fires. Included in the summary were the very early studies of Rawson (
1913
), Shaw (
1914
), and Richarson (
1920
), who noted that atmospheric motions can be turbulent with turbulence intensity usually decreasing with height; that turbulence changes its character when obstacles are encountered; and that the kinetic energy of turbulent eddies is extracted from the mean wind, respectively. Shortly after these studies, Goldie (
1925
) and Best (
1935
) reported that turbulent eddies near the ground surface tend to break down into smaller sizes, and the eddy velocities in the longitudinal, lateral, and vertical directions tend to be different, an indication that turbulence in the ABL is typically anisotropic. The concept of turbulence anisotropy was further confirmed in the subsequent studies of Panofsky and McCormick (
1954
) and Deacon (
1955
). The landmark studies of Taylor (
1938
) and Kolmogorov (
1941
) provided new insight at that time into how the energy of turbulent eddies typically varies with eddy size. They showed through theoretical analyses that (1) large-scale eddies (length scale ∼10
3
–10
1
 m; Wyngaard
1992
) associated with low-frequency (10
−3
–10
−1
 Hz) fluctuations in the wind field contain most of the energy in the turbulence field, (2) within the mid-frequency range (∼10
−1
–10
1
 Hz) of wind fluctuations (also called the inertial subrange; length scale ∼10
1
–10
−1
 m; Wyngaard
1992
), turbulence energy tends to decrease as the frequency increases according to Kolmogorov's −5/3 power law (e.g. see Fig.~
1a
), and (3) turbulence energy is dissipated at the high-frequency (10
3
 Hz) portion of the turbulence spectrum (length scale ∼10
−3
 m; Wyngaard
1992
).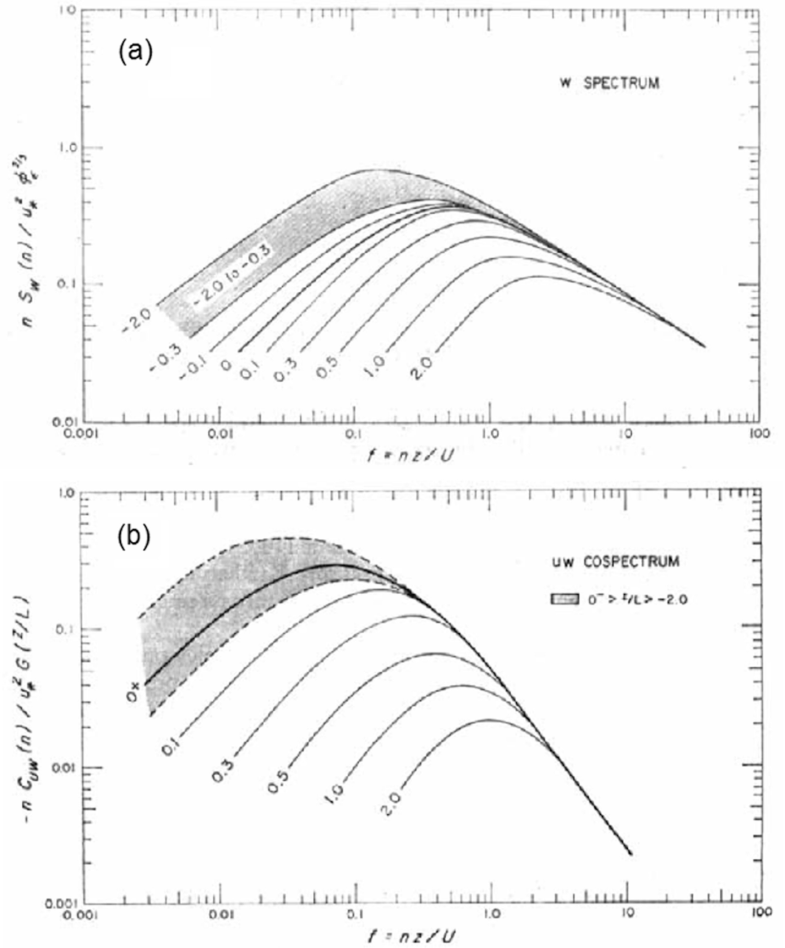 More recent turbulence studies conducted during the last half of the twentieth century included numerous field experiments to measure the properties of ambient ABL turbulence regimes and evaluate earlier theoretical results. The Wangara Experiment conducted in New South Wales, Australia, in 1967 (Clarke et al. 1971), and the Kansas Experiment conducted in southwestern Kansas in 1968 (Haugen et al. 1971; Businger et al. 1971) provided two of the first comprehensive and foundational datasets on ambient ABL turbulence over flat uniform surfaces.
Data from the Wangara Experiment were used as the basis for recommending the value of 0.40–0.41 for the von Karman constant, a constant used in calculating turbulent momentum fluxes in the surface layer from observed vertical wind profiles (Dyer and Hicks 1970; Hicks 1976; Hess et al. 1981; Stull 1988). Data from the Kansas Experiment were used for assessments of typical turbulent kinetic energy (TKE; defined as one-half of the sum of the horizontal and vertical velocity variances) budgets and turbulence spectra/cospectra in the ABL. For example, Wyngaard and Coté (1971) investigated how TKE budgets differ under stable and unstable atmospheric conditions. They found that under unstable ambient atmospheric conditions, typical of daytime ABLs present during many wildland fire events, the production of turbulence energy via buoyancy and wind shear, the viscous dissipation of turbulence energy, and the turbulent transport of turbulence energy are all significant contributors to the evolution of turbulence regimes. However, as daytime instability increases, buoyancy eventually tends to become the dominant factor in generating turbulence. Kaimal et al. (1972) investigated the spectral characteristics of the turbulent circulations and temperatures under different atmospheric stability conditions at the Kansas experimental site and compared those spectral characteristics with the results from similar studies conducted in the 1960s (e.g., Lumley and Panofsky 1964; Berman 1965; Busch and Panofsky 1968). They found that while turbulence in general is anisotropic in the ABL, turbulence associated with high-frequency wind fluctuations tends to be isotropic. They also found that in the inertial subrange, turbulence energy spectra associated with horizontal and vertical wind fluctuations decrease as the frequency of the fluctuations increases according to the Kolmogorov (1941) −5/3 power law (Fig. 1a). For the cospectra of the vertical turbulent fluxes of heat and momentum, they found a more rapid inertial subrange decrease as frequency increases, following a −7/3 power law (Fig.~1b).
Recognizing that forest and other vegetation canopies have an impact on ambient atmospheric turbulence regimes that develop under stable and unstable conditions, many investigators in the mid- to late 1900s and early 2000s focused their attention on the theoretical aspects of turbulence within and above canopies and conducting experiments similar to the Kansas experiment but in environments with forest overstory vegetation. These studies, while not focused on ambient turbulence regimes during wildland fire events, are highly relevant given that many wildland fires occur in forested environments.
Wilson and Shaw (1977) developed a one-dimensional turbulence closure model applicable for investigating flow through vegetation canopies and used the model to show that the production of TKE via wind shear and the obstruction of wind flow by vegetation elements (wake effects) tend to be at a maximum at or near the canopy top and just below the canopy top, respectively. Raupach and Thom (1981) in their theoretical description of turbulence regimes within and above plant canopies noted that plant canopies interact with the air flow within and above vegetation layers, resulting in the turbulent flux of heat and momentum through the canopy-atmosphere interface and through the vegetation layer. They also noted that vegetation canopies can generate turbulence through wake effects, similar to the findings of Wilson and Shaw (1977), thereby converting mean kinetic energy of air flow into TKE. Finnigan (2000) drew upon the theoretical work of Wilson and Shaw (1977) and Raupach and Thom (1981) and other canopy studies and provided a summary of the key properties of turbulence regimes within vegetation layers. In that summary, it was noted that turbulent circulations drive the exchange of heat, moisture, and other scalars between the vegetation layer and the atmosphere and that turbulent fluxes of scalars between vegetation layers and the atmosphere are dominated by large coherent eddies that sweep air from aloft into the vegetation layers. This is the typical ambient turbulent flux environment that serves as the backdrop for turbulent fluxes of heat, moisture, and momentum induced by wildland fires occurring in forested areas.
Examples of observational studies of ambient turbulence regimes within and above vegetation canopies include the studies of Shaw et al. (1974, 1988), Baldocchi and Meyers (1988), Amiro (1990), Meyers and Baldocchi (1991), and Vickers and Thomas (2013), plus the many turbulence and energy exchange studies associated with the Ameriflux (http://ameriflux.lbl.gov/) and Fluxnet (https://fluxnet.fluxdata.org/) programs. These studies provided observational evidence and confirmation for many of the theoretical findings in earlier studies and critical insight into the dynamics of atmospheric turbulence within vegetation layers. Highlights of the results from these studies indicate that (1) turbulence spectra above forest canopies tend to follow the Kolmogorov −5/3 power law in the inertial subrange, (2) the slopes of the power spectra measured within forest canopies are more negative than those observed in the typical surface boundary layer with no forest canopy present, (3) in the bottom portions of forest canopies, horizontal velocity component spectra tend to decrease more rapidly with increasing frequency in the inertial subrange than vertical velocity spectra, (4) turbulent heat and momentum flux cospectra within forest vegetation layers often exhibit slope values close to −1 in the inertial subrange, (5) turbulence spectra within forest canopies tend to peak at higher frequencies than the spectra measured in the subcanopy trunkspace and above the canopy, (6) turbulence above forest canopies associated with high-frequency velocity fluctuations tends to be isotropic, (7) denser canopies tend to inhibit vertical turbulent momentum fluxes within forest vegetation layers, (8) TKE is usually at a maximum at or just above the canopy top, but the relative intensity of turbulence (velocity standard deviation divided by mean wind speed) tends to be at a maximum at mid-canopy levels, (9) thermal stability or buoyancy has a stronger influence on turbulence within vegetation layers than leaf density, (10) wake-generated turbulence can exceed shear-generated turbulence at all levels within forest vegetation layers except near the canopy top, and (11) beneath tree crowns, turbulent transport tends be the dominant process in TKE evolution, with shear-generated turbulence energy above the canopy top transported downward into the subcanopy layers by turbulence.
Atmospheric Turbulence and Wildland Fires
The behavior of wildland fires is often transient, due to the highly variable winds that can occur in their vicinity. The variability in wind speed and direction near a spreading fire is associated with fire-atmosphere interactions that induce turbulent circulations surrounding the fire and ambient turbulent circulations that are manifestations of eddies in the ABL (Sun et al. 2009; Forthofer and Goodrick 2011). Numerous observational and modeling studies over the last three decades have examined the relationships between wildland fires and ambient or fire-induced turbulence. This section provides a summary of the key results from these studies and an overview of the current state of knowledge regarding the interactions of wildland fires and turbulence.
Observational Studies
Investigations of wildland fire effects on ambient turbulence regimes have been more common. Early efforts to analyze how wildland fires can alter typical ambient turbulence regimes in the ABL include the studies of Graham (1955), Byram and Martin (1970), Church et al. (1980), Emori and Saito (1982), Haines (1982), Haines and Smith (1983, 1987, 1992), Church and Snow (1985), McRae and Flannigan (1990), and Banta et al. (1992). These studies provided observational evidence of the formation of horizontally and vertically oriented turbulent vortices (i.e., coherent eddies) in the vicinity of wildland fires or heat sources similar to wildland fires. The formation of unburned tree-crown streets in the aftermath of some wildland fires in forested environments has been attributed to fire-generated horizontally oriented turbulence vortices, also known as horizontal roll vortices, by Haines (1982).
With the development of more sophisticated monitoring technology for measuring fire-fuel-atmosphere interactions in the late twentieth and early twenty-first centuries, significant advances were made in improving our understanding of how fire-induced turbulence regimes differ from the regimes that characterize a typical ABL and how they interact with ambient turbulence regimes to affect fire behavior and smoke dispersion. While turbulence-related measurements were fairly limited in the well-known 1997 International Crown Fire Modeling Experiment (ICFME; Alexander et al. 1998), the 1998 Wildfire Experiment (WiFE; Radke et al. 2000), and the 1999 FROSTFIRE experiment (Coen et al. 2004), more comprehensive in situ measurements of turbulence regimes within and near wildland fire fronts were carried out in the early 2000s. These experiments included both grass fires (e.g., Clements et al. 2007, 2008, 2015, 2016; Clements 2010; Seto and Clements 2011; Charland and Clements 2013; Seto et al. 2013; Clements and Seto 2015; Ottmar et al. 2016) and surface fires beneath forest canopies (e.g., Heilman et al. 2013, 2015, 2017; Strand et al. 2013; Seto et al. 2013, 2014; Ottmar et al. 2016).
Collectively, the aforementioned observational studies suggest wildland fires can lead to turbulent boundary-layer circulations with characteristics substantially different from those observed under nonfire conditions. First, wildland fires can generate large horizontally oriented turbulent eddies (vortices) with upward and downward turbulent velocities on the order of 10 m s−1 or stronger near the surface and near-surface horizontal turbulent velocities 2–3 times larger than ambient horizontal velocities. Turbulent horizontal roll vortices frequently occur immediately in front of and behind fire fronts, with those vortices contributing to flow convergence into the convective plumes situated above and downwind of fire fronts and to downdrafts with near-surface cooling behind the fronts.
Fourth, the production of TKE by vertical wind shear and buoyancy increases significantly during FFP periods. If forest overstory vegetation is present during FFP, the production of TKE by shear and buoyancy effects may be particularly enhanced in the upper portions of the canopy layer. Vertical diffusion of turbulence energy also tends to increase significantly during FFP periods, especially in the upper portions of the canopy layer if forest overstory vegetation is present. Diffusion contributes to a decrease in turbulence energy at all levels within forest overstory vegetation layers during FFP periods.
Fifth, spreading wildland fires affect the skewness of the daytime horizontal and vertical turbulent velocity distributions that characterize the typical air flow through forest vegetation layers. In particular, vertical velocity distributions that tend to be negatively skewed inside forest vegetation layers (Amiro 1990) become positively skewed during FFP periods. Skewness analyses also suggest that after FFP, vertical velocity distributions can become even more negatively skewed than the negative skewness typically observed in ambient canopy-flow environments. The observed skewness and associated non-Gaussian nature of turbulent circulations in the vicinity of spreading wildland fires through forested areas can make the application of predictive tools that assume Gaussian turbulence regimes problematic for local smoke dispersion forecasts.
Modeling Studies
Many numerical modeling studies related to fire behavior and fire-atmosphere interactions have been conducted since the early 1990s (Sullivan 2009), with some of them also including assessments of ambient and fire-induced turbulence and their effects on fire behavior and smoke dispersion. Building on some of the pre-1990 observational studies of atmospheric turbulence regimes generated by wildland fires (e.g., Haines 1982; Haines and Smith 1983, 1987), Heilman and Fast (1992) and Heilman (1992, 1994) conducted some of the first boundary-layer modeling studies of wildland-fire-induced turbulence, including turbulent horizontal roll vortex development above fires on flat terrain and on hills. These initial two-dimensional modeling studies showed that (1) the TKE of horizontal roll vortices generated by buoyancy above wildfires can be on the order of 10–100 m2 s−2, depending on fire intensity, (2) the height of maximum TKE tends to decrease as the ambient wind speed increases, and (3) wildfires on the windward, leeward, and crest locations in areas of complex terrain produce very different turbulent horizontal roll vortex structures.
More sophisticated fire-atmosphere interaction modeling efforts followed in the late 1990s and early 2000s (Jenkins et al. 2001). These modeling studies provided further insight into the atmospheric dynamics involved in the generation and evolution of ambient and fire-induced turbulent eddies/vortices during wildland fire events in grass and forested environments, and how turbulence regimes can feed back on fire behavior. Some of these modeling efforts and their key findings are described below.
Clark et al. (1996a, b, 2004) used two different coupled fire-atmosphere numerical modeling systems, one utilizing the McArthur fire spread rate formulation (Noble et al. 1980) and the other utilizing the BEHAVE fire-behavior model (Rothermel 1972), to demonstrate that vertically oriented turbulent vortex structures or columns can develop near fire fronts. Furthermore, these vortex structures may lead to significant changes in fire spread rates.
Numerous wildland fire behavior and canopy flow simulations have been carried out with the FIRETEC wildland fire behavior model (Linn et al. 2002) coupled with the HIGRAD atmospheric transport model (Reisner et al. 2000). Results of the HIGRAD/FIRETEC simulations indicate that (1) large coherent turbulent eddies, which can affect fire spread rates and the occurrence of crown fires, are induced by atmospheric flow through forest canopies (Pimont et al. 2009), (2) unburned tree-crown streets can result from fire-induced horizontally-oriented turbulent vortices (Pimont et al. 2011), reaffirming the unburned tree-crown street formation hypothesis of Haines (1982), (3) vertically oriented turbulent vortices combined with the turbulent buoyant updrafts generated by surface fire lines play a significant role in the transport of firebrands (Koo et al. 2012), (4) turbulent vortices generated by upslope-spreading fire fronts can be transported ahead of the fire fronts and lead to new ignitions at locations relatively far-removed from the fire fronts without any firebrand activity involved (Dupuy and Morvan 2005), (5) buoyancy-induced and horizontally oriented turbulent vortices may develop in the vicinity of fire fronts, leading to regular patterns of up-wash and downwash regions, the latter being associated with penetrating airflow into the fire fronts (Canfield et al. 2014), and (6) forest canopy modifications such as those associated with insect-related defoliation and mortality can lead to changes in the height of maximum TKE from the canopy top to lower heights in the canopy layer, which in turn contribute to changes in potential fire rates of spread over time as tree mortality progresses (Hoffman et al. 2015).
Similar numerical modeling studies of fire-atmosphere interactions have been carried out using the Weather Research and Forecasting (WRF) model (Skamarock et al. 2005) alone or the wildland fire behavior module WRF-Fire (Coen et al. 2013) integrated into the WRF model. Cunningham et al. (2005) demonstrated with WRF how counter-rotating turbulent vortex pairs aligned with the plume trajectory, transverse vortices generated by wind shear on the upstream face of the plume, and vertically oriented turbulent wake vortices on the downstream side of the plume can develop in response to lower ABL heating by wildland fires. Simpson et al. (2013, 2016) demonstrated with WRF-Fire how fire-induced turbulent updrafts/downdrafts and vertically oriented turbulent eddies/vortices on the flanks of up-slope spreading wildland fires can lead to rapid lateral fire spread near ridge lines.
In addition to the HIGRAD/FIRETEC and WRF/WRF-Fire simulation studies, other studies of ambient and fire-induced turbulence have utilized state-of-the-art modeling systems such as the University of Utah's Large-scale Eddy Simulation (UU-LES) model (Zulauf
2001
), the Advanced Regional Prediction System (ARPS) (Xue et al.
2000
,
2001
), the Wildland-Urban-Interface Fire Dynamics Simulator (WFDS) (Mell et al.
2007
), and FIRESTAR (Morvan and Dupuy
2004
). Sun et al. (
2009
) used the UU-LES model in their numerical simulations of fire-atmosphere interactions to show that the common occurrence of strong downdrafts behind spreading fire fronts, which can bring high-momentum air from aloft down to the surface, is the result of interactions between fire-induced convective circulations and strong turbulent eddies in the ambient atmosphere. Kiefer et al. (
2014
,
2015
,
2016
,
2018
) used a version of ARPS that includes a canopy submodel (ARPS-Canopy; Kiefer et al.
2013
) to show that (1) increases in atmospheric TKE above spreading surface fire fronts beneath forest canopies are largest immediately above the canopy top, (2) advection of TKE generated above spreading surface fire fronts can lead to TKE maxima occurring at locations downwind of the fire fronts, (3) both wind shear and buoyancy play a role in TKE production downwind of surface fires when a forest canopy is present, whereas buoyancy is the primary production mechanism in the absence of forest overstory vegetation, (4) the impact of surface fires on boundary-layer integrated vertical turbulent heat fluxes is strongest when no forest overstory vegetation is present, and (5) forest gaps and their locations with respect to wildland fire lines that may be present have an effect on turbulent circulations and TKE values upwind and downwind of the fire lines, as depicted in Fig.~
9
. Finally, Mueller et al. (
2014
) and Morvan and Dupuy (
2004
) were able to show in their WFDS and FIRESTAR simulations, respectively, that (1) ambient turbulence regimes inside forest overstory vegetation layers are characterized by maximum TKE values near the canopy top and positively (negatively) skewed streamwise (vertical) turbulent velocity distributions, and (2) horizontally oriented turbulent vortices just downwind of fire fronts can recirculate hot gases and ignite secondary spot fires if fuel conditions are sufficient.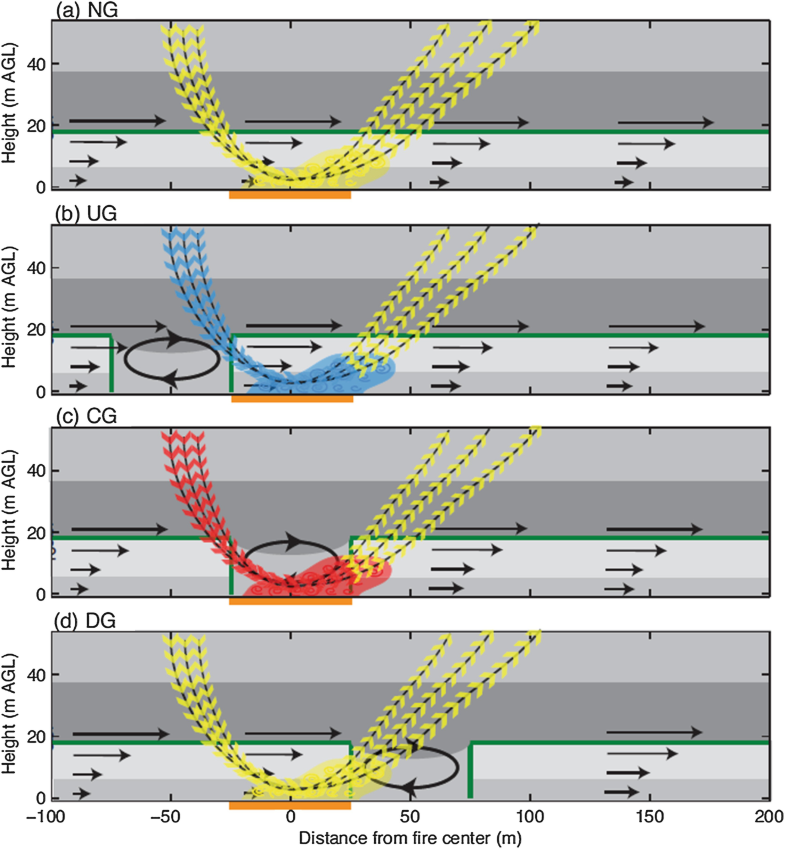 Copyright information
© Springer Nature Switzerland AG 2019
Section editors and affiliations