Introduction
For decades, the notions of rock art and prehistoric art have been immediately associated with the famous paintings in the caves of Altamira, Lascaux, and now Chauvet. However, all over Africa, rock paintings and engravings abound. The oldest of these naturalistic rock images are dated to about 30,000 years ago in Namibia, while the ornamentation of rock shelters is still alive today in many places.
Unlike the richly documented rock art of the Sahara or southern Africa, that of sub-Saharan Africa often remains poorly known, or understudied, despite having been reported as early as the sixteenth century – and well before the first discoveries of prehistoric art in Europe (Heimlich 2017). However, a few notable exceptions remain, with the hundreds of circular petroglyphs of Bidzar in Cameroon, the schematic engravings of the Ogooué Valley in Gabon, the representations of throwing knives from the Central African Republic, or the rock images of the Lovo Massif in the...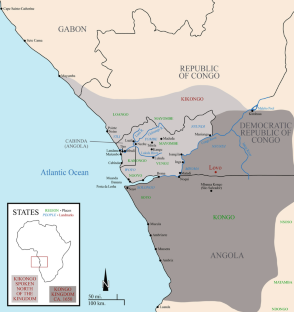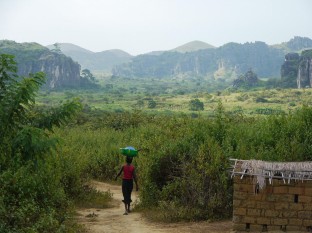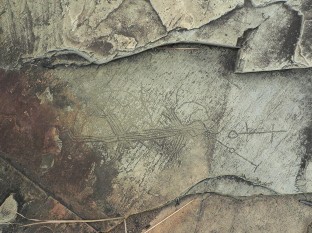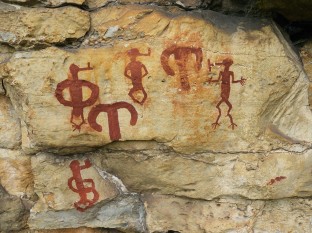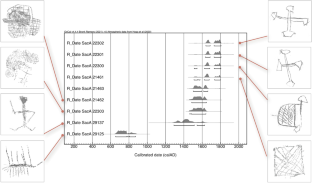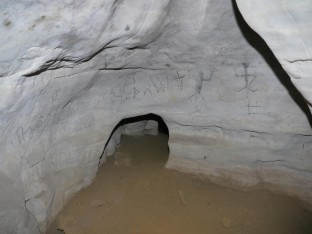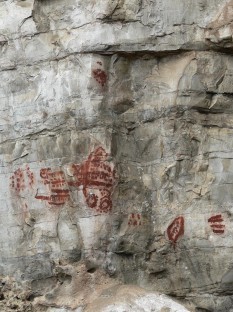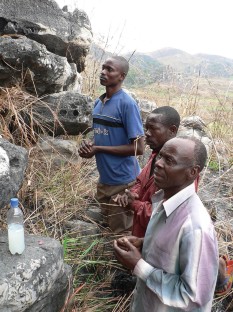 References
Clist, B., P. de Maret, and K. Bostoen. 2018. Une archéologie des provinces septentrionales du royaume Kongo. Oxford: Archaeopress. http://www.archaeopress.com/ArchaeopressShop/Public/displayProductDetail.asp?id=%7BB3CA00D9-9393-4C47-A098-2FA8B41EBBCB%7D. Accessed 25 May 2021.

de Maret, P. 1982. Rock Art. In The archaeology of Central Africa, ed. F. van Noten. Graz: Akademische Drück- u. Verlagsanstalt.

De Munck, J. 1960. Les grottes et les roches gravées du Bas-Kongo. Ngonge Kongo: Carnet d'Histoire et de Littérature 3: 10.

del Santissimo Sacramento, D. 1583. Relación del Viage de Guinea que hiço el Padre Fray Diego del Sactissimo Sacramento, con sus compañeros fray Diego de la Encarnacion y fray Francisco Indigno. Año de mill y quinientos y ochenta y tres. Madrid: Biblioteca Nacional de Madrid, Manuscript 89r-111v.

Heimlich, G. 2014. Le massif de Lovo: un patrimoine important et menacé. In Patrimoines en danger : esquisses d'état des lieux en Afrique : séminaire du 8 octobre 2013, ed. B. Favel and C. Gaultier-Kurhan. Paris: Riveneuve.

Heimlich, G. 2016a. The anthropology and history of Rock Art in the Lower Congo in perspective. Antiquity 90: 1270–1285.

Heimlich, G. 2016b. The Kongo Cross across centuries. African Arts 49: 22–31.

Heimlich, G. 2017. Le massif de Lovo, sur les traces du royaume de Kongo. Oxford: Archaeopress. http://www.archaeopress.com/ArchaeopressShop/Public/displayProductDetail.asp?id=%7BD4330966-C961-46DB-81A0-0050B7F5CA06%7D. Accessed 25 May 2021.

Heimlich, G. 2019. Module 14: arts rupestres en Afrique. E-patrimoines, formation dans les domaines des patrimoines matériels et immatériels. https://www.e-patrimoines.org/patrimoine/module-14-arts-rupestres-en-afrique-les-cours/. Accessed 25 May 2021.

Heimlich, G. 2020. Exposition Lovo, sur les traces du royaume de Kongo/ Lovo, boluki bokonzi bwa Kongo. http://exposition-lovo.com. Accessed 25 May 2021.

Heimlich, G., P. Richardin, N. Gandolfo, É. Laval, and M. Menu. 2013. First direct radiocarbon dating of the Lower Congo Rock Art (Democratic Republic of the Congo). Radiocarbon 55: 1383–1390.

Heimlich, G., J.-L. Le Quellec, and C. Mambu Nsangathi. 2018. Lovo, Rock images, and Mythology in the land of the Kongo. Journal of Social Archaeology 18: 30–49.

Heimlich, G., J.-L. Le Quellec, G. Bourdin, M. Duval, C. Dudognon, M. Frouin, S. Touron, A. Nhamo, K. Machiwenyika, G. Porraz, T. Runganga, C. Bourdier, D. Keita, S. Ouattara, F. Duquesnoy, Y. Sanou, N. Santores Tchandeu, H. Sambo, R. Evina, F. Adama Dada Bah, C. Mambu Nsangathi, P. Bakua-Lufu Badibanga, P. Richardin, É. Laval, E. Pons-Branchu, H. Valladas, J. Yogolelo, A. Mutombo Masuta, and Z. Domingos. 2021. Art rupestre et patrimoine mondial en Afrique subsaharienne. Paris: Maisonneuve & Larose nouvelles éditions, Hémisphères éditions.

Le Quellec, J.-L. 2018. The Rock Art of Sub-Saharan Africa. In The Oxford handbook of the Archaeology and Anthropology of Rock Art, ed. B. David and I.J. McNiven. Oxford Handbooks Online. https://www.oxfordhandbooks.com/view/10.1093/oxfordhb/9780190607357.001.0001/oxfordhb-9780190607357-e-25. Accessed 25 May 2021.

Le Quellec, J.-L., and F. Duquesnoy. 2019. Les images rupestres du Sahara central. Nouvelles approches, nouveaux outils. Les nouvelles de l'archéologie 154. https://journals.openedition.org/nda/5341. Accessed 25 May 2021.

Mortelmans, G., and R. Monteyne. 1962. La grotte peinte de Mbafu, témoignage iconographique de la première évangélisation du Bas-Congo. In Actes du IVème Congrès panafricain de préhistoire et de l'étude du quaternaire, ed. G. Mortelmans and J. Nenquin. Tervuren: Musée royal de l'Afrique centrale.

Raymaekers, P., and H. van Moorsel. 1964. Dessins rupestres du Bas-Congo. Léopoldville: Éditions de l'Université de Léopoldville.

Thornton, J.K. 2018. The origins of Kongo: A revised vision. In The Kongo Kingdom: The origins, dynamics and cosmopolitan culture of an African Polity, ed. K. Bostoen and I. Brinkman. Cambridge: Cambridge University Press.

Tuckey, J.H., and C. Smith. 1818. Narrative of an expedition to explore the River Zaire, usually called the Congo in South Africa, in 1816. London: John Murray.

UNESCO World Heritage Centre. 2017. Mbanza Kongo, Vestiges of the capital of the former Kingdom of Kongo (Angola), Decision: 41 COM 8B.10. https://whc.unesco.org/en/decisions/6882. Accessed 25 May 2021.
Further Reading
Fromont, C. 2014. The art of conversion. Christian visual culture in the Kingdom of Kongo. Chapel Hill: University of North Carolina Press.

Heimlich, G. 2013. Rock Art as a source for the history of the Kongo Kingdom. In Kongo across the waters, ed. S. Cooksey, R. Poynor, and H. Vanhee. Gainesville: University of Florida Press.

Le Quellec, J.-L. 2004. Rock Art in Africa: Mythology and legend. Paris: Flammarion.

Le Quellec, J.-L. 2015. En Afrique, pourquoi meurt-on ? Essai sur l'histoire d'un mythe. Afriques. Débats, méthodes et terrains d'histoire. https://afriques.revues.org/1717. Accessed 25 May 2021.

Le Quellec, J.-L., and B. Sergent. 2017. Dictionnaire critique de mythologie. Paris: Éditions du CNRS.

Smith, B. 1995. Rock Art in South-Central Africa. A study based on the Pictographs of Dedza District, Malawi and Kasama District, Zambia. Unpublished Ph.D. dissertation, University of Cambridge.

Smith, B. 1997. Zambia's ancient Rock Art. The paintings of Kasama. Livingstone: The National Heritage Conservation Commission of Zambia.
Section Editor information
Copyright information
© 2021 Springer Nature Switzerland AG
About this entry
Cite this entry
Heimlich, G., Nsangathi, C.M. (2021). Rock Art, Lovo. In: Encyclopedia of Global Archaeology. Springer, Cham. https://doi.org/10.1007/978-3-319-51726-1_3559-1
DOI: https://doi.org/10.1007/978-3-319-51726-1_3559-1

Received:

Accepted:

Published:

Publisher Name: Springer, Cham

Print ISBN: 978-3-319-51726-1

Online ISBN: 978-3-319-51726-1

eBook Packages: Springer Reference HistoryReference Module Humanities and Social Sciences