Betta Splendens, the Siamese Fighting Fish
Living reference work entry
DOI:
https://doi.org/
10.1007/978-3-319-47829-6_2027-1
Betta splendens
, more commonly known as the Siamese fighting fish or
Betta
, is a small (males, shown in Fig.
1
, are around 6.5 cm long, females somewhat smaller) domesticated version of a fish native to small ponds and streams in what today is Thailand (Smith
1927
). It is a member of the family Anabantidae. The
Betta
breathes by means of a lunglike labyrinth organ rather than gills. Through selective breeding over the last 110 years, the
Betta
has been transformed from a small-finned brown fish to one of the most visually and behaviorally striking of the so-called tropical fish. Both the domesticated male and female have bright iridescent colors, and the male has long, flowing fins. It was first described in the scientific literature by Regan (
1909
) and introduced to the United States in 1927. It is a popular fish not only with amateur and professional aquarists but also with behavioral researchers. The latters' findings are the focus of this article.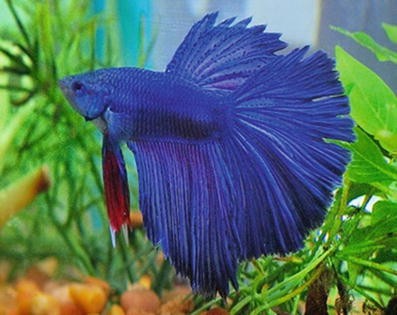 Copyright information
© Springer International Publishing AG, part of Springer Nature 2018
Section editors and affiliations