Abstract
Petroleum hydrocarbons (PHs) are the most widespread organic contaminants in soil and groundwater worldwide. The financial, environmental, and health impacts of the contaminants are considerable. Regulations require the remediation of contaminated sites and encourage the use of biological methods such as phytoremediation, whereby plants and their associated microorganisms are used. Whilst being cheap and sustainable, there are few elements like the efficiency and predictability that has retarded its implementation into commercial-wide applications. Endophytic bacteria living inside plant tissues are fundamental to plant health and many of them can break-down contaminants taken-up by the host, thereby reducing phytotoxicity. Sequencing of genomic DNA of pure strains and endophytic microbial communities provides critical new opportunities for phytoremediation applications to restore PH contaminated soils. In this chapter, we discuss on a number of beneficial effects of plant-endophyte partnerships, and highlight how new insights from genomics and metagenomics can assist soil remediation to enhance plant growth and ecosystem services of reclamated soil.
1

Introduction

The industrialization of modern societies and the ever-increasing demand for energy generation for heat, our transportation networks, and electricity generation has resulted in the extensive exploitation of petroleum hydrocarbons , which are the most widespread class of organic contaminants worldwide (Kästner 2008). Underground leaking of storage tanks are still one of the major sources of toxic hydrocarbon spills. For example, about 435,000 underground tanks with petroleum hydrocarbons have leaked in the United States (Kansas State University, 2005) and nearly 1.5 million underground storage tanks have been closed since 1984, but a large number of sites are still in need of remediation. In Europe, 60% of soil contamination contains mineral oil and trace elements (Panagos et al. 2013). The negative impacts of PH pollution on human health and the environment are of concern for the scientific community, policy makers and the public (Tang et al. 2011). Prolonged exposure to PHs can result in respiratory system disfunction, central nervous system disruption, and increase in the probability of lung, skin, bladder, liver and kidney cancers (Aguilera et al. 2010; Rodríguez-Trigo et al. 2010). Often PH pollution is left untreated, however restored lands are increasingly valuable for the production of edible crops, biofuels and fibers. Generally, conventional physical and chemical in situ and ex situ clean–up technologies for petroleum hydrocarbon remediation such as excavation, air sparging, removal and off-site treatment in biopiles, slurry- and solid phase reactors amongst others (Kulik et al. 2006; Moldes et al. 2011) are environmental unfriendly and invasive, often only result in incomplete removal of the pollutants, and are frequently expensive. In the next decades it is estimated that an average 125,000 dollars will be spent to treat each PH contaminated site by conventional techniques and costs can be upwards to billions when groundwater is polluted (Panagos et al. 2013).

Consequently, a significant amount of research is now focusing on alternative technologies to supplement and/or replace traditional approaches (Gerhardt et al. 2009; Cook and Hesterberg 2013). While the synergistic action of plants and their related microorganisms to remove and degrade petroleum compounds is considered to be advantageous in terms of cost, due to low capital expenditure, sustainability, and flexibility for in situ implementation, there are still numerous aspects about the mechanisms involved and the elements of uncertainty and efficiency that remain the subject of research and debate among members of the scientific community.

Endophytic bacteria living inside plant tissues have attracted major interest for increasing phytoremedation efficiency and predictability (Weyens et al. 2009a; Rylott 2014; Zhu et al. 2014; Ijaz et al. 2015). One of the main reasons is their lifestyle, endophytic bacteria dwelling the internal tissues of plants (roots, stems, leaves) overcome the competition for nutrients and space, and are physically protected from unfavorable environmental conditions which may enhance their survival and catabolic gene expression (Schulz and Boyle 2006). Moreover a number of reports have shown that endophytic bacteria have a better capacity to enhance PH phytoremediation than rhizosphere or soil bacteria (Barac et al. 2004; Andria et al. 2009; Weyens et al. 2010; Yousaf et al. 2011).

The purpose of this chapter is to give a detailed overview of the use endophytes in PH phytoremediation. We will focus on the ecology of endophytic bacteria, the mechanisms of colonisation, and diverse aspects of plant growth promotion (PGP) mechanisms. Furthermore, we will discuss their catabolic behaviour, and examples of endophyte-stimulated phytoremediation. Throughout the discussions we show how developments in genomics has been instrumental for understanding the plant and microbial catabolic mechanisms, directing management and monitoring of phytoremediation of petroleum hydrocarbon sites. Finally, we describe the future applications of endophytes and genomics, and the necessary steps to integrate the data into comprehensive management of PH contaminated sites.
2

Ecology of Endophytic Bacteria

For a long time endophytes were largely ignored or considered contaminants, now it is widely recognised that many endophytes are important plant symbionts without imposing visible sign of infection or negative effect on their host (De Bary 1866; Schulz and Boyle 2006; Reinhold-Hurek and Hurek 2011). After the first definition by De Bary (1866), endophytes were defined as "all organisms occurring within plant tissues," though later, various researchers used different definitions for endophytes depending on the research context and need (Kogel et al. 2006; Rosenblueth and Martinez-Romero 2006; Schulz and Boyle 2006). Since endophytes can proliferate inside the plant tissue, they can interact very closely with their host, face less competition for nutrients, and are better protected from adverse changes in the environment when compared to bacteria in the rhizosphere and phyllosphere (Andria et al. 2009). These elements increased the attractiveness of using endophytes in many phytoremediation studies (Weyens et al. 2009a, b; Rylott 2014; Ijaz et al. 2015) with often great successes (Barac et al. 2004). Evidence of the occurrence of endophytes has come from culture-dependent and culture-independent analyses, next to fluorescence in situ hybridisation-confocal laser scanning microscopy (FISH-CLSM). In the following paragraphs we give an overview of the diversity and ecology of endophytes as assessed by the culture-dependent and independent techniques.

Hyperaccumulating alpine pennycress (Thlaspi caerulescens) (Lodewyckx et al. 2002a), tall fescue (Malinowski et al. 2000), Arabidopsis seeds (Truyens et al. 2015a, b; 2016) and different grass species (Dalton et al. 2004; Thijs et al. 2014a) to woody tree species such as oak and ash (Weyens et al. 2009c), sycamore (Thijs et al. 2014b), poplar (Porteous Moore et al. 2006; Van der Lelie et al. 2009), Mimosa pudica (Pandey et al. 2005), pine seeds (Cankar et al. 2005), and other forest trees as reviewed (Pirttilä and Frank 2011). These reports illustrate that endophytic bacteria show a tremendously high diversity not only in plant hosts but also in bacterial taxa. Detailed information for host species with their associated endophytic bacterial diversity is available in earlier reviews (Lodewyckx et al. 2002b; Reinhold-Hurek and Hurek 2011; Hardoim et al. 2015). Most isolates belong to the Proteobacteria, Firmicutes, Actinobacteria and Bacteroidetes phyla of the domain bacteria (Bulgarelli et al. 2013). For example, the cultivable endophytic bacterial community associated with English oak was dominated by Actinobacteria (65.1%), with Frigobacterium spp. (45.0%) and Okibacterium spp. (13.0%) forming the majority (Weyens et al. 2009c). Proteobacteria represented 23.1% and were dominated by gamma-Proteobacteria (17.9%) including Pseudomonas spp. (9%), Xanthomonas spp. (4.6%), Enterobacter spp. (3.4%) and Erwinia (0.8%). The remaining part of the endophytes associated with English oak were Firmicutes (11.8%) with 8.8% Bacillaceae and 3.0% Paenibacillaceae (Weyens et al. 2009c). The possible application of these cultivable plant-associated bacteria for improving phytoremediation will be discussed below.
2.1

Critical Factors in the Isolation of Endophytic Bacteria

The isolation procedure is a critical and essential step when investigating endophytic bacterial communities . Commonly used procedures for isolation of endophytes combine surface sterilization of the plant part with subsequently either maceration of the plant tissue and plating onto nutrient agar, or plating of small surface sterilized plant parts onto nutrient agar (Eevers et al. 2015). In general, surface sterilization consists of: (1) thorough washing of the plant tissue, (2) surface sterilization, (3) several aseptic rinses and (4) a sterility check. Considering the high variety in procedures of isolation, comparison between different studies should be made carefully. In our laboratory, sterilization procedures were optimized for the isolation of endophytic bacteria from different parts of poplar (Porteous Moore et al. 2006; Beckers et al. 2016), willow (Weyens et al. 2012), yellow lupine (Weyens et al. 2014), alpine pennycress (Thlaspi caerulescens) (Lodewyckx et al. 2002a), rapeseed (Croes et al. 2013), tobacco (Mastretta et al. 2009) and Arabidopsis (Truyens et al. 2015a). In addition to the sterilization procedure, another very critical step in the isolation procedure is the choice of the growth medium; it directly affects the number and type of strains that can be isolated. Different growth media have been developed and improved over time (Bacon and White 1994; Schulz et al. 2006; Govindasamy et al. 2014). The addition of plant extract to the medium can improve the culturability of endophytes and regrowth of stored endophytes (Eevers et al. 2015). In adition, substantial progress has been made in culturing new groups of organisms through co-culture, and in situ incubation using diffusion systems such as the iChip (Nichols et al. 2010), see for a review here (Stewart 2012).

However, even after optimization of these critical steps in the isolation procedure, cultivation-dependent techniques still strongly underestimate the bacterial numbers, as they do not record the majority of viable but non-cultivable bacteria. Cultivation-independent methods for exploring microbial communities in natural habitats have suggested that cultivable isolates represent less than 1–10% of the bacterial taxa present in a plant (Torsvik et al. 2002). Therefore, in order to obtain a more complete insight in the composition of plant associated microbial communities, cultivation-independent methods based on rRNA gene identification or total environmental DNA or RNA sequencing should be employed. It must be mentioned that we also observed many times that even after their initial isolation and growth in culture medium, many endophytic strains were difficult or could not be further propagated under laboratory conditions, supporting the importance of the analysis of their communities with molecular cultivation-independent techniques. Moreover, mining the yet-to-be-cultured majority provides access to an immense reservoir of unexploited microbial diversity by cultivation.
2.2

Endophytic Communities Identified by Culture-Independent Tools

Insights on the total microbial community level have been obtained using culture-independent 16S rRNA-based methods such as denaturing gradient gel electrophoresis (DGGE), terminal restriction fragment length polymorphism (TRFLP) and 16S rRNA clone libraries, which provided a more detailed overview of the in situ communities than culture-based studies (Su et al. 2012). Since the advent of next-generation sequencing platforms, culture-independent molecular methods have greatly improved to provide high-resolution microbial community profiles (Sloan and Lebeis 2015). Using these molecular sequencing techniques such as pyrosequencing, Illumina and Ion Torrent, the first examples of a high-resolution analysis of endophytic root microbiomes were obtained of the model plant Arabidopsis (Bulgarelli et al. 2012; Lundberg et al. 2012; Bodenhausen et al. 2013; Schlaeppi et al. 2014), and also rice (Sessitsch et al. 2012), willow (Yergeau et al. 2014), poplar (Beckers et al. 2016), and Acer pseudoplatanus (Thijs et al. submitted). These studies showed that soil type was a main determinant of the root endophytic community composition by acting as a "seed bank" of microorganisms that can be recruited into the root-associated community. Despite major differences in soil and microbial community compositions, it has been shown that root endophytic microbiomes are composed of a core set of microbial taxa. Bulgarelli et al. 2013 suggested a two-selection step process to explain this. First, plant rhizodeposits mediate a substrate-driven community shift in the rhizosphere, and second, the host-genotype innate immune system fine-tunes the microbial profile in the selection of root endophyte assemblages (Bulgarelli et al. 2013). Root-endophyte microbial communities generally display an order-of-magnitude reduction in species richness compared to rhizosphere and bulk soil communities and numbers progressively decrease towards the aerial parts (stem, leaves, flowers, seeds) (Bulgarelli et al. 2013; Afzal et al. 2014). Besides soil and air for leaf endophytes, other environmental factors may affect the composition of endophytic communities such as climate variables and interactions with other organisms (Sloan and Lebeis 2015). For leaf endophytic communities for example, the surrounding air and environmental growth conditions were considered important determinants next to host genotype (Kembel et al. 2014).

In most studies, a common trend is that the proportion of Proteobacteria and Actinobacteria are typically increased in the root-endosphere of plants compared to the bulk soil, while Acidobacteria are frequently underrepresented (Bulgarelli et al. 2012; Sessitsch et al. 2012; Beckers et al. 2016). Many Proteobacteria have been characterised for beneficial plant-growth promoting features, while Actinobacteria are famous for their antibiotic producing capacity. Therefore it is not unlikely that some intrinsice plant-microbe signalling can favour the prevalence of these groups. Even between plant species, significant overlap between the core set of microbial taxa have been reported, for example between sugarcane and Arabidopsis root endophytes, and common ivy phyllosphere and Arabidopsis phyllosphere (Stevens et al., submitted). This raised the interesting hypothesis that a number of bacterial families have had long association with plants (Schlaeppi et al. 2014). This warrants a larger survey of edophytic microbial communities from a wider range of plant species growing in different soil types and environments to gain novel insights in the ecology of microbial endophytes.
2.3

Colonization

As most endophytes derive from the rhizosphere, root-endophytic communities are the most diverse, and contain highest densities in the plant. Root colonization by rhizosphere bacteria occurs along the root axis and is a dynamic process with highest cell densities at root hairs and root tips (Fan et al. 2012). Root colonisation can be considered to involve four steps (Compant et al. 2010). The initial step consists of bacteria moving to the plant roots. This movement can either be passive via soil water fluxes, or active, via specific induction of flagellar activity by plant-released compounds (chemotaxis). In the second step, non-specific adsorption of bacteria to the roots is occurring with subsequent anchoring (third step), which represents the firm attachment of the bacterial cell to the root surface. Very often, bacteria form dense biofilms on the root surface and this happens more under stress conditions such as contamination and low nutrient levels (Ramey et al. 2004). Ultimately, a subset of the rhizosphere microbiota can enter the root tissues and establish as endophytes. Bulgarelli et al. (2013) listed different root exudate components that are involved in these processes. Also border-like cell derived proteoglycans have been attributed to be involved in the attachment of bacterial cells, in particular Rhizobium, to root cells of non-leguminous plants (Santaella et al. 2008).

Since many facultative endophytic bacteria are also surviving in the rhizosphere, it is clear that there exists a close relationship between endophytes and bacteria colonizing the rhizosphere. The root is the primary site where endophytes gain entry into plants, with the exception of bacteria transmitted through the seeds, which are already present in the embryo at the time of germination (Porteous Moore et al. 2006; Truyens et al. 2015b). Bacterial entry into plants mainly occurs at locations of epidermal damage, that arise as a result of normal growth of the plant like formation of laterals, or through root hairs and at epidermal conjunctions (Compant et al. 2010). Furthermore, exudates leaking through these wounds are a source of nutrients for the colonizing bacteria and hence create favourable conditions. Several microscopic studies confirmed this route of colonization (Watt et al. 2006; Lagendijk et al. 2010; Fan et al. 2012). This was further supported by the analysis of the genome of Enterobacter sp. 638, a plant growth promoting endophyte from poplar (Taghavi et al. 2010) whose genome was sequenced by the JGI. This analysis revealed the presence of several gene clusters important for cell mobility including four operons for flagellar biosynthesis (FlgNMABCDEFGHIJKL, flhEAB fimA yraIJ lpfD cheZYBR tap tar csuEDCAB int cheWA motBA flhCD, fliYZA fliCDSTEFGHJKLMNOPQR and fliEFHIJKLMNOPQR). The Enterobacter sp. 638 genome further contained a number of genes associated with agglutination and cell adhesion, similar to those found in both animal and plant pathogens (Taghavi et al. 2009; Taghavi et al. 2010). Many of these genes were not found in E. coli K12, and are hypothezised to be important for plant colonization. Wounds and lateral root formation, however, are not absolutely required for the entrance of endophytic bacteria in their host plant. For instance, vector organisms (e.g., Saccharicoccus sacchari, arbuscular mycorrhizae, and insects) are possible candidates to assist potential endophytes to gain entrance to the apoplastic spaces and to colonize the host plant (Frey-Klett et al. 2011).

Several studies reported increased cellulase and pectinase activities during colonization of endophytes suggesting that active penetration is also an option (McCully 2001; Rosenblueth and Martinez-Romero 2006). Although Enterobacter sp. 638 was not able to grow on pectin (poly(1,4-d-galacturonate)) as a sole carbon source, its genome carries the genes involved in pectate degradation, a demethylated backbone of pectin (Taghavi et al. 2010). In addition, other regions on the genome of the same strain encode for carbohydrate uptake and metabolism. However, cellulose hydrolases were not found on the genome of Enterobacter sp. 638 (Taghavi et al. 2010).

Once inside the plant, endophytic bacteria either remain localized in a specific plant tissue like the root cortex or the xylem (Fig. 

1

), or continue colonizing the plant systematically by transport through the vascular system or the apoplast.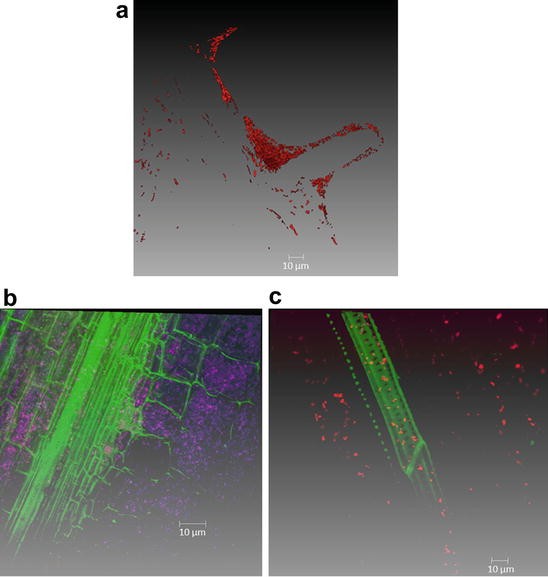 Except for particular cases such as Azoarcus spp. and Rhizobium in grasses, or Alcaligenes faecalis in rice, endophytic bacteria primarily colonize intercellularly (Hardoim et al. 2008). Highly specific adaptations are those of endosymbionts like rhizobia which live intracellularly in nodule cells of leguminous plants (Murray 2011). To better understand the modes and sites of entry of endophytic bacteria, gfp and egfp marked strains were inoculated in various plant species and their colonization was investigated by means of confocal microscopy (Bloemberg et al. 2000; Germaine et al. 2004; Gilbertson et al. 2007; Cardinale 2014).
Besides plant roots as entry for many endophytes, entry may also occur through the seeds and through natural holes in the phyllosphere such as leaf stomata and lenticels (pores for gas exchange in stems) (Kluepfel 1993), hydrathodes (water pores), and nectarthodes (opening in nectary glands of blossoms). A general model of leaf colonization by phyllobacteria consisting of 8 important steps was presented by Beattie and Lindow (1999): (1) bacterial immigration, (2) habitat modification, (3) bacterial division, (4) microcolony formation, (5) formation of large aggregates, (6) entry into internal spaces, (7) habitat modification and bacterial division, and (8) egression onto the leaf surface (8). However, they acknowledged that these steps will vary in function of different bacterial species (Beattie and Lindow 1999). Recently, a bacterial bioreporter for fructose and sucrose used to quantify the availability of nutrients to individual cells in the phyllosphere, revealed that growth of Erwinia herbicola occurred at the expense of sugars but that there was a highly heterogenous availability of fructose to individual cells (Leveau and Lindow 2001).
3

Beneficial Effects of Plant-Microbe Partnerships

As reviewed by Lugtenberg et al. (2002), Ryu et al. (2005); Glick (2012), Bloemberg and Lugtenberg (2001), plant growth promotion has been intensively investigated for plant growth promoting rhizobacteria (PGPR). We already mentioned before that there exists a close relationship between rhizosphere and endophytic bacteria suggesting that, presumably, they all use similar mechanisms to benefit their host plant. Many mechanisms of plant growth promotion by plant-associated bacteria have been described, and were broadly grouped into two categories: direct and indirect (Spaepen et al. 2009). Many efforts have been made to elucidate both the direct and indirect mechanisms by which plant-associated bacteria improve plant growth (Lugtenberg and Kamilova 2009; Roca et al. 2013; Farrar et al. 2014). Mechanisms for direct plant growth promotion may involve nitrogen fixation especially diazotrophs, the supply of less available nutrients such as phosphorus and other essential nutrients (Lugtenberg and Kamilova 2009; Drogue et al. 2012), the production of plant growth regulators such as auxins, cytokinins and gibberellines (Somers et al. 2004; Gray and Smith 2005), and the inhibition of plant ethylene production due to bacterial 1-aminocyclopropane-1-carboxylate (ACC) deaminase activity (Glick 2005). Indirect mechanisms for plant growth promotion are related mainly to the suppression of pathogenic and deleterious microorganisms through competition for space and nutrients, antibiosis, production of hydrolytic enzymes, inhibition of pathogen-produced enzymes or toxins, and induction of plant defence mechanisms (Compant et al. 2005; Couillerot et al. 2009; Zamioudis and Pieterse 2012). All these mechanisms are attributed more to plant health than direct growth promotion.

Recently, genomic insights of plant growth promoting endophytes (PGPE) has increased our understanding of the molecular mechanisms of plant growth promotion (Bruto et al. 2014). For example, based on a genome sequence analysis of 304 Proteobacteria, it was shown that the number of genes contributing to plant-beneficial functions increased along the continuum from animal pathogens, phytopathogens, saprophytes, endophytes/symbionts to PGPR, suggesting that the accumulation of these PGP-genes might be an intrinsic PGPR feature (Bruto et al. 2014). The best-studied examples of PGPR belong to diverse genera and include, amongst others, Azospirillum, Bacillus, Burkholderia, Enterobacter, Klebsiella, Paenibacillus, Pseudomonas and Rhizobium. A variety of PGPR and PGPE have also been used as inoculants for the remediation of contaminants (Zhuang et al. 2007). In this respect, it is important to understand the mechanisms of plant growth promotion to predict how bacteria interact with plants and whether they can establish themselves in the plant environment after inoculation in the field.

In general, free living bacteria usually do not show one single mechanism of plant growth promotion, but they may involve a combination of the individual mechanisms. In addition, synergistic interactions between PGPR and other microbes such as mycorrhizal fungi have been reported (Artursson et al. 2006). Besides understanding the molecular mecchanisms of PGP of single individuals, it is important to also comprehend the environmental and physiological factors regulating the biosynthesis of growth promoting and antimicrobial compounds produced by plant-associated bacteria. This is an essential step towards improving the level and reliability of their growth promoting activity. Below, some important PGP mechanisms and individual contribution to plant growth promotion are discussed more in detail.
3.1

Direct Promotion of Plant Growth
3.2

Indirect Promotion of Plant Growth
4

Catabolic Potential of Endophytic Bacteria

Not only soil and rhizospheric bacteria but also many endophytes are described to have the catabolic enzymes to degrade or transform petroleum hydrocarbons. Petroleum hydrocarbons are a complex mixture of linear, branched and cyclic alkanes and aromatic compounds that are not all as easy biodegradable. From high to low biodegradability they can be ranked as follows: n-alkanes > branched-chain alkanes > branched alkenes > low-molecular-weight n-alkyl aromatics > monoaromatics > cyclic aromatics and polycyclic aromatic hydrocarbons (PAHs) (Chikere et al. 2011).

The most complete degradation occurs under aerobic conditions. Alkane-degradation by bacteria for example begins with an oxidative attack at the terminal methyl group with the formation of a fatty alcohol, aldehyde and fatty acid (Van Hamme et al. 2003; Kanaly and Harayama 2010). The carboxylic acid can then be combined with CoA that via acetyl-CoA can enter the tricarboxylic acid (TCA) cycle. Short-chain alkane monooxygenases, including methane monooxygenases (MMO), are the first enzymes involved in oxidising C1–C4 alkanes (Martin et al. 2014). Gaseous alkanes can be metabolized by strains expressing propane or butane monooxygenases that are related to methane monooxygenases, and these have been found for example in Gordonia sp. TY-5 (Kotani et al. 2003). Medium-chain length (C5–C16) alkanes may be oxidized by two main classes of enzymes: integral membrane non-heme iron alkane hydroxylases (alk system) and soluble cytochrome P450s . The most thoroughly characterized alkane degradation pathway is encoded by the OCT plasmid carried by Pseudomonas putida Gpo1 (van Beilen et al. 2001). In this system, the alkBFGHJKL operon encodes the enzymes necessary for converting alkanes into acetyl-coenzyme A (CoA), while alkST encode a rubredoxin reductase (AlkT) and the positive regulator for the alkBFGHJKL operon (AlkS). The genetic characterization in P. putida GPo1 of the alkane degradation pathway boosted the research on the field and since then more than 60 homologues of alkane hydroxylase gene (alkB) have been cloned and sequenced in both Gram-positive and Gram-negative bacteria such as Acinetobacter sp., Mycobacterium sp., Rhodococcus sp., Pseudomonas putida P1, P. aureofaciens and P. fluorescens (Palleroni et al. 2010; Wang et al. 2010a, b). Sequencing of the genomic DNA of pure bacterial cultures isolated from contaminated sites allows the detailed analyses of PH-degradation pathways. Currently, there are well-established and growing genomic databases for the genomes and pure cultures, such as the National Centre for Biotechnology Information (GenBank, RefSeq), the National Institute of Genetics (DNA Data Bank of Japan), and the European Bioinformatics Institute (EMBL). The advantage is that these genomic sequences can now be obtained in a day, rather than years, and for a fraction of the cost. This has opened access to the so-called "uncultured majority." Advances in this field has already revealed a striking diversity in nucleotide and amino acid sequences of the AlkB gene (van Beilen et al. 2001; Wasmund et al. 2009; Wang et al. 2010a, b) and suggests horizontal gene transfer in many cases of duplicated gene clusters.

Also beyond genomics, the advances in environmental DNA shot-gun metagenomics and high-throughput metatranscriptomics , the in-depth characterisation of active degradative natural microbial communities, is possible (Bell et al.

2014a

). Although data management is a great challenge, these technologies advance our understanding of the dominant roles that microorganisms play in the metabolism of contaminants in soil and

in planta

, and what they mean for the metabolism of plants. Plants are not longer viewed as "autonomous entities," but as a biomolecular network composed of the host and its associated microbiome "metaorganism " (Thijs et al.

2016

). Exciting new discoveries of catabolic pathways are expected in the next decades. This information can be used in biotechnological applications and phytoremediation such as using bacteria to predict changes in biodegradation rates, microbe-based plant breeding for phytoremediation, and novel synthetic strains for improved in situ or ex situ degradation (Fig. 

2

), as also explained further.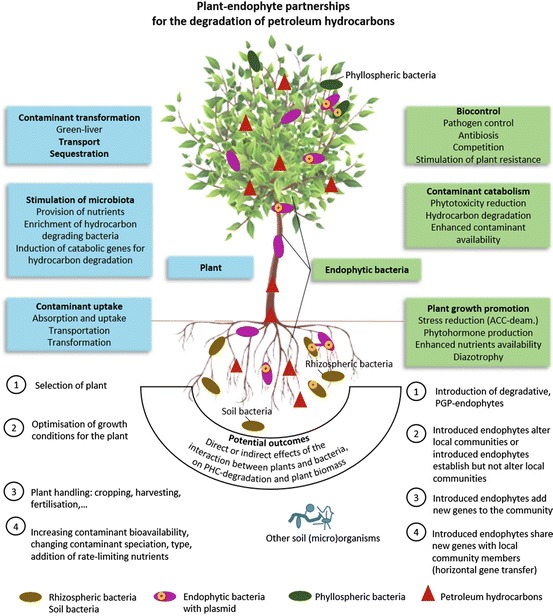 5

Phytoremediation of Petroleum Hydrocarbons

Phytoremediation requires the selection of plants with increased pollutant tolerance, production of sufficient root and shoot biomass, suitability for various soil types, effective pollutant uptake mechanisms, appropriate metabolic capabilities to degrade organic pollutants, and association with active degradative microorganisms (Vangronsveld et al. 2009; Wenzel 2009; Fig. 2).

Initially, the response of plants to PHs present in soil includes uptake and translocation followed by accumulation or evapotranspiration. It is known that root uptake of PHs is strongly affected by PHs lipophilicity, a parameter which is expressed as the octanol-water partition coefficient (Kow ) (Gerhardt et al. 2009). PHs with a log Kow < 1 are characterized by high water-solubility, and plant roots do not generally accumulate them at a rate surpassing passive efflux into the transpiration stream with subsequent translocation to the shoot, therefore, that practically means impassability to be taken up by the plant roots, whereas PHs with a log Kow > 3.5 cannot be taken up and translocated into the plant due to tight sorption onto the soil or root surfaces (Weyens et al. 2009b). After being transported inside the plant, PHs can be either sequestered in root tissue, or transported into shoots and then to leaves, where they can be stored in the vacuole or volatized into the atmosphere (Reichenauer and Germida 2008; Fig. 2).

Over the last years, evidence has accumulated that many plant species are suitable for PH remdiation such as Italian ryegrass (Lolium perenne), sorghum (Sorghum bicolour), maize (Zea mays), tall fescue (Festuca arundinacea), alfalfa (Medicago sativa var. Harpe), elephant grass (Penninsetum purpureum), bermuda grass (Cynodon dactylon), birdsfoot trefoil (Lotus corniculatus var. Leo), sunflower (Helianthus annuus), southern crabgrass (Digitaria sanguinalis), red clover (Trifolium pretense), beggar ticks (Bidens cernua), sedge species (Cyperus rotundus), leguminous plants, and willow (Salix spp.) (Kamath et al. 2004; Kaimi et al. 2007; Bell et al. 2014b; Yergeau et al. 2014). Although the plant may often metabolize or sequester environmental toxins, plants are at a significant disadvantage compared to microorganisms in two ways. Firstly, being photoautotrophic , plants do not rely on organic compounds as a source of energy or carbon. Secondly, plant metabolism of organic molecules (other than photosynthates) follows general transformations to more water-soluble forms, and sequestration processes to avoid build-up and potential toxicity to sensitive organelles (green-liver model) (Burken 2003), rather than mineralisation. Therefore, in order to develop a more efficient degradation of organic xenobiotics, plants depend significantly on their associated microorganisms.
6

Conclusions

Hydrocarbon contamination in soil and (ground)water is one of the major challenges we are facing today. The use of plants and microbes can drastically reduce the impact that contaminated sites have on the environment by improving the degradation at a low cost and sustainable manner. We have discussed that plants associate in diverse and intricate partnerships with microorganisms. Plants create specific favourable niches for their associated bacteria by providing them nutrients, and the plant-associated (endophytic) bacteria can improve growth and development of their host plant directly or indirectly. During phytoremediation of contaminated soils and (ground)water, endophytic bacteria possessing the appropriate degradative enzymes may reduce PH phytotoxcicity and enhance PH degradation thereby reducing the chance of evapotranspiration of volatile contaminants and/or degradation intermediates to the atmosphere. The integration of environmental genomics into plant-microbe sitmulated phytoremediaton may further improve the reliability and efficiency of the technique. Phytoremediation will require the use of molecular barcoding and sequencing for rapidly quantifying microbial communities to predict changes in degradation rates and future predictions. Besides using natural occuring endophytes , successful examples in the past have shown the potential of using engineered endophytes, which have a high degradation capacity and ability to transfer their degradative genes to te indigenous microbial community by natural gene transfer . Because the new sequencing technologies are still in development, some risks to the environment may still exist related to the element of uncertainty and long-term performance. Nevertheless, great avenues and discoveries are anticipated in this exciting field in the years to come.
7

Research Needs

To address these challenges, cheaper and more sustainable solutions are needed to remove harmful pollutants from the environment. In this light, phytoremediation, the use of plants and associated microorganisms to degrade aromatic hydrocarbons, has gained increased interest by providing a green and economically beneficial solution.
Copyright information
© Springer International Publishing AG 2016