Improving Infant and Young Child Nutrition in a Highly Stunted Rural Community: A Practical Case Study from Guatemala
Abstract
Stunting is a major public health concern because of its association with child mortality and morbidity and later adult economic and health. Despite Guatemala's important contributions on child nutrition research, the indigenous Maya population in Guatemala has one of the highest stunting rates in the world. This chapter contextualizes the global problem of child stunting with a close look to Guatemala's historical nutrition research and policy, followed by a description of a comprehensive nutrition programming model for highly stunted communities developed by the nongovernmental healthcare organization Wuqu' Kawoq ∣ Maya Health Alliance and a single-community case study of the model implementation. The model includes both preventative and curative evidence-based interventions to target food security, environmental factors, access to health services, and caregiver education and empowerment. Frontline workers with cultural and linguistic competency deliver individualized education and nutrition assessments. Over a 2-year implementation of the approach in a Maya community, the overall prevalence of stunting under 5 declined 20% and the prevalence of severe stunting 35%. In this and other similar settings, holistic, primary care approaches to malnutrition can have significant impact on child health.
Keywords
Stunting 
Diet quality 
Feeding practices 
Case study 
Guatemala 
Indigenous 
Food security 
Community-based nutrition 
Nongovernmental organization 
Primary care 
List of Abbreviations
FANTA

Food and Nutrition Technical Assistance

INE

Instituto Nacional de Estadística

LMIC

Low- and Middle-Income Country

MHA

Wuqu' Kawoq | Maya Health Alliance

MSPAS

Ministerio de Salud Pública y Asistencia Social

NGO

Nongovernmental Organization

PEC

Expansion of Coverage Program

PPHO

Plan de Pacto Hambre Cero

USAID

United States Agency for International Development

WHO

World Health Organization

ZHP

Zero Hunger Plan
Introduction
More than 150 million children younger than 5 years of age worldwide suffer from chronic malnutrition, or stunting (UNICEF 2016). Stunting results from a complex interplay of social, economic, environmental, and biological factors that lead to restricted linear growth (Reinhardt and Fanzo 2014). Stunting not only is a risk factor for early childhood morbidity and mortality (Black et al. 2013) but also confers deleterious long-term effects on cognitive development, adult health, and economic productivity (Hoddinott et al. 2008; Adair et al. 2013; Sawaya et al. 2003). Although the global prevalence of stunting has been declining since 1990, rates remain high in many low-and middle-income countries (LMIC) (Stevens et al. 2016; UNICEF 2016). While less than 50% of all children under 5 years of age live in LMICs, 98% of the world's stunted children live in these countries (Black et al. 2013; WHO 2016).
This chapter focuses on child nutrition in Guatemala, a Central American LMIC with a population of 16 million people. With a prevalence of stunting of 46% in children under 5 years of age, Guatemala has the highest stunting rate in the Western Hemisphere (MSPAS 2017; USAID 2016). Additionally, national-level data tend to obscure the disproportional burden of stunting throughout the country. The poorest sectors of Guatemala's population, who are largely rural indigenous Maya, have much higher stunting rates, making them the most stunted group in the world according to some estimates (Black et al. 2013). Such health indicators are deeply intertwined with the longstanding economic, social, and political marginalization of Maya communities in Guatemala, which includes state-sponsored genocide during a civil war from 1960 to 1996 (Oglesby and Nelson 2016).
We first briefly review the history of nutrition research in Guatemala before leading to a synthesis of the current state of the country's nutrition politics and policy. The historical overview showcases how Guatemala has served as a global nutrition research laboratory from the 1940s up to the present day. Among other significant work, we review how the Institute of Nutrition of Central America and Panama (INCAP) Cohort Study and its follow-up iterations, which are still ongoing, have had a remarkable influence on the scientific understanding of child malnutrition and on global nutrition policy. We then describe how findings from the INCAP study and related research have been put into practice within the contemporary Guatemalan health system under the "First Thousand Days" framework. Underlying this analysis is the uncomfortable reality that although Guatemala has served as an extremely productive nutrition research setting, stunting rates in the country persist at extraordinarily high levels.
After our discussion of nutrition research and policy in Guatemala, we provide a practical overview of a model of nutrition programming for highly stunted Maya communities developed by our nongovernmental organization, Wuqu' Kawoq | Maya Health Alliance (MHA). We then turn to a single-community case study of the implementation of this model to demonstrate its impact on child health. We conclude by reflecting on our experiences and discussing future research and programmatic priorities with regards to nutrition in Guatemala.
Stunting in Guatemala
Guatemala has an estimated population of 16.5 million people. The country has one of the largest indigenous populations in Latin America, with nearly 50% of the population self-identifying as indigenous Maya (Chary and Rohloff 2015; MSPAS 2017). Around the world, there are profound inequalities in health indicators and access to healthcare services for indigenous populations (Anderson et al. 2016; Gracey and King 2009). In Guatemala, stunting is a significant example of these disparities, as 58% of indigenous Guatemalan children are stunted as opposed to 34% of nonindigenous children (MSPAS 2017). As mentioned above, according to some analyses, the poorest quintile of Guatemalans (mostly rural and indigenous) are the most stunted population in the world (Black et al. 2013).
Stunting is a proxy for many significant short-term and long-term health risks. In the short term, stunted children are more likely to face illness, die in childhood, and have early cognitive and neurodevelopmental delays (Black 2017). In the long term, these children tend to not reach their full academic, economic, and health potential. They have decreased school performance, worse economic prospects, and face increased reproductive risks as adults (Adair et al. 2013; Dewey and Begum 2011; Hoddinott et al. 2008). Additionally, an emerging literature suggests that children who are chronically malnourished have higher risks of chronic noncommunicable diseases as adults, such as obesity, cardiovascular disease, and diabetes (DeBoer et al. 2012).
Guatemala's Historical Nutrition Research Overview
Since the late 1940s, Guatemala has made important contributions to the global study of childhood malnutrition. At that time, research conducted by INCAP in Maya communities demonstrated how the provision of malnutrition preventative services and improvements in basic community living conditions could have greater impacts on children's nutritional status than curative services alone (Mata 1978; Scrimshaw et al. 1969). Findings from these earlier studies formed the basis for the conceptualization of the INCAP Oriente Study, a nutrition trial that began as a supplementary feeding program in eastern Guatemala villages from 1969 to 1977 (Martorell et al. 1995; Stein et al. 2008). The Oriente Study is one of the most famous and oft-cited longitudinal nutrition studies in the world. Longitudinal follow-up from the original cohort and subsequent generations have generated strong evidence on the longer-term positive effects of early nutrition supplementation (Martorell 2010). In addition, the study clearly documented for the first time that child malnutrition in Guatemala is primarily a problem of endemic stunting (low height-for-age) rather than acute malnutrition (wasting, low weight-for-height) or underweight (low weight-for-age) (Ruel et al. 1995) and that exposure to chronic infectious disease and low-quality diets were the principal causes of children's impaired growth (Martorell 2010). The latest wave of data collection in the Oriente Study is currently being carried out, and using detailed biologic samples, researchers hypothesize that better child nutrition will be protective against adult obesity and related noncommunicable chronic diseases (Stein 2014). An important final note is that although prior INCAP research had included the study of child nutrition in indigenous Maya communities, the Oriente Study included only Spanish-speaking (i.e., nonindigenous) communities due to logistical barriers and the unavailability of unbiased cognitive tools for this population (Flood 2015).
Guatemala's Historical Nutrition Policy Overview
The INCAP Oriente Study demonstrated that growth faltering of stunted children in Guatemala occurs early, usually in the first year of life (Ruel et al. 1995). Nevertheless, historically much of Guatemala's official nutrition policy remained focused on school feeding programs (Nutrinet 2009). However, since 2006, nutrition policy in Guatemala has finally seen important policy shifts toward more preventive and comprehensive interventions targeting the early childhood period. These national changes derive from advocacy by major international donors and policy makers, including the United States Agency for International Development (USAID) and the World Food Program, in favor of early childhood programs in "the first 1,000 days of life" window (FANTA 2010). In 2012, the government of President Otto Pérez Molina made the prevention of early childhood malnutrition a major priority, disseminating a new multilevel strategic plan called "Plan Hambre Cero" (Zero Hunger Plan, ZHP), derived from the global "Thousand Days Initiative" framework (Thousand Days 2014). ZHP was launched with the goal to reduce stunting rates by 10% by the end of 2015 from a baseline rate of nearly 50% (PPHO 2012). The ZHP strategy emphasized global evidence-based interventions such as the distribution of micronutrient powders, deworming, provision of supplementary fortified flour blends, growth monitoring, and maternal education.
The ZHP was designed to function within the government's existing rural health system known as the "Programa de Extension de Cobertura" (Expansion of Coverage Program, PEC). PEC was established in the late 1990s, after the conclusion of the Guatemalan civil war, as a system to provide basic preventative health services for rural underserved indigenous populations. However, after allegations of institutional corruption within PEC, the government dismantled the program in early 2015 (Avila et al. 2015; Espina 2015). Uncertainty and political instability followed, and basic healthcare services in rural areas were suspended for months. A government corruption scandal led to the impeachment and resignation of the Guatemalan president, vice president, and several other major government officials; among the allegations were that public health funds had been diverted to private coffers (Galicia 2016). The rural system has subsequently been reconstituted, but this back and forth political drama simply underscores the fact that rural health programs remain incredibly underfunded and extremely limited in the provision of quality services.
An important, probably unintended side effect of implementing the Thousand Days framework in Guatemala has been an inflexible prioritization by nutrition and government stakeholders on the prevention of stunting in children under 2, limiting consideration of other pediatric health issues including strategies to improve outcomes in the very large number of Guatemalan children who are already stunted. While prevention of stunting is highly cost-effective, this does not indicate that there is no social or economic benefit to policies that also include catch-up growth in already stunted children, or in children older than 2 years. Indeed, historical data from the INCAP Oriente Study in Guatemala, as well as high-quality evidence from other countries, show that catch-up growth is possible and significant (Prentice et al. 2013; Roberts and Stein 2017; Stein et al. 2010).
Finally, the emphasis within Guatemala's rural health system of utilizing frontline health workers to deliver narrow, technical nutrition interventions to Guatemalan infants and children reflects a final point of departure from more holistic community health models pioneered in Guatemala many years ago. For example, in 1962, Dr. Carroll Behrhorst founded the Behrhorst Development Foundation, which attempted to address the underlying factors causing poverty and poor health among the rural Guatemalan population through community participation, empowerment, and integrated development programs. Central to the Behrhorst model were rural Maya community health workers trained to deliver curative and preventative medicine in their communities (Horton 1987). A case study of the Foundation was included in Kenneth Newell's 1975 book Health by the People (Newell and WHO 1975), which became highly influential during the primary health care movement in the lead-up to the Declaration of Alma Ata in 1978. In 1980s, the Foundation was severely impacted by the Guatemalan civil war, and after Behrhorst's death in 1990, decreases in international funding lead the Foundation to shift away from its original mission of community-based development (Maupin 2015).
Community-Based Nutrition Programming
Based on the foregoing analysis, we have been working for the last decade with rural Maya communities to reformulate community-based nutrition programming in a way that reclaims a focus on primary, holistic care; includes both preventative strategies and catch-up growth interventions for stunted children; and has a strong focus on caregiver education and empowerment. In this section, we describe the formative nutrition research and nutrition delivery model that we have developed, finally, moving to a detailed case study of its implementation in one rural community. The goal is to provide practical insights into comprehensive nutrition program design, as well as the potential impact of the approach, which will be of use to other practitioners around the world.
All of this work has been conducted within the institutional umbrella of Wuqu' Kawoq | Maya Health Alliance (MHA). MHA is a primary care organization, founded by ourselves and others in 2007, to provide culturally and linguistically nuanced services to rural Mayan-speaking populations. Over the years, MHA has grown into a full-service organization in central Guatemala delivering services in 20 rural highland communities to more than 20,000 patients per year. MHA also performs ethnographic and health services research relevant to Maya populations. With regards to child nutrition, MHA operates a large nutrition delivery program and has conducted numerous research studies, including clinical trials, on nutrition in this setting.
Formative Nutrition Research
Formative nutrition research in the years leading up to our nutrition program design has focused on ground-level factors that we have observed in our programmatic work to contribute to improved nutrition outcomes. Themes have included gender roles, food insecurity, breastfeeding, feeding practices , and community perceptions of stunting.
Importantly, a better understanding of the timing and onset of growth faltering has been a major concern. As also previously demonstrated in the INCAP Oriente Study (Ruel et al. 1995), we have noted that growth faltering in Maya communities starts usually at 6 months of age, corresponding to the time of transition to complementary foods, and negatively correlates with the household financial stability and availability of high-quality infant foods (Chary et al. 2011). For many indigenous families with young infants who are experiencing growth faltering, meeting food-based dietary recommendations is difficult due to the lack of economic resources for purchasing nutritious foods and the wide availability of alternative low-cost processed foods (Brown et al. 2014; Chary et al. 2013).
We have also investigated how poor child feeding indicators exist even in rural communities devoted to agricultural production, largely due to the pressures to enter the export agricultural market. For example, a recent study we conducted in a rural Maya community where most families dedicated themselves to agricultural production revealed that less than 3% of the children under the age of five met World Health Organization (WHO) standards for dietary diversity and meal frequency. In this community, most harvested produce was directed to exportation with minimal local consumption available for children (Webb et al. 2016). This is not really a matter of negligence so much as the fact that when the prevalence of child stunting is extremely high, its deleterious impacts on child health become normalized and are not easily perceived by caregivers (Brown et al. 2014; Chary et al. 2013). Finally, discrimination against Maya mothers by the formal health system exacerbates the impact of stunting by discouraging Maya caregivers from seeking out primary healthcare services (Chary et al. 2011).
Finally, we have explored strategies to overcome barriers to suboptimal breastfeeding and complementary feeding practices among Maya caregivers. For example, we have shown how mothers' relationships with their male partners and mothers-in-law contribute to feeding practices. Male partners often control all household funds, and mothers-in-law often make most food purchasing and preparation decisions. These family-level factors have a significant impact on child health and must be taken into consideration when designing programs (Brown et al. 2014; Chary et al. 2011).
Nutrition Program Model
Based on the results of this formative research, MHA has worked to design and adapt nutrition programs to meet the needs and sensibilities of clients and families in rural Maya communities. This work began in 2009 at a very small scale, serving 2 communities and approximately 70 children and their families. The program has continued to grow steadily; in 2016, it covered 20 rural communities and 1500 children under 2 years in three provinces (Chimaltenango, Sololá, Suchitepéquez).
The program model is designed to decrease the community prevalence of stunting through both universal preventative and targeted recuperative (catch-up growth) services. A basic package of preventative services is offered to all children under 5 years of age. This package is evidence-based (Bhutta et al. 2008) and in line with the Guatemalan government's own recommendations under the ZHP initiative (PPHO 2012), including growth monitoring, basic nutrition education for caregivers, micronutrient supplementation, and deworming. Notably, the provision of services for children older than 2 years of age is a departure from the thousand days framework (which recommends services up to 2 years as a policy priority) and is based on our experiences over the last 10 years that communities and families strongly prefer this programatic decision and that the more inclusive approach improves community buy-in. It is also in part a response to the evidence that catch-up growth is possible in stunted children older than 2 years (Prentice et al. 2013; Roberts and Stein 2017; Stein et al. 2010). In addition to this preventative community-based package, a more intensive 6-month catch-up growth intervention is targeted to already-stunted children younger than 2 years of age; this package is described in more detail below. All services are free-of-charge.
Nutrition technicians are supervised and supported by physicians and nutritionists, who perform monthly evaluation meetings. The nutritionists and physicians are on call for emergencies, and they evaluate children not responding as expected to the nutrition interventions. Staff physicians perform further medical evaluations for complex consultations or for primary care issues beyond the nutrition technicians' scope of practice. Integrating nutrition programming into this more comprehensive primary care safety net is, we feel, critical. Despite the ubiquitous nature of stunting in Guatemala, other treatable pediatric diseases such as inborn errors of metabolism or endocrine disorders can go undiagnosed without the input of expert practitioners (King et al. 2016). Care by nutrition technicians is primarily delivered by home visits, an approach which enables health care provision to patients who live far away from health care facilities.
Finally, because the nutrition model exists within a larger institutional primary care framework, nutrition technicians can connect other members of the family with other health care needs to potential medical resources. This is most important for female caregivers, who can access a full range of reproductive health services – including comprehensive reproductive education, cancer and sexual transmitted diseases' screening and treatment, and family planning – which are important elements for caregiver empowerment (Fig. 2).
Case Study
To provide additional programmatic details on the implementation of comprehensive, community-based nutrition programming, we present here a brief case study of the implementation of a nutrition program in one rural Maya community, Xik'injuyu', located in the western Guatemala piedmont (Table
2
). MHA began building a primary care program – primarily focused on child nutrition and reproductive health services – in collaboration with the community in 2014. The community consists of approximately 360 families, most of K'iche' Maya descent. Potable water services are scarce. Most male heads-of-households work as seasonal agricultural day laborers on rubber, banana, or coffee plantations, while most female residents are homemakers. Underemployment is common and around 70% of families live in poverty (less than $2 USD/day).
Table 2
Characteristics of Xik'injuyu' case study community prior to beginning nutrition programming. Basic demographic and nutrition-related characteristics are shown for the case study community. These characteristics are typical of the region and help to illustrate the stressors and risk factors of populations at high risk of stunting
Characteristics (n = 167)

Value

Household size (mean ± SD)

3.99 ± 1.93

Maternal illiteracy (%)

28

Adequate child diet (%)

49

Child nutrition status (%)

 Stunted

 Severely stunted

52

22
When beginning our collaboration with the community, families reported to us how they struggled with access to nutritious food, especially due to droughts, increases in food prices, and periods of unemployment, and more than 60% reported family-level food insecurity. Very few families (less than one-third) own land, and so producing their own food is an unavailable strategy. Many families told us that they resorted to purchasing low cost processed foods at local stores, as these were less costly and more readily available than high-quality fresh foods. Because of these stressors, prior to initiating joint efforts in the community, the overall prevalence of stunting (height-for-age Z score [HAZ] < −2) based on WHO Child Growth Standards (De Onis et al. 2006) was 52%, and a full 22% of children were severely stunted (HAZ < −3).
Over the last 2 years implementing the primary care approach described in this chapter, we have seen important improvements in rates of malnutrition. As shown in Fig.
5a
, the rate of overall stunting in children under 5 has declined from 52% to 42%, nearly a 20% improvement. The rate of severe stunting has declined even more rapidly, from 22% to 14%, a roughly 35% improvement (Fig.
5b
).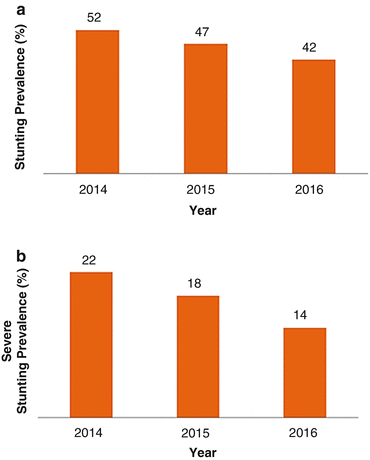 Final Reflexions
In this chapter, we contextualize the global problem of child stunting with a close look at its history and dynamics in rural Guatemala, which suffers from some of the highest rates of stunting in the world. In the first section, we offer a review of nutrition research in Guatemala and a synthesis of the government's nutrition policy, which only recently has officially recognized the country's staggering stunting problem. However, national nutrition programs and policies have suffered from intermittent and ineffective deployment, a narrow focus on stunting prevention to the exclusion of treatment, and failure to address the root causes of stunting in a holistic fashion.
In the second part of this chapter, we offer a detailed, practical description of work in rural Guatemala with Wuqu' Kawoq ∣ Maya Health Alliance, a nonprofit healthcare organization, to deploy evidence-based interventions for stunting within a comprehensive primary care model. Various premises of the model will be generalizable and useful to practitioners in other settings. First, well-supported nutrition technicians, who speak indigenous Maya languages, can provide high value nutritional care and are highly motivated to carry out time-consuming, high-contact activities such as home visits and education sessions. This is in line with the overall consensus in the literature that community-based interventions led by nurses and CHWs are critical for improving health outcomes (Lassi et al. 2016). Second, nutrition technicians can adopt and successfully utilize advanced interview techniques, such as 24-h dietary recalls, to better customize and individualize the interventions they provide to children and caregivers. Finally, by emphasizing home visits and respectful caregiver education, nutrition programming can promote an inclusive, collaborative environment, where caregivers feel comfortable sharing their experiences without fear of punishment or stigma, thereby learning about nutrition and building a network of trust and support.
In the final part of the chapter, we share additional details from a single rural community where we recently initiated a primary care nutrition program. In this program, over a space of 2 years, the overall prevalence of stunting declined 20% and the prevalence of severe stunting 35%. These findings are typical of our experiences in multiple Maya communities over the last 10 years. First, they reinforce that holistic, primary care approaches to malnutrition can have a significant impact on child health in these settings. At the same time, they also underscore that no existing stunting intervention is able to completely eradicate the problem. This fact is ultimately motivating, as it serves as a call for ongoing research, increased advocacy, and sustained commitments from healthcare organizations, civil society, governments, and policymakers together until every child's and every family's nutritional future is made secure.
Policies and Protocols
In this chapter, we have described practical details of how to implement culturally and linguistically sensitive, comprehensive nutrition programs for rural areas of Guatemala. Many of these details are also readily applicable to other settings and contexts. Here we highlight three of these:
1.

Frontline nutrition workers should be cognizant of the culture and language of their clients. Administrators from both government and civil society groups should prioritize hiring practices that ensure these linguistic and cultural competencies. Monitoring for program quality should include provision of services in the client's preferred language.

 

2.

Individualized education can improve caregiver engagement and child feeding practices. Implementers should consider focusing effort on training frontline workers to provide personalized interventions. A key area is dietary recalls to better focus assessments of dietary quality. Existing materials developed by the World Health Organization (WHO 2008) can easily be adapted.

 

3.

In areas of high stunting prevalence, programming should include both preventative and (if resources allow) recuperative interventions. Home-based visits by nutrition technicians are an excellent strategy for implementing recuperative interventions, which can include more intensive feeding or education strategies.

 
Dictionary of Terms
Dietary diversity

Meal frequency

Stunting

Underweight

Wasting
Summary Points
This chapter focuses on stunting, one of most important pediatric growth disorders in the world.

Stunting causes early morbidity and mortality in childhood, as well as developmental delay, reduced school achievement, and loss of adult economic potential.

The indigenous Maya population in Guatemala has one of the highest rates of stunting in the world.

Although Guatemala has been an important source of child nutrition research, this has not translated into improved stunting outcomes for rural indigenous communities.

Interventions to target stunting should take a comprehensive approach, targeting food security, environmental factors, access to health services, and caregiver education and empowerment.

Frontline workers, such as nurses and community health workers, can effectively deliver nutrition interventions, especially if they have cultural and linguistic competency.

Individualized education and nutrition assessments are an important part of nutrition programming, because they improve caregiver empowerment and the effectiveness of interventions.

In high stunting prevalence communities, programs should ideally have both preventative and curative interventions.
Copyright information
© Springer International Publishing AG 2017