Protist Diversity and Eukaryote Phylogeny
Living reference work entry
Abstract
The last quarter century has seen dramatic changes in our understanding of the phylogenetic relationships among protist groups and their evolutionary history. This is due in large part to the maturation of molecular phylogenetics, to genomics and transcriptomics becoming widely used tools, and to ongoing and accelerating progress in characterizing the major lineages of protists in the biosphere. As an introduction to the Handbook of the Protists, Second Edition, we provide a brief account of the diversity of protistan eukaryotes, set within the context of eukaryote phylogeny as currently understood. Most protist lineages can be assigned to one of a handful of major groupings ("supergroups"). These include Archaeplastida (which also includes land plants), Sar (including Stramenopiles/Heterokonta, Alveolata, and Rhizaria), Discoba, Metamonada, Amoebozoa, and Obazoa. This last group in turn contains Opisthokonta, the clade that includes both animals and fungi. Many, but not all, of the deeper-level phylogenetic relationships within these groups are now resolved. Additional well-known groups that are related to Archaeplastida and/or Sar include Cryptista (cryptophyte algae and their relatives), Haptophyta, and Centrohelida, among others. Another set of protist lineages are probably most closely related to Amoebozoa and Obazoa, including Ancyromonadida and perhaps Malawimonadidae (though the latter may well be more closely related to Metamonada). The bulk of the known diversity of protists is covered in the following 43 chapters of the Handbook of the Protists; here we also briefly introduce those lineages that are not covered in later chapters.
The Handbook is both a community resource and a guidebook for future research by scientists working in diverse areas, including protistology, phycology, microbial ecology, cell biology, and evolutionary genomics.
Keywords
Algae 
Alveolata 
Amoebozoa 
Archaeplastida 
Biodiversity 
Discoba 
Eukaryote 
Metamonada 
Obazoa 
Opisthokonta 
Phylogeny 
Protist 
Protozoa 
Rhizaria 
Sar 
Stramenopiles 
Introduction
It has been more than 25 years since the publication of the Handbook of Protoctista (Margulis et al. eds. 1990). Since then, there have been tremendous advances in our understanding of the diversity and phylogeny of protists/protoctists (i.e., all eukaryotes other than the animals, land plants, and true fungi; we will use the term "protist "). Central to this progress has been the maturation of molecular phylogenetics as a tool for inferring evolutionary relationships, initially using single markers, such as small subunit ribosomal RNA gene sequences, and culminating in "phylogenomic analyses" that incorporate data from dozens or hundreds of genes (van de Peer and De Wachter 1997; Baldauf et al. 2000; Rodríguez-Ezpeleta et al. 2007; Burki et al. 2007; Burki 2014). Genome sequencing (of organellar genomes as well as nuclear genomes), together with transcriptomic surveys, has also greatly enhanced our understanding of the distribution of important cellular and molecular characteristics across the breadth of eukaryotic diversity (e.g., Lang et al. 1997; Ramesh et al. 2005; Hodges et al. 2010; de Mendoza et al. 2014; Wideman and Muñoz-Gómez 2016). At the same time, the discovery of new major lineages of protists (and reinvestigations of known "mystery taxa") has continued apace and even accelerated in recent years. This has resulted in dramatic changes to the catalogue of organisms that are important to consider when inferring the broadscale tree of eukaryote life (e.g., O'Kelly and Nerad 1999; Shalchian-Tabrizi et al. 2006; Not et al. 2007; Yabuki et al. 2010; Glücksman et al. 2011), on top of many important discoveries of novel diversity within major lineages (e.g., Moore et al. 2008; Massana et al. 2014; see numerous other examples below). There have also been a number of important insights gained from electron microscopy studies, especially of the flagellar apparatus and cytoskeleton (e.g., Simpson 2003; Cavalier-Smith 2013; Heiss et al. 2013; Yubuki and Leander 2013).
The current picture of the tree of eukaryotic life can be characterized as largely resolved but with some major points of uncertainty. At present, it is common to divide the vast majority of known eukaryotic diversity into four to eight confirmed (or strongly suspected) monophyletic groups, usually referred to by the informal moniker "supergroups" (Fig.
1
; Adl et al.
2012
; Burki
2014
; Worden et al.
2015
; Simpson and Eglit
2016
). The precise number and membership of the supergroups varies among accounts, reflecting not just personal taste but also the rapid pace with which important taxa are being added to broad molecular phylogenetic analyses. These supergroups are best thought of as standing well above the rank of "kingdom." For example, the animals and true fungi are generally each considered as a distinct kingdom but belong to the same supergroup (Obazoa, in our listing). The supergroups are often now amalgamated into as few as three or even two still more fundamental assemblages (Adl et al.
2012
; Derelle et al.
2015
), although this entails some bold assumptions about the position of the root of the tree (see below).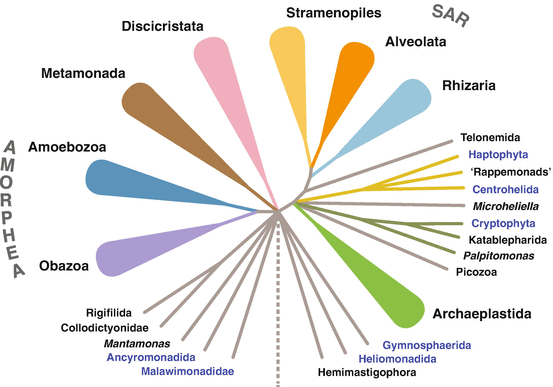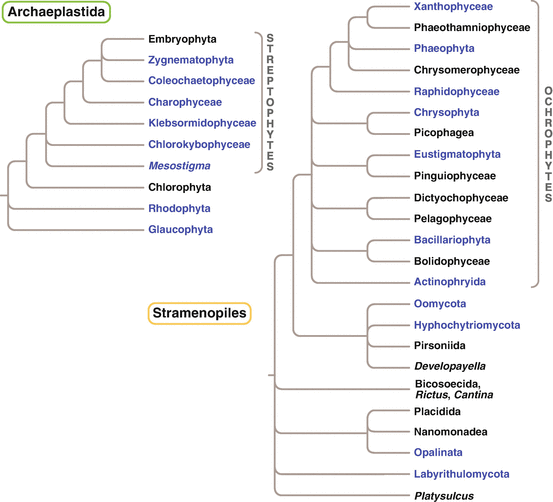 Our current understanding of eukaryote phylogeny confirms and extends a long-understood reality, namely, that most of the basic forms of protists identified by superficial morphology and physiology do not represent evolutionarily cohesive entities. Photosynthetic protists, or "algae," are found within most of the supergroups. In all of these groups (with the arguable exception of Archaeplastida – see below), the algae are intermingled with other kinds of protists, mainly "protozoa " (a term used to describe most heterotrophic protists, other than those that closely resemble fungi). Among the protozoa, "flagellates" (species which have eukaryotic flagella in the main feeding stage of their life history) are found across eukaryote diversity, reflecting the fact that all living eukaryotes descend from a heterotrophic, flagellum-bearing common ancestor. Amoebae, which lack flagella but produce one of the several distinct forms of pseudopodia, have evolved independently on multiple occasions, leading to a dozen or more major radiations of these lifeforms. Special forms of amoebae also have multiple origins. One example is the "heliozoa" – amoebae with many microtubule-supported pseudopodia radiating from a rounded cell body – which have at least three independent origins and likely more (Nikolaev et al. 2004; Bass et al. 2009). The "slime molds" are organisms that live mostly as amoebae (or as giant amoeboid plasmodia) but that also produce stalked structures bearing spores, either by differentiation of a single organism or by numerous amoebae aggregating together: collectively these strategies have evolved several times (Brown et al. 2012; Shadwick et al. 2009). Parasitic protozoa that are passed between hosts via infective spores have also evolved on numerous occasions. Other protists with more-or-less similarity to true fungi (e.g., they produce hyphae-like structures) are found in several different places within the eukaryote tree, mostly very distantly related to true fungi (Taylor and Berbee 2014).
As mentioned above, not all aspects of the deep-level phylogeny and evolutionary history of eukaryotes are well understood at present, which has consequences for any summary of protist diversity. Some important uncertainties and controversies revolve around particularly difficult problems in molecular phylogenetic inference. For example, it remains unclear what the relationships are among "excavate" lineages (Discoba, Metamonada, and Malawimonadidae), which include many groups with high overall rates of sequence evolution. The majority view at present is that they form two or more phylogenetically separate clades (Burki 2014). In a similar vein, phylogenomic analyses have yet to resolve whether the supergroup Archaeplastida truly represents a clade or whether other lineages (especially the Cryptista group) may belong inside it (Yabuki et al. 2014; Burki et al. 2016). The ongoing discovery of new lineages (discussed above) is itself a source of uncertainty, not least because it is unclear how many major lineages remain to be found and characterized. One of the most important open questions in eukaryote evolution concerns the precise history of plastids (chloroplasts). Most major lineages of photosynthetic eukaryotes actually have plastids that were obtained by symbiosis with eukaryotic algae, rather than by symbiosis with cyanobacteria; the number, sequence, and directions of these distinct eukaryote-eukaryote endosymbiotic events are all still unclear (Keeling 2013; Archibald 2015). Finally, one of the most difficult questions for eukaryote phylogeny is locating the "root" of the tree, that is, identifying the very deepest division among the extant eukaryotes. Several mutually incompatible positions have been proposed in recent years, based mostly on sophisticated phylogenomic analyses or the distribution of particular genes across major groups of eukaryotes (e.g., Cavalier-Smith 2010; Derelle and Lang 2012, 2015; Katz et al. 2012; He et al. 2014).
An Overview of Protist Diversity
The remainder of this chapter gives a concise, up-to-date, and (in our view) appropriately cautious summary of the diversity and phylogeny of eukaryotes. The main aim is to provide a broad phylogenetic context for the various other chapters in the Handbook of the Protists, Second Edition (hereafter, "the Handbook"). The majority of these chapters cover a single phylogenetically coherent group and will then have a single placement within the account below. There are a few chapters that instead cover two or more unrelated groups that have historically been considered together (e.g., "heliozoa"); these chapters will be referenced more than once for this reason. Furthermore, we have sought to briefly introduce the important groups of protists that are not covered separately in the Handbook (for reasons of logistics alone; no perception of insignificance should be inferred in these cases). In some of these instances, we direct the reader to recent (2010–onward) publications that are reviews or are reasonably broad in scope. For the sake of brevity, single genera of uncertain phylogenetic position within eukaryotes are omitted (see Adl et al. 2012 for a partial listing), and most lineages known solely as environmental sequences are not discussed.
Closing Remarks
Three decades ago, it would have been impossible to provide an accurate phylogenetic framework linking the many groups of protists covered in this edition of the Handbook. We are now able to present a reasonably comprehensive account of that framework, with confidence that most of it is essentially correct. Getting to this position has been a major collective achievement by the scientific community; this fact should not be lost amid concerns over the parts of the eukaryote tree that remain unresolved, contentious, or unknown. In a similar vein, while it has been necessary in this chapter to emphasize lineages that are not covered by the rest of the book, the Handbook is nonetheless an authoritative account of a substantial majority of known protist diversity. It represents an important collective effort by a large part of the protistology community and a major resource documenting the current state of knowledge on these organisms. We hope that this Handbook has a positive influence on the future direction of protistology, leading to greater depth and breadth in the understanding of our fascinating organisms.
Notes
Acknowledgments
We gratefully acknowledge valuable comments and suggestions from Martha Powell (University of Alabama), Matthew Brown (Mississippi State University), Fred Spiegel (University of Arkansas), Fabien Burki (Uppsala University), David Bass (Centre for Environment, Fisheries, and Aquaculture Science, UK), Chris Lane (University of Rhode Island), Michelle Leger (Institute of Evolutionary Biology, Barcelona), and Sergio Muñoz-Gómez and Yana Eglit (both Dalhousie University).
Copyright information
© Springer International Publishing AG 2017