Brief Definition
The World Trade Organization is an international organization that deals with the rules and guidelines governing international trade.
Sanitary and phytosanitary measures establish the safety rules for plant, health, and human.
Introduction
All countries that are members of the World Trade Organization (WTO) have to comply with the WTO's agreements and measures on international trade. Fiji is not an exception to this. By becoming a member of the WTO in 1996, Fiji has to adhere to WTO's requirements on the application of sanitary and phytosanitary measures for the export of products from its national boundaries (Ravuvu et al. 2017). The Pacific Island countries (PICs) are struggling to meet the SPS requirements of the international trading system with the adverse impacts of these visible in fisheries, ginger, dalo, and kava exports. Recent studies conducted by the international agencies in the PICs confirm that the...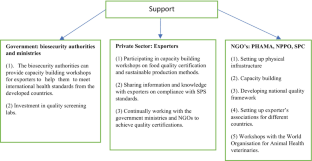 References
Australian Aid (2017) Impact report. Retrieved November 15, 2020, from https://phama.com.au/wp-content/uploads/2017/10/PHAMA_Impact_Report_e-copy-final.pdf

Bureau of Statistics (2020) Trade statistics: Merchandise trade statistics. Retrieved November 15, 2020, from https://www.statsfiji.gov.fj/index.php/statistics/economic-statistics/merchandise-trade-statistics

Department of Foreign Affairs and Trade (2020) Sanitary and phytosanitary measures. Retrieved November 15, 2020, from https://www.dfat.gov.au/trade/agreements/not-yet-in-force/pacer/fact-sheets/Pages/sanitary-and-phytosanitary-measures

Fiji Sun (2020) BAF's role in market access. Retrieved November 15, 2020, from https://www.pressreader.com/fiji/fiji-sun/20180101/282406989730809

Pomfret R (2016) Multilateralism and regionalism in the South Pacific: World Trade Organization and Regional Fora as complementary institutions for trade facilitation. Asia Pacific Policy Stud 3(3):420–429

Ravuvu A, Friel S, Thow AM, Snowdon W, Wate J (2017) Monitoring the impact of trade agreements on national food environments: trade imports and population nutrition risks in Fiji. Glob Health 13(1):33

STDF Secretariat (2012) SPS needs in the Pacific Island Countries. Retrieved November 15, 2020, from https://www.standardsfacility.org/sites/default/files/PG_133_PCE_Pacific_Islands.pdf

Tahana J (2020) Australia reviewing kava import restrictions. Retrieved November 15, 2020, from https://www.rnz.co.nz/international/pacific-news/421490/australia-reviewing-kava-import-restrictions

United Nations ESCAP (2010) Sustainable development in the Pacific: progress and challenges. Retrieved November 15, 2020, from https://sustainabledevelopment.un.org/content/documents/11783Pacific_Regional_Synthesis-MSI5-Final.pdf

Vanuatu National Statistics Office (2018) International Merchandise trade statistics. Retrieved November 15, 2020, from https://vnso.gov.vu/images/Public_Documents/Statistics_by_Topic/Economics/Merchandise_Trade/2018/IMTS-12-December-2018.pdf

WTO (2020) The WTO Agreements Series: sanitary and phytosanitary measures. Retrieved November 15, 2020, from https://www.wto.org/english/res_e/booksp_e/agrmntseries4_sps_e.pdf
Copyright information
© 2021 Springer Nature Switzerland AG
About this entry
Cite this entry
Naidu, S. (2021). Application of Sanitary and Phytosanitary Trade Measures. In: Farazmand, A. (eds) Global Encyclopedia of Public Administration, Public Policy, and Governance. Springer, Cham. https://doi.org/10.1007/978-3-319-31816-5_4352-1
DOI: https://doi.org/10.1007/978-3-319-31816-5_4352-1

Received:

Accepted:

Published:

Publisher Name: Springer, Cham

Print ISBN: 978-3-319-31816-5

Online ISBN: 978-3-319-31816-5

eBook Packages: Springer Reference Economics and FinanceReference Module Humanities and Social Sciences