Definition
Networking:

The action or process of interacting with others to exchange information and develop professional or social contacts.

Public Sector:

Government and all publicly controlled or funded entities that deliver programs, goods, and services.

Public Service:

A service intended to serve all members of a community. It is usually provided by the government to people within its jurisdiction, either directly (through the public sector) or by financing provision of services.

Itaukei:

Native or indigenous Fijian.

Indo-Fijian:

Are Fijian citizens of fully or partially south Asian descent, including descendants who trace their heritage from various regions of the Indian subcontinent.
Introduction
The key HRM challenges facing developing economies today vary in accordance with its respective doctrines for survival and good governance, taking into account its political and...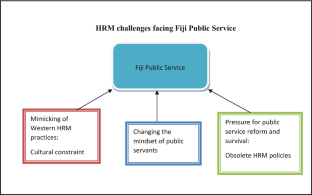 References
Baldacchino G (1999) Small business in small island nations: a case study from Fiji. J Small Bus Manag 37(4):80–84

Bourdieu P (1980) Social capital. Acts Soc Sci Res 31:2–3

Cassar V, Bezzina C (2005) People must change before institutions can: a model addressing the challenge from administering to managing the Maltese Public Service. Public Adm Dev 25(3):205–215

Department of Public Enterprise Report (1998)

Fiji Royal Gazette, no. 1, 1874

Hewitt T, Wangwe S, Wield D (2002) Seeing eye to eye: organizational behaviour, brokering and building trust in Tanzania. Public Adm Dev 22:97–108

Holden N (2002) Cross-cultural management: a knowledge management perspective. Prentice Hall, Harlow

Mellahi K, Frynas J (2003) An exploratory study into the applicability of western HRM practices in developing countries: an Algerian case study. Int J Commer Manag 13(1):61–80

Nayacakalou RN (1975) The Fijian system of kinship and marriage. J Polyn Soc 64(1):44–55

Ouchi WG (1980) Markets, bureaucracies, and clans. Adm Sci Q 25:129–141

Poole MJF (1982) Personnel management in third world countries. Pers Rev 11(4):20

Ravuvu A (1987) The Fijian ethos. Institute of Pacific Studies, University of the South Pacific, Suva

Sarker AE, Pathak RD (2003) Public enterprise reform in Fiji Islands. Public Organ Rev 3(1):55–75

Vallance S (1996) The human resource crises in Fiji's public sector: trouble in paradise? Public Adm Dev 16(1):91–103

Vosikata S, Faifua D (2012) HR selection distortions: a theoretical framework for the Fiji Public Service. J US-China Public Adm 9(7):775–790
Copyright information
© 2021 Springer Nature Switzerland AG
About this entry
Cite this entry
Vosikata, S. (2021). Human Resource Management Challenges in a Developing Economy. In: Farazmand, A. (eds) Global Encyclopedia of Public Administration, Public Policy, and Governance. Springer, Cham. https://doi.org/10.1007/978-3-319-31816-5_4342-1
DOI: https://doi.org/10.1007/978-3-319-31816-5_4342-1

Received:

Accepted:

Published:

Publisher Name: Springer, Cham

Print ISBN: 978-3-319-31816-5

Online ISBN: 978-3-319-31816-5

eBook Packages: Springer Reference Economics and FinanceReference Module Humanities and Social Sciences