Definition
The dynamic capability view involves sensing opportunities and threats, seizing opportunities, and creating and maintaining competitiveness with reconfiguration. DCV helps explain how firms cope with changing environments.
Introduction
For the past two decades, a key issue affecting both policy makers and analysts is the poor capability of public organizations (Pollitt and Boukaert 2011), thus leading to reforms (Andrews et al. 2016). However, empirical evidence proves that organizations either struggle with implementation or fail to realize any professed benefits (Piening 2011).
In public administration, the issue of organizational performance has become very important (Rainey 2003). While the issue of why some reforming enterprises perform well while others do not, attracts a lot of interest, literature still fails to provide convincing explanations behind this. Hence the importance of...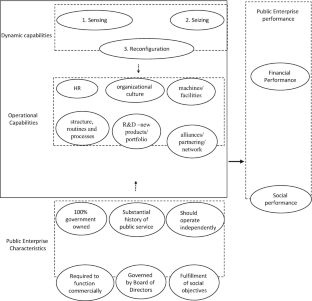 References
Ambrosini V, Bowman C (2009) What are dynamic capabilities and are they a useful construct in strategic management? Int J Manag Rev 11(1):29–49. https://doi.org/10.1111/j.1468-2370.2008.00251

Andrews R, Beynon MJ, McDermott AM (2016) Organizational capability in the public sector: a configurational approach. J Public Adm Theory 26(2):239–258

Appana S (2003) New public management and public enterprise restructuring in Fiji. Fijian Stud J Contemp Fiji 1(1):51–73

Barreto I (2010) Dynamic capabilities: a review of past research and an agenda for the future. J Manag 36(1):256–280. https://doi.org/10.1177/0149206309350776

Berthod O, Grothe-Hammer M, Muller-Setz G, Raabd J, Sydow J (2017) From high-reliability organizations to high-reliability networks: the dynamics of network governance in the face of emergency. J Public Adm Res Theory Adv Access 27(2):352–371

Eisenhardt KM (1989) Building theories from case study research. Acad Manag Rev 14(4):532–550

Fernandez S, Rainey HG (2006) Managing successful organizational change in the public sector. Public Adm Rev 66(2):168–176. https://doi.org/10.1111/j.1540-6210.2006.00570.x

Fiji Business (1996) The separation that has given post a new start. 23–24

Fischer T, Gebauer H, Gregory M, Ren G, Fleisch E (2010) Exploitation or exploration in service business development? J Serv Manag 21(5):591–624

Food and Agriculture Organisation (FAO) (2002) Hardwood programmes in Fiji, Solomon Islands, and Papua New Guinea (Working paper No. 21). Forest resources development service, Forest resources division. FAO, Rome. D. Hammond. Forest plantations (unpublished). http://www.fao.org/docrep/005/Y7207E/y7207e06.htm

Fry FL, Stoner CR, Hattwick RE (2004) Business: an integrative approach. McGraw-Hill, New York

Gebauer H, Paiola M, Edvardsson B (2012) A capability perspective on service business development in small and medium-sized suppliers. Scand J Manag 28:321–339

Gnizy I, Baker WE, Grinstein A (2014) Proactive learning culture a dynamic capability and key success factor for SMEs entering foreign markets. Int Mark Rev 31(5):477–505

Harvey GC, Spencer E, Jas P, Walshe K (2010) Absorptive capacity in a non-market environment: a knowledge-based approach to analyzing the performance of sector organizations. Public Manag Rev 12(1):77–97

Helfat CE (1997) Know-how and asset complementarity and dynamic capability accumulation: the case of R&D. Strateg Manag J 18:339–360

Hsu L, Wang C (2010) Clarifying the effect of intellectual capital on performance: the mediating role of dynamic capability. Br J Manag 23(2):179–205. https://doi.org/10.1111/j.1467-8551.2010.00718.x

Keith-Reid R (1984) Food processing: putting food in cans. Island Business 52

Ministry of Public Enterprises, Tourism and Communications (MPETC) (2012) Financial data and updated profiles of government commercial companies. MPETC, Fiji

Narayan J (2016) Business economics in a rapidly changing world. Enterprises: the case of government commercial companies in Fiji. On-line Book. Nova Science Publishers, New York. ISBN: 978–1–63485-199-2

O'Toole LJ, Meier KJ (2015) Public management, context, and performance: in quest of a more general theory. J Public Adm Res Theory 25(1):237–256

Peteraf M, Di Stefano G, Verona G (2013) The elephant in the room of dynamic capabilities: bringing two diverging conversations together. Strateg Manag J 34(12):1389–1410

Piening EP (2011) Insights into the process dynamics of innovation implementation: the case of public hospitals in Germany. Public Manag Rev 13(1):127–157

Pollitt C, Bouckaert G (2011) Public management reform: a comparative analysis – new public management, governance, and the neo-weberian state. Oxford University Press, Oxford

Rainey HG (2003) Understanding and managing public organizations. Jossey-Bass, San Francisco

Rothaermel FT, Deeds DL (2006) Alliance type, alliance experience and alliance management capability in high-technology ventures. J Bus Ventur 21:429–460

Selznick P (1996) Institutionalism "old" and "new". Adm Sci Q 41(2):270–277

Teece DJ (2007) Explicating dynamic capabilities: the nature and microfoundations of (sustainable) enterprise performance. Strateg Manag J 28(13):1319–1350

The Department of Public Enterprises (1998) Towards a better Fiji: the public enterprise reform programme. The Network for the Ministry for Commerce/Industry, Cooperatives and Public Enterprises, Suva

The Review (1993) Streamlining for a leaner profile: PAF does an about-turn of policies and plans to launch simple tariffs to pass on benefits. The Review, April: 39–40

Ulrich D, Lake D (1991) Organizational capability: creating competitive advantage. Acad Manag Exec 5:77–92

Vogel R, Güttel WH (2013) The dynamic capability view in strategic. Management: a bibliometric review. Int J Manag Rev 15:426–446. https://doi.org/10.1111/ijmr.12000

Wilden R, Devinney TM, Dowling GR (2016) The architecture of dynamic capability research identifying the building blocks of a configurational approach. Acad Manag Ann 10(1):997–1076. https://doi.org/10.1080/19416520.2016.1161966

Williamson PJ (2016) Building and leveraging dynamic capabilities: insights from accelerated innovation in China. Glob Strateg J 6(3):197–210

Zeng J, Simpson CG, Dang B (2016) A process model of dynamic capability development: evidence from the Chinese manufacturing sector. Manag Organ Rev, ISSN 1740-8776 (In Press)
Copyright information
© 2020 Springer Nature Switzerland AG
About this entry
Cite this entry
Narayan, J., Gudergan, S., Pathak, R.D., Singh, G. (2020). Dynamic Capabilities in Public Enterprises. In: Farazmand, A. (eds) Global Encyclopedia of Public Administration, Public Policy, and Governance. Springer, Cham. https://doi.org/10.1007/978-3-319-31816-5_3951-1
DOI: https://doi.org/10.1007/978-3-319-31816-5_3951-1

Received:

Accepted:

Published:

Publisher Name: Springer, Cham

Print ISBN: 978-3-319-31816-5

Online ISBN: 978-3-319-31816-5

eBook Packages: Springer Reference Economics and FinanceReference Module Humanities and Social Sciences