Comparative Incentive Systems
Living reference work entry
DOI:
https://doi.org/
10.1007/978-3-319-31816-5_3706-1
Definition
The term "incentive" (from Latin incentivum "something that sets the tune") indicates a tangible and/or intangible reward that motivates people and creates favorable environmental conditions to maximize performance and/or to achieve specific goals in organization or competition or society.
Introduction
The concept of incentive in management and economics is developed from behavioral sciences (psychology, psychobiology, and cognitive science) to analyze and explain what motivates people in organizations and/or competition. In general, the concept of incentive is associated with motivation, which indicates the forces that energize, direct, and sustain behavior. Management uses systems of incentive to motivate employees to work, to achieve strategic goals, to improve organizational and managerial behavior of firms in markets, etc. (O'Reilly and Caldwell
1980
; Prendergast
2008
; Pritchard et al.
1977
; Reif
1975
). Incentives can be categorized as intrinsic and extrinsic incentives, which have different characteristics and different effects in organizations and/or society (Fig.
1
).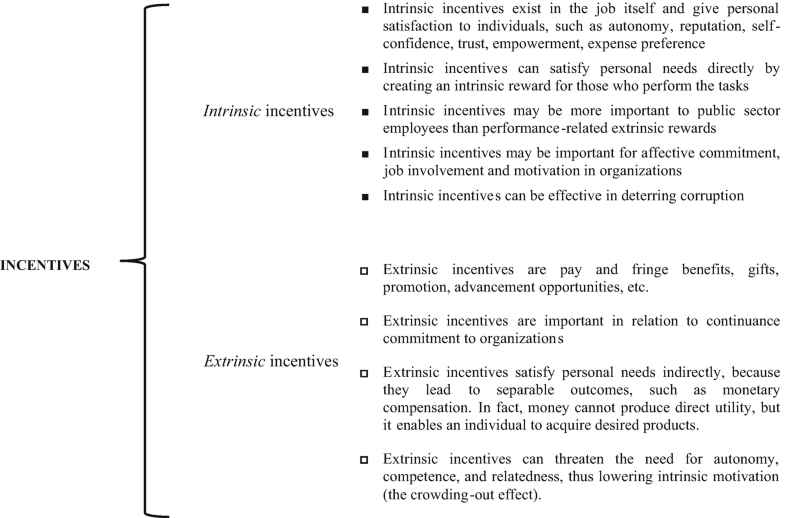 Comparative Incentive Systems: Intrinsic versus Extrinsic Incentives
Comparative studies of incentive play an important role to clarify concepts and analyze causes and effects directed to support management and policy implications. In particular, incentives can be categorized in two main typologies, namely:
Intrinsic incentives exist in the job itself and give personal satisfaction to individuals, such as autonomy, reputation, self-confidence, trust, empowerment, expense preference (e.g., leeway to invest monetary resources). Intrinsic incentives tend to emphasize pleasure and enjoyment of people and support personality development in organizations (Benati and Coccia 2018; Coccia 2014; Coccia and Rolfo 2013). O'Reilly et al. (1991) suggest that intrinsic incentives may be important for affective commitment, job involvement, and motivation in organizations to support satisfaction and performance of employees (cf., Coccia and Cadario 2014). In fact, intrinsic incentives can satisfy personal needs directly by creating an intrinsic reward for those who perform the tasks (Frey and Jegen 2001; George 1992). Wright (2007, p. 60) argues that: "the intrinsic rewards provided by the nature or function of the organization may be more important to public sector employees than … performance-related extrinsic rewards." Hence, public organizations have better organizational performance and satisfaction of employees from intrinsic incentives that generate positive effects on job involvement and affective commitment (Coccia 2001; cf., Coccia and Cadario 2014; Coccia et al. 2015).

Intrinsic incentives can be awards associated with trophy, title, certificate, commemorative plaque, medal, badge, pin, or ribbon. Intrinsic incentives may also simply be a public acknowledgment of excellence, without any tangible token or prize (cf., Benati and Coccia 2018). The intrinsic incentives are given to a person in recognition of excellence and best performance in certain fields or positions, increasing its reputation (it is the general belief or opinion held by other people regarding a person's specific characteristics or abilities in certain public or private positions and organizations).

Extrinsic incentives

are pay and fringe benefits, gifts, promotion, advancement opportunities, etc. Extrinsic incentives are important in relation to continuance commitment to organizations (O'Reilly et al.

1991

). However, extrinsic incentives play a relatively small role in the prediction of job involvement and affective commitment. Some extrinsic incentives are (Benati and Coccia

2018

):

Compensation is based on: (a) guaranteed pay is a fixed monetary incentive paid by organizations to employees, such as base salary. Guaranteed pay also includes cash allowances (housing allowance, transport allowance, etc.), differentials (shift differentials, holiday differentials) and premiums (overtime, etc.); (b) variable pay is a non-fixed monetary incentive paid by organizations to employees. It is based on discretion, performance, and/or results achieved; (c) benefits are programs that organizations use to supplement employees' compensation, such as paid time off, medical insurance, and more.

Allowance is an amount of money given or allotted at regular intervals for a specific purpose. Allowances may be travel expenses, daily allowance (also called "subsistence allowance"), general expenditure allowance, medical costs, end-of-term allowance, etc.
Relations between Intrinsic and Extrinsic Incentives and Management Implications
Incentives have a powerful effect on performance, motivation, commitment, and satisfaction of employees in organizations and society (O'Reilly et al. 1991, cf., Coccia and Benati 2018; Coccia and Cadario 2014; Coccia et al. 2015). Lincoln and Kalleberg (1990) argue that incentives may have a powerful effect on employees' attitudes and motivations towards their job and the company for which they work.
In general, the relationship between intrinsic and extrinsic motivation can generate a positive, negative, or neutral relationship in organizations (Frey and Jegen 2001; Staw 1976). Relevant theories analyze whether extrinsic rewards are positively associated with job satisfaction. Scholars argue that pay-for-performance applied to compensate and motivate public officials can produce, by itself, only minimally productive performance in public sector. In fact, the literature of public administration suggests that performance-based pay incentives are only marginally related to public service satisfaction and motivation (cf., Benati and Coccia 2018). Moreover, intrinsic motivation, under certain conditions, can be undermined by pay for performance (i.e., extrinsic incentives): a performance-contingent monetary incentive to do something employees already enjoy can decrease their motivation to do it because the person is likely to view its action as externally driven rather than as internally appealing. In short, extrinsic incentives can produce crowding-out effects on intrinsic incentives and thus may negatively affect performance of employees and, as a consequence, of organizations (cf. also, Coccia et al. 2015). Frey and Jegen (2001, p. 592) confirm that extrinsic incentives, such as performance pay, can crowd out intrinsic motivation to do a good job. Most scholars also argue that crowding-out effects exist because public service motivation is associated with intrinsic motives and the love of money is related to extrinsic motives.
Frey and Jegen (2001) summarize the two premises of crowding theory: (1) all interventions originating from rewards and regulations accompanied by negative sanctions may affect intrinsic motivation, and (2) external interventions may crowd out or crowd in intrinsic motivation (or leave it unaffected).
In management, Self-Determination Theory explains the factors of intrinsic motivation (autonomy, competence, and relatedness) and of extrinsic motivation (internalization and integration) that support personality development and behavioral self-regulation to improve personal wellbeing and performance of people in organizations and society (Deci and Ryan 2004; cf., Coccia 2019). Self-determination theory suggests that extrinsic rewards are demotivating and dissatisfying to individuals (Deci and Ryan 2004; cf., Coccia 2019). As a matter of fact, extrinsic motivations can undermine perceived autonomy because they have a negative effect on intrinsic interest in a task or job. Deci and Ryan (2004) also posit that a variety of tangible contingent rewards undermine intrinsic motivation, but unexpected and task-noncontingent rewards have no effect on intrinsic motivation. In general, scholars claim that the explicit incentives of performance-related pay may crowd out intrinsic motivations. In fact, experimental research inspired by self-determination theory reveals that monetary (extrinsic) incentives generate two opposite effects: (a) they enhance extrinsic motivation (the price effect); (b) they threaten the need for autonomy, competence, and relatedness, lowering intrinsic motivation (the crowding-out effect). In short, financial incentives can generate a greater crowding-out effect of intrinsic motivation in public organizations than in private ones because there is more intrinsic motivation in the public sector and more of it can, therefore, be destroyed. Overall, with all other things equal, the crowding-out effect can be greater among civil servants having a stronger intrinsic motivation at the baseline.
In the context of incentive management, the goal theory suggests that motivation and incentive can increase organizational performance. The premise of goal theory is that people's goals play an important role in determining behavior. Goals direct work behavior and performance. People with a specific level of performance, or a given deadline for completion a task, will have a higher motivation to perform better than people with no set goal. Moreover, people having difficult goals will perform better than people with easier goals. Overall, then, the theory of goal setting provides a useful approach to improve work motivation, incentive, and performance in organizations and society (Locke 1968). Goal theory has a variety of managerial implications to support motivation and performance considering incentive systems: specific performance goals should systematically be identified and set in order to direct behavior and maintain high motivation; incentives should be given by setting goals at a challenging but realistic level; difficult goals lead to higher motivation and performance; finally, employee participation in the setting of goals is an intrinsic incentive that may lead to higher motivation to work and performance in organizations.
Studies in public administration also show that extrinsic and intrinsic incentives can reduce corruption in public service. However, the empirical evidence is still mixed (Georgellis et al. 2010). Literature suggests that bureaucrats are led to corruption partly because their public service efforts on the job are not properly rewarded extrinsically or intrinsically. Kwon (2012) argues that PSM (public service motivation) can be an important intrinsic incentive for public service. Generally speaking, extrinsic motivation for public service (e.g., performance-based pay or promotion) or intrinsic motivation (e.g., public service motivation, or PSM) can channel bureaucrats' time and energy into public service and consequently reduce corruption. In particular, PSM as well as other intrinsic incentives appear to be important deterrents to corruption. In fact, empirical evidence reveals that PSM increases public service performance, and Kwon (2012) suggests that intrinsic incentives based on PSM can reduce corruption. Many studies have confirmed that extrinsic rewards can reduce (or crowd out) intrinsic motivation (e.g., Frey and Jegen 2001; Georgellis et al. 2010). However, the empirical evidence also suggests that both extrinsic and intrinsic motivations are effective in deterring corruption. Kwon (2012) presents statistical evidence that promoting intrinsic motivation with appropriate incentives can be effective in deterring corruption, possibly more than extrinsic motivation (such as performance pay). Moreover, although discretion (or delegation of authority) increases corruption, but when performance pay is strong, the bureaucrats use their discretion to increase public service performance rather than pursue corruption (Kwon 2012).
Overall, then, PSM can be an anticorruption best practice for public organizations.
Conclusion
The domain of incentive systems can generate a variety of effects in organizations, competition, and/or society to increase productivity and wellbeing of people (cf., Coccia 2016, 2018). In general, the crowding-out theory suggests that external incentives can undermine intrinsic motivation (Frey and Jegen 2001). A good balance in public organizations between personal values (high public service motivation) and the nature of the task (providing services to general public) can lead to high intrinsic motivation, high performance, and low corruption (Kwon 2012). To conclude, the public sector has low dependence from financial incentives and for increasing efficiency and performance of public organizations, it is vital to balance both extrinsic incentives (e.g., pay) and intrinsic incentives, which are related to job satisfaction, job motivation and job involvement of public servants within organizations (cf., Coccia 2001, 2018).
Copyright information
© Springer Nature Switzerland AG 2019