Introduction
Why Is the Chilean School System a Rich Source of Learning about School Segregation Worldwide?
School segregation has multiple effects on the educational and developmental children opportunities, as well as for society as a whole, in the short, medium, and long term. On the one hand, when it occurs among vulnerable students, it affects the quality and equity of their learning, as it also makes social policies aimed at improving education less effective, since the concentration of more vulnerable students carries with it more complex requirements to achieve the objectives sought. However, there are also effects for all the socioeconomic groups, since higher degrees of social segregation reduce the development of socialization, inclusion, and civic development skills.
Often focused on the socioeconomic level, school segregation refers to the unequal distribution of students among...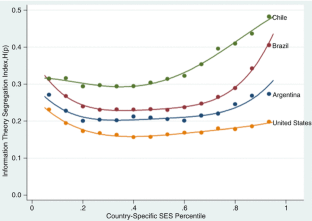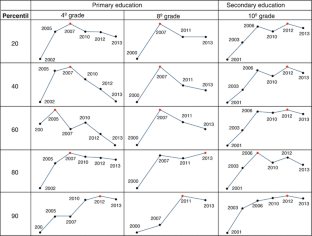 References
Angrist JD, Lang K (2004) Does school integration generate peer effects? Evidence from Boston's Metco program. Am Econ Rev 5(94):1613–1634

Auguste S (2004) An empirical model of school formation (PhD thesis). University of Michigan-Ann Arbor, Michigan

Betts JR (2011) The economics of tracking in education. In: Hanushek E, Machin S, Woessmann L (eds) Handbook of the economics of education (Kindle ed.). Handbooks in economics, vol 4. Elsevier, Amsterdam, North Holland

Boaler J, Wiliam D, Brown M (2000) Students' experiences of ability grouping-disaffection, polarisation and the construction of failure. Br Educ Res 26:631–648

Braddock J, Slavin R (1995) Why ability grouping must end: Achieving excellence and equity in American education. en H. Pool & J. Page (Eds.), Beyond Tracking: Finding success in inclusive schools (pp. 7–20). Bloomington, Indiana: Phi Delta Kapa Educational Foundation

Canales M, Bellei C, Orellana V (2016) ¿Por qué elegir una escuela privada subvencionada? Sectores medios emergentes y elección de escuela en un sistema de mercado. Estudios pedagógicos (Valdivia) 42(3): 89–109

Chmielewski A (2014) An international comparison of achievement inequality in within-and between-school tracking systems. Am J Educ 120(3):293–324

Chmielewski A, Savage C (2014) Socioeconomic egregation between schools in the U.S. and Latin America, 1970–2012. In: Paper prepared for 9th annual Lincoln Institute of land policy conference, Land and the City. 2–3 June 2014, Cambridge, MA. FINAL DRAFT – 2 Sept 2014

Clotfelter C, Ladd H, Vigdor J (2010) Teacher mobility, school segregation, and pay-based policies to level the playing field. Educ Finance Policy 6(3):399–438

Contreras D, Sepúlveda P, Bustos B (2010) When schools are the ones that choose: the effects of screening in Chile. Soc Sci Q 91:1349–1368

Domínguez P (2014). El impacto de la subvención escolar preferencial en la composición socieconómica de las escuelas. Espacio Público, Santiago, Documento de Referencia 15

Duflo E, Dupas P, Kremer M (2011) Peer effects, teacher incentives, and the impact of tracking: evidence from a randomized evaluation in Kenya. Am Econ Rev 101(5):1739–1774

Dupriez V (2010) Methods of grouping learners at school. UNESCO, Paris

Dupriez V, Dumay X (2006) Inequalities in school systems: effect of school structure or of society structure? Comp Educ 42(2):243–260

Elacqua G, Santos H (2013) Los efectos de la elección escolar en la segregación socioeconómica en Chile: un análisis georreferenciado. Espacio Público, Documento de Referencia 01, Santiago

Elacqua G, Schneider M, Buckley J (2006) School choice in Chile: is it class or classroom. J Policy Anal Manage 25:577–601

Epple D, Romano R (1998) Competition between private and public schools, vouchers, and peer-group effects. Am Econ Rev 88(1):33–62

Flores C Carrasco A (2013) Preferencias, libertad de elección y segregación escolar. Documento de Referencia 02, Espacio Público, Santiago

Godoy F, Salazar F, Treviño E (2014) Prácticas de selección en el sistema escolar chileno: requisitos de postulación y vacíos legales, en Informes para la Política Educativa, N°1, Mayo 2014. Centro de políticas comparadas de educación. Universidad Diego Portales

Ireson J, Hallam S (2001) Ability grouping in education. Paul Chapman Publishing, London

Ladd H, Fiske E (2009) Weighted student funding for primary schools: an analysis of the Dutch experience. Working Papers Series, SAN09-02. Duke Sanford School of Public Policy

Ladd H, Fiske E, Ruijs N (2009) Parental choice in the Netherlands: growing concerns about segregation. In: Paper prepared for the national conference on school choice, Vanderbilt University, Nashville (Tenesse)

Mickelson RA, Nkomo M (2012) Integrated schooling, life-course outcomes, and social cohesion in multiethnic democratic societies. Rev Res Educ 36(1):197–238

Neilson C (2013) Targeted vouchers, competition among schools, and the academic achievement of poor students. Yale

Noden P, West A (2009) Attainment gaps between the most deprived and advantaged schools. The Sutton Trust, London

Oakes J (1985) Keeping track: how schools structure inequality. Yale University Press, New Haven

Orfield G, Kicsera J, Siegel-Hawley G (2012) E PLuribus….Separation: deepening doublé segregation for more students. The Civil Rights Project, Estados Unidos

Rao G (2013) Familiarity does not breed contempt: diversity, discrimination and generosity in Delhi schools. Working paper

Rodríguez P, Valenzuela JP, Suchan K, Truffello R, Norel N, Allende C, Mondaca J, Céspedes J (2016) La geografía de las oportunidades educativas: determinando el acceso real de los estudiantes a establecimientos educacionales efectivos para generar políticas públicas que mejoren la provisión de educación de calidad. Informe Final FONIDE, Ministerio de Educación

Roje P (2014) Segregación escolar por nivel socioeconómico y su relación con las políticas públicas educacionales en Chile (tesis para magíster en economía). Universidad de Chile, Santiago

Saavedra T (2013) "Efecto del Financiamiento Compartido sobre el rendimiento escolar" (Tesis para optar al grado de magíster en economía aplicada). Universidad de Chile, Santiago

Saporito S (2003) Private choices, public consequences: magnet school choice and segregation by race and poverty. Soc Probl 50:181–203

SCHNABEL K, Alfeld C, Eccles J, Köller O, Baumert J (2002) Parental influence on students' educational choices in the United States and Germany: different ramifications same effect? J Vocat Behav 60(2): 178–198

Slavin R (1990) Achievement effects of ability grouping in secondary schools: a best-evidence synthesis. Rev Educ Res 60:471–499

Toledo G, Valenzuela JP (2015) Over-estimating the effects of teacher attributes on school performance in the Chilean education syste. Estudios de Economía 42(1):99–128

Treviño JP, Valenzuela JP, Villalobos C (2016a) Within-school segregation in the Chilean school system: what factors explain it? How efficient is this practice for fostering student achievement and equity? Learn Individ Differ 51:367–375

Treviño E, Valenzuela JP, Villalobos C, Vielma C, Hernández C (2016b) Trayectorias escolares de los estudiantes y agrupamiento al interior del aula en los colegios chilenos de Enseñanza Media. Análisis de la heterogeneidad académica al interior de las escuelas. Pensamiento Educativo Revista de Investigación Educacional Latinoamericana 2(53):1–17

Treviño E, Valenzuela JP, Villalobos C, Béjares C, Wyman I, Allende C (2017) Segregación entre e intra escuelas en el sistema escolar. Nueva evidencia para comprender las desigualdades del sistema educativo chileno. Forthcoming in Revista Mexicana de Investigación Educativa

Valenzuela J, Montecinos C (2017) Structural reforms and equity in Chilean schools. Oxford Research Encyclopedia of Education. https://doi.org/10.1093/acrefore/9780190264093.013.108

Valenzuela JP, Bellei C, De Los Ríos D (2008) Evolución de la segregación socioeconómica de los estudiantes chilenos y su relación con el financiamiento compartido. Informe Final FONIDE, Ministerio de Educación

Valenzuela JP, Bellei C, De Los Ríos D (2010) Segregación escolar en Chile en Martinic S, Elacqua G ¿Fin de Ciclo? Cambios en la gobernanza del sistema educativo. OREALC-UNESCO. Pontificia Universidad Católica de Chile Santiago

Valenzuela JP, Villalobos C, Gómez G (2013) Segregación y polarización en el sistema escolar chileno y recientes tendencias: ¿Qué ha sucedido con los grupos medios? Espacio Público, Documento de Referencia 03, Santiago

Valenzuela JP, Allende C, Gómez G, Trivelli C (2015) El efecto de la SEP en la reducción de la segregación socioeconómica del sistema escolar chileno. Primeros Resultados. Informe Final FONIDE, Ministerio de Educación

Valin A (2011) Financiamiento Compartido y desempeño escola. (tesis para magíster en ciencias de la ingenería). Pontificia Universidad Católica, Santiago

Van Zanten A (2007) Reflexividad y elección de la escuela por los padres de la clase media enFrancia. Revista de Antropología Social 16:245–277

VanderHart P (2006) Why do some schools group by ability? Some evidence from the NAEP. Am J Econ Sociol 65(2):435–462

Vergara D (2014) Persistencia en el desempeño académico: Un análisis a nivel de establecimientos a la luz de la reforma educacional (Tesis Magíster en Economía). Universidad de Chile, Santiago
Acknowledgments
Funding from PIA-CONICYT Basal Funds for Centers of Excellence Project FB0003 is gratefully acknowledged
Copyright information
© 2018 Springer International Publishing AG
About this entry
Cite this entry
Allende, C., Díaz, R., Valenzuela, J.P. (2018). School Segregation in Chile. In: Farazmand, A. (eds) Global Encyclopedia of Public Administration, Public Policy, and Governance. Springer, Cham. https://doi.org/10.1007/978-3-319-31816-5_3327-1
DOI: https://doi.org/10.1007/978-3-319-31816-5_3327-1

Received:

Accepted:

Published:

Publisher Name: Springer, Cham

Print ISBN: 978-3-319-31816-5

Online ISBN: 978-3-319-31816-5

eBook Packages: Springer Reference Economics and FinanceReference Module Humanities and Social Sciences