Definition
The study, using qualitative and/or quantitative methods, of two or more policies or policy alternatives pertaining to the maintenance, improvement, or restoration of the health of an individual or population, along with their policymaking contexts, for the purposes of deepening understanding, clarifying differences, identifying possible reforms, and/or accomplishing political objectives.
Introduction
Health policy, unlike many policy issues, is deeply and personally important to most individuals. It is also important to communities because the health sector is among the largest at each level of government.
While the world's industrialized countries share the same general conception of health (as well as similarly high standards of living), their health systems finance, regulate, and deliver care differently. As a result, there are many opportunities for policy learning across systems.
This chapter describes...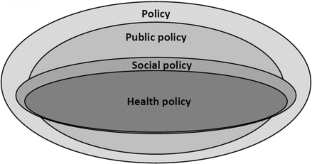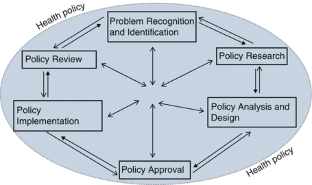 References
Böhm K, Schmid A, Götze R, Landwehr C, Rothgang H (2013) Five types of OECD healthcare systems: empirical results of a deductive classification. Health Policy 113:258–269

Camillo AC (2016) The US healthcare system: complex and unequal. Global Social Welfare 3:151–160. doi:10.1007/s40609-016-0075-z

Canadian Institute for Health Information (2016) National health expenditure trends. Retrieved from https://www.cihi.ca/sites/default/files/document/nhex-trends-narrative-report_2016_en.pdf

Deber RB, Mah CL (eds) (2014) Case studies in Canadian health policy and management. University of Toronto Press, Toronto

Grogan CM (2017) Diffusion of ACA policies across the American states. Journal of Health Politics, Policy and Law 42:205–209. doi:10.1215/03616878-3766691

Harms, W. (2013). Global surveys show environment ranks low on public concerns [Press release]. Retrieved from https://news.uchicago.edu/article/2013/02/25/global-surveys-show-environment-ranks-low-public-concerns

International Health Conference (July 22, 1946) Constitution of the World Health Organization. Retrieved from http://apps.who.int/gb/bd/PDF/bd47/EN/constitution-en.pdf?ua=1

Marmor TR, Freeman R, Okma KGH (2009) Comparative policy analysis and health care: an introduction. In: Marmor TR, Freeman R, Okma KGH (eds) Comparative studies & the politics of modern medical care. Yale University Press, New Haven

Miller EA (2005) State health policy making determinants, theory, and methods: a synthesis. Social Science & Medicine. doi:10.1016/j.socscimed.2005.05.006

National Academy for State Health Policy (NASHP) (2016) Proceedings from 2016 annual state health policy conference: Pittsburgh where ideas and action converge. NASHP, Pittsburgh

OECD (2015) Health at a glance 2015: OECD indicators. OECD Publishing, Paris

OECD (2016) OECD health statistics [Data file]. Retrieved from http://stats.oecd.org/index.aspx?DataSetCode=HEALTH_STAT

Pew Research Center (2014) Thirteen years of the public's top priorities [Press release]. Retrieved from http://www.people-press.org/interactive/top-priorities/

World Health Organization Europe (June 27, 2008) The Tallinn charter: Health systems for health and wealth. Retrieved from http://www.euro.who.int/_data/assets/pdf_file/0008/88613/E91438.pdf?ua=1

Zelmer J (2015) Beyond pilots: Scaling and spreading innovation in healthcare. Healthcare policy 11:8–12. doi:10.12927/hcpol.2016.24452
Copyright information
© 2017 Springer International Publishing AG
About this entry
Cite this entry
Camillo, C.A. (2017). Comparative Health Policies. In: Farazmand, A. (eds) Global Encyclopedia of Public Administration, Public Policy, and Governance. Springer, Cham. https://doi.org/10.1007/978-3-319-31816-5_3127-1
DOI: https://doi.org/10.1007/978-3-319-31816-5_3127-1

Received:

Accepted:

Published:

Publisher Name: Springer, Cham

Print ISBN: 978-3-319-31816-5

Online ISBN: 978-3-319-31816-5

eBook Packages: Springer Reference Economics and FinanceReference Module Humanities and Social Sciences