Gaps and Transparency Challenges in Contract Outsourcing
Living reference work entry
DOI:
https://doi.org/
10.1007/978-3-319-31816-5_3118-1
Keywords
Public Procurement 
Efficiency Unit 
Contracting Process 
Transaction Cost Theory 
Independent Commission Against Corruption 
These keywords were added by machine and not by the authors. This process is experimental and the keywords may be updated as the learning algorithm improves.
Definition
Contract outsourcing is the private sector involvement (PSI) in the delivery of public services. Contracting out is a contractual arrangement between the government and the private sector for the delivery of services.
Introduction
Outsourcing has become popular in the public sector because of the perception that governments are intrinsically inefficient (Huque 2005) and that the private sector is more economic, efficient, and effective than the public sector (Amagoh 2009). Government institutions have resorted to outsourcing primarily as an efficiency measure. Where government is inadequate in terms of expertise, personnel, and time spread across overlapping issues, the private sector can muster the necessary resources to achieve desired results. Outsourcing enables bureaucrats to implement plans without unnecessary strain on government departments that are already facing pressures to downsize and decentralize operations and further retool and capacitate personnel to meet evolving demands. But while outsourcing is an acceptable practice, it straddles on issues that question the extent to which processes are transparent and free of undue influence and selfish interests. And, although significant, oftentimes how these issues are viewed from the perspective of bureaucrats and contractors in the context of their appreciation of their roles vis-à-vis their capabilities is neglected. The paper seeks to expand current literature to cover gaps in terms of the requirements of outsourcing, as perceived from both bureaucrats and contractors, and the attendant processes of private service provider identification, contract development and management, contract implementation, and output evaluation. This paper argues that the perceptions of bureaucrats and contractors, particularly in Hong Kong, influence the efficacy of contractual relationships, which determine the success of outsourcing in the public sector.
Theoretical Viewpoint
This study is pursued against two theoretical underpinnings: transaction cost theory and principal-agent theory. In sum, both theories explain the rationality of the relationship between bureaucrats and contractors from considerations involving costs and resources and the dynamics between varied roles being utilized for common goals. Transaction costs theory suggests the viability of outsourcing in terms of the complexity of the contract and the resource requirements. It points to an indirect proportionality of both (contract complexity and resource requirement) to the viability of outsourcing. The principal-agent theory explains the relationship between the principal (bureaucrats) and agent (contractors), and how can compromise the other in the absence of certain features and mechanisms, and in the face of unmet expectations. In this study, both bureaucrats and contractors work within highly politicized Hong Kong where there is a growing demand from civil society for efficiency and accountability from government. Yet in the appreciation of the theoretical underpinnings of this study, we find out a gray area in the values of healthy competition and fair play that the Hong Kong government espouses from the situation on the ground as viewed by bureaucrats and contractors.
Contract Management
Outsourcing is regarded as not only a means to reduce costs and increase efficiency through the use of the market but also as a mechanism to enhance innovation and flexibility in public service delivery. However, some scholars find that outsourcing may erode the ethos of the public sector. These critics fear that any mismanagement may result in higher costs in service provision and lower service quality, such as might occur with any improper handling of competitive tendering and outsourcing.
Contract management is frequently regarded as a practitioner issue in those contracting studies that focus on the relationships between governments and contractors, performance evaluation, and decision-making on contracting (Schick 2011). An aspect of recurrent critical concern is that the quality of service can be affected by the improper handling of competitive tendering and outsourcing. In such cases, interorganizational collaboration among principals for scarce resources may be undermined, intensifying rivalry among competing agents in contract bidding, thus causing longer-term accountability problems in service delivery (Huque 2005).
Outsourcing Utilization
Outsourcing was initiated in the 1980s in Hong Kong and grew in volume and frequency during the period of the Asian financial crisis in 1997–1998 that brought the economy of Hong Kong to a new low, and unemployment rate was at a record low. This was also the same period when civil society was more vocal about the need for more efficiency, transparency, and accountability from the Hong Kong government. From that period, government bureaux and departments (B/Ds) have increasingly hired external service contractors to deliver public services.
Public procurement in Hong Kong is subject to scrutiny of the Independent Commission Against Corruption (ICAC) of Hong Kong, which is independent of the civil service and answerable directly to the chief executive. To assess the utilization rate of outsourcing as a strategy in public procurement in Hong Kong, the Efficiency Unit (EU) conducted biennial surveys of the government's outsourcing trends from 2000 to 2012. Covering the 2012 outsourcing situation, EU (2013) administered the survey to 81 government departments and 3,497 service providers with active outsourcing contracts with the government. Survey results revealed a significant increase in both number of contracts and total contract value of 26% and 22%, respectively, compared to data in 2010.
Figure
1
shows an annualized outsourcing expenditure of HK$31.7 billion in 2000. This amount almost doubled to HK$62.9 billion in 2012, with 66% of the government outsourcing contracts involving capital works and construction and building and property management services.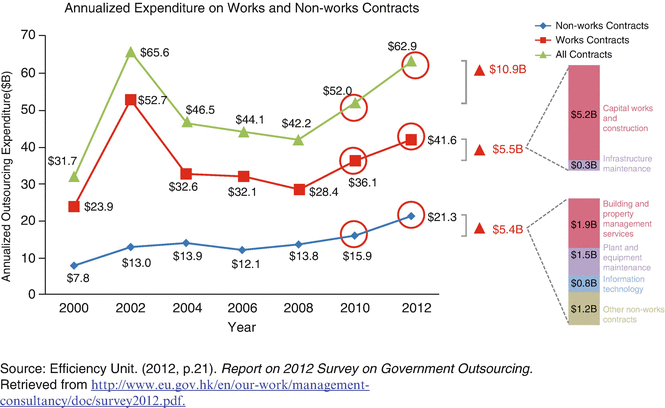 Figure
2
shows an increase in the total contract value in 2012 over 2010, attributed mainly to start of major capital works projects, such as the Hong Kong-Zhuhai-Macao Bridge Hong Kong Link Road. EU (
2013
) adds that the increase in the total number of contracts in 2012 over 2010 is largely due new IT projects and the procurement of more IT services, replacing non-civil service contract staff.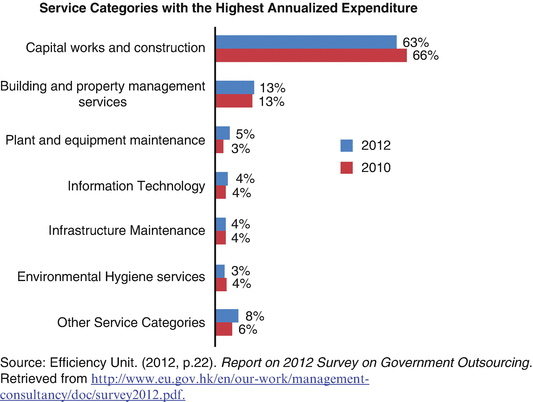 Skills Requirement in Outsourcing
The contract administrators from the public sector indicated that the transaction costs incurred in outsourcing were nearly always ignored. These costs pertained to the resources required for arranging comprehensive trainings for public officials on contract management – developing, maintaining, and monitoring contracts. Without hands-on experience in managing contracts, most of the bureaucrats resorted to self-learning and made decisions based on personal experience. Operating in strained resource environments, the administrators found their capacity to provide adequate oversight and contain opportunism severely challenged. Contractors, on the other hand, stated that they were not informed of government rules and provisions, procedures, practices, and regulatory and government auditing standards and requirements, causing them to inadvertently violate without their knowledge. To avoid the risks, they had to exhaust additional resources to study government rules and regulations. To public managers, additional controls are required when contractors are unfamiliar with regulatory requirements.
Both the bureaucrat and the contractor agree on the necessity of improving professional techniques and skills of the contractor; however, both blame the other side for insufficient information or inadequate training. The bureaucrat expects the contractor to be equipped with knowledge of government rules, the necessary skills, and initiative to keep up with progress through self-learning. However, the contractor expects more assistance from the government in understanding the rules and protocols in the contract (e.g., explicit explanation about details in the contract). Clear guidance from the government would save the contractor time and effort from guessing and trailing by mistakes.
Based on the transaction cost theory, organizations compare costs between internal and external delivery modes before deciding on outsourcing activities. Thus, transaction costs related to managing contracts effectively should be taken into consideration because such costs can lower the net benefit of contracting out. Offering public managers the necessary tools will also help them mitigate contracting risks, stave off, and correct incomplete and even failed contracts (Brown and Potoski 2003). As Brown and Potoski (2003) point out, any increase in the percentage of public goods contracted increases the likelihood that governments will invest in contract management capacity. Ongoing contract management training may be provided during induction as well as regular refresher training for bureaucrats to assist them in dealing with other stakeholders.
Lack of Communication
Both bureaucrats and contractors identified a lack of effective communication in the contracting process. The bureaucrats recognized the importance of communication in enhancing transparency, helping contractors compete, evaluate risks, and deliver stable services. Despite the importance public managers put on communication with contractors, they have been unable to achieve desired benefits. Contractors describe their communication with the bureaucrats as largely limited to reporting work progress or submitting deliverables.
The contractors were also frustrated at the failure of government to communicate their expectations and changes in contract requirements. As a result, some incurred losses. Majority of the contractors did not think that government contracts offered openness, fairness, and transparency. Obtaining information from government in the pre-contractual period and throughout the contracting process was difficult, even if the information requested was crucial for contractors to determine the extent to which they can fulfill the contract. With limited information "essential for determining the scope of bargains," the contractors lamented inability to draw up competitive offers.
The communication discrepancy is attributed to separate, incompatible systems adopted by the bureaucrats and the contractors to communicate, which result in poor collaboration. Lack of constant and current communication channels also lead to failure in immediately arresting problems and potential crises.
Transparency and Reliability of Information
Bureaucrats lament the absence of previous service records of tenderers, plan financial resources, and estimate expenditure to allow them to better assess contractors. The bureaucrats in the interviews were concerned about the price-based principle in evaluating bids and tenders. They suggested developing a system to help them track previous service records of tenderers, plan financial resources, and estimate expenditure. Hence, while the capabilities of contractors and their previous service records can be crucial to suitability in being granted an outsourcing contract, such factors are not taken into account in the tender evaluation stage.
Contractors are also not required to disclose certain background information in the pre-contractual period, so they are not known to the bureaucrats until the contract begins. Public managers shared that some contractors may offer extremely low prices to win the contract (adverse selection), but eventually exhibit opportunistic behaviors, offering substandard goods or services during the post-contractual period (moral hazard).
Effective Monitoring System
Majority of the bureaucrats in the interviews considered it essential to establish detailed service standards to facilitate their assessment of contractors' performance. But due to lack of skills, they cited difficulty in designing and carrying out outsourcing programs for optimal results and measuring contractors' performance. To make up for this, government officials hire consultants and experts in information systems (IS) management, a cost concern that bureaucrats try to minimize.
Bureaucrats also expressed concern over the length of contracts, which hold implications on both market and effective monitoring. Long contracts could come with greater risks of inadequate performance and reduce the policy flexibility available to them. Public managers were also anxious that in limited competitive markets, long contracts would create a monopoly, causing contracts to control prices which in turn would encourage them to charge monopoly prices. Eventually, the government would incur high costs of tendering, monitoring, and evaluation to control opportunism, especially where the outsourcing activity is difficult to quantify.
On the other hand, contractors half-favored long contracts and preferred a number of small-scale and related contracts integrated into large-scale ones. Long and large-scale contracts offer better income opportunities, lower transaction costs, and more prospective planning.
Compliance with Contract Requirements
To verify contractors' compliance with the contract provisions, government officials conduct regular and spot-check inspections. Contractors, however, resist openness and transparency, preferring to minimize costs of compliance. They indicated in the interviews that they did not favor spot-check inspections during the contracting process as they would be caught unprepared. Spot-check inspections refer to out-of-routine check that is carried out in the normal course of audit, which are intended to ascertain whether a system of internal control operates effectively. They preferred being informed of both details and frequency of monitoring and inspections in advance. Contractors were also upset to spend a great deal of resources completing numerous reports.
Spot-check inspections and regular reports and returns help bureaucrats track the progress of the outsourcing contracts. To ensure compliance and enhance transparency, the government can offer incentives to encourage voluntary adoption or impose sanctions for noncompliance. Some jurisdictions encourage contractors to self-audit themselves by offering reduced penalties and technological audit resources (Madu and Kuei 2012). For discentives, according to the Hong Kong government (Legislative Council Panel on Public Service 2011), contract breaches are monitored through a service-wide demerit point system and can bar contractors from joining future government bidding.
Limitations
The research data were based on interviews with the senior and frontline public managers with extensive contract management experience, as well as the contractors with extensive contracting experience with the Hong Kong government. However, due to the perceived sensitivity of the information required by some interview questions, majority of the civil servants invited to participate in the survey declined, further limiting access to quality respondents. In addition, the findings of this study are based on the perceptions of the interviewees; therefore, they may not be generalizable. The sample undertaken for this study was also limited to the senior contract managers, further reducing the population of the interviewees. Another challenge was selection bias, a common problem for snowball sampling when interviewing people who have relatively high homogeneity. Although previous interviewees were discouraged from discussing the research topic and questions with their referrals, the results of the interviews were still not as desired as those from random sampling. The nature of the study is also inductive; the exact number of interviewees was not conclusive until the research was in process.
Conclusion
The success of contract administration in outsourcing depends largely on a two-way transparent relationship between bureaucrats and contractors. This kind of working relationship empowers both parties to ensure efficiency in the execution of the contract in the best interest of the public.
Outsourcing ideally reduces the role of government in delivering public services, but government retains control over the contracting process. There appears to be more interest in downsizing the responsibility of government in this area over increasing efficiency and quality, even if bureaucrats lack the necessary training and skills to effectively fulfill this particular role. Governments to address issues of transparency as regards contract requirements, background information, and scope and date of inspection, among others, demonstrate failure on the part of public managers to reconcile their decisions and actions with the expectations of contractors. It appears that Hong Kong can barely support the development of new roles and skills among bureaucrats. Bureaucrats still rely on a hierarchical control-based approach within a highly politicalized environment. Within a politicalized context where there are multiple actors and stakeholders with conflicting objectives, outsourcing then remains a severe challenge for public contract managers in Hong Kong.
Copyright information
© Springer International Publishing AG 2017