Epulis
Living reference work entry
DOI:
https://doi.org/
10.1007/978-3-319-28845-1_784-1
Definition
An epulis is a collective term for lesions of the oral mucosa having an intimate relation with periodontal membrane or with the periosteum of the jaw, in practice used for localized swellings of the gingiva. The term is derived from the Greek "epi" and "ulon" meaning on the gingiva. The term is also used for mucosal hyperplasias of the edentulous alveolus.
The term epulis is a topographico-clinical concept saying nothing about the histological structure or pathogenesis of the lesion.
An epulis is a localized swelling of the gingiva, measuring 0.5–2.5 cm, broad based or with a stalk, soft to firm, with a normal to reddish color, depending on the histopathological diagnosis of the lesion (Fig.
1
).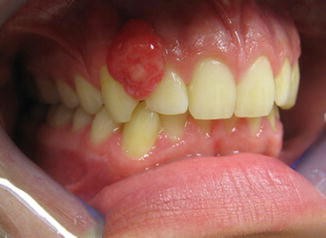 References and Further Reading
Copyright information
© Springer International Publishing AG 2017