Ranula
Living reference work entry
DOI:
https://doi.org/
10.1007/978-3-319-28845-1_771-1
Definition
Ranula, meaning "frog-like" in Latin, is a clinical variant of a
mucocele
that presents as a large swelling in the floor of the mouth (Fig.
1
). It is a mucous retention phenomenon of the large salivary glands, in contrast with mucoceles, which originate from minor salivary glands. They occur as a result of excretory duct disruption, usually of the sublingual gland and less frequently of the submandibular gland.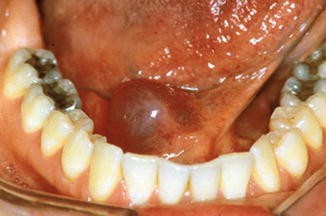 References and Further Reading
Copyright information
© Springer International Publishing AG 2017