Hairy Leukoplakia
Living reference work entry
DOI:
https://doi.org/
10.1007/978-3-319-28845-1_725-1
Definition
Oral hairy leukoplakia (OHL) is one of the many new disease entities brought to light by the epidemic of HIV infection. It is an Epstein-Barr virus (EBV)-associated lesion presenting as a unilateral or bilateral, white mucosal plaque, usually located on the lateral border(s) of the tongue, that does not rub off and is histopathologically characterized pattern of hyperkeratosis and hairlike epithelial hyperplasia (Fig.
1
). OHL is not exclusive to patients with HIV infection but can also be observed in other immune-compressed patients.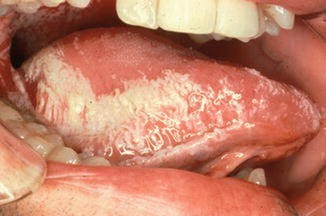 References and Further Reading
Copyright information
© Springer International Publishing AG 2017