Epstein's Pearls
Living reference work entry
DOI:
https://doi.org/
10.1007/978-3-319-28845-1_701-1
Definition
Small, developmental inclusion cysts in the newborn infants along the median palatal raphe believed to arise from epithelium entrapped along the line of fusion. Identical cysts scattered on the hard palate near the soft palate junction or on the buccal and lingual aspect of the alveolar ridge are called Bohn's nodules and on the gingiva, gingival, or alveolar cysts/dental lamina cysts of the newborn, originating from the dental lamina.
Clinical Features
Incidence
65–85% of all newborns.
Age
Neonates, rarely after 3 months.
Sex
No gender predilection.
Site
Small, 1–3 mm, white or yellow–white papules along the median raphe of the hard palate. Single or multiple.
Treatment
Self-healing within a few weeks. The small cysts rupture spontaneously or degenerate.
Microscopy
Keratin-filled cysts, lined by stratified squamous epithelium, sometimes communicating with the surface (Fig.
1
).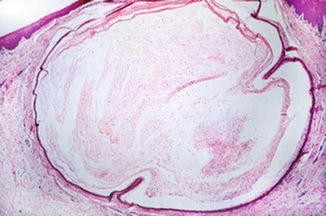 References and Further Reading
Copyright information
© Springer International Publishing AG 2017