Spermatic Cord Deep Angiomyxoma
Living reference work entry
DOI:
https://doi.org/
10.1007/978-3-319-28845-1_4943-1
Definition
Deep angiomyxoma is a locally aggressive mesenchymal tumor composed by vascular and myxoid elements.
Macroscopy
The mass is usually vascular and lobulated, soft, compressible, often partially encapsulated. The cut surface is smooth, homogeneous, and gelatinous, from gray to white. Recurrent tumors have generally the same aspects, even if fibrotic and hemorrhagic areas can be more prominent (Fletcher et al. 2016; Steeper and Rosai 1983; Idrees et al. 2006; Hsieh et al. 2018).
Microscopy
At low power, the lesion is unencapsulated or partially encapsulated and it is composed of spindle cells dispersed in a myxo-collagenous stroma, which can be pale eosinophilic or amphophilic (Fig. 1). The infiltrative nature of the lesion can be evidenced at the periphery, where extension to muscular and fat tissue is seen (Fletcher et al. 2016; Steeper and Rosai 1983; Idrees et al. 2006; Hsieh et al. 2018).
The hallmark of this lesion is the presence of prominent vessels of different caliber, sometimes arranged into clusters, including arteries, veins, arterioles, and venules with thick walls, which are scattered throughout the parenchyma (Idrees et al. 2006; Hsieh et al. 2018).
At higher magnification, cells are bland, spindle, or stellated in shape, with indistinctive cellular borders and one or more cytoplasmic processes (Steeper and Rosai 1983). Mitosis is rare or absent.
Occasionally, focal cystic degeneration and perivascular lymphoid infiltrates may be seen (Idrees et al. 2006). Recurrent tumors show foci of increased cellularity and vascularity, or sometimes a denser eosinophilic stroma (Steeper and Rosai 1983).
Immunophenotype
Most cases show positivity to vimentin and desmin, while actin highlights myoid bundles and S100 can stain trapped nerves (Sutton and Laudadio 2012). The tumor usually expresses estrogen/progesterone receptors in female patients. When the lesion arises from specialized hormonally responsive stromal cells of the perineum, the expression of hormonal markers is detected also in male patients (Idrees et al. 2006). MIB1 shows an extremely low proliferative activity (<1% of tumor cells) (Sutton and Laudadio 2012).
Molecular Features
Chromosomal translocation involving 12q13–15, which comprises the high mobility group A (HMGA2) gene, has been reported in several mesenchymal neoplasms (lipomas, liposarcomas, leiomyomas, and pulmonary hamartomas), including deep angiomyxomas, which could be a useful diagnostic marker (Dreux et al.
2010
).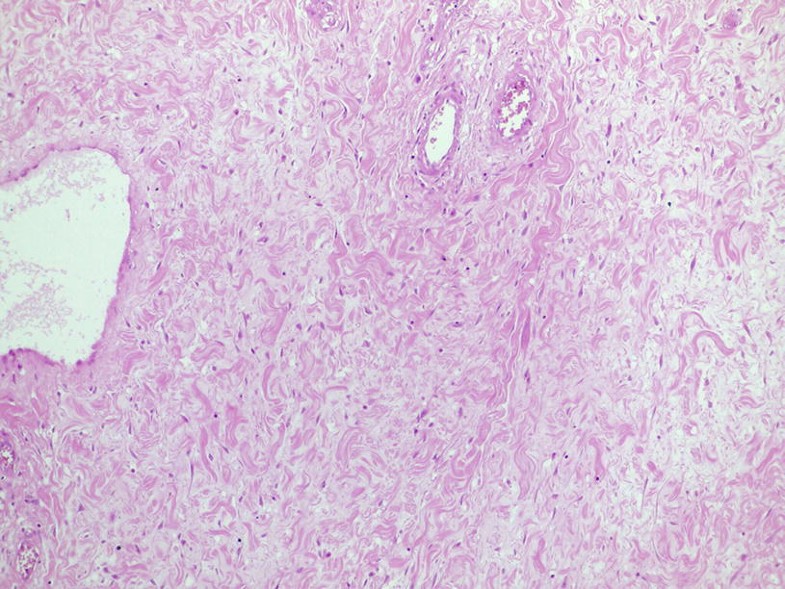 Differential Diagnosis
The differential diagnosis is broad and includes superficial angiomyxoma, angiomyofibroblastoma, myxoid neurofibroma, low-grade myxofibrosarcoma, myxolipoma, myxoid liposarcoma, myxoma, and fibromatosis (Steeper and Rosai 1983; Idrees et al. 2006; Sutton and Laudadio 2012).
As the name implies, superficial angiomyxoma is located in the dermis and subcutis; it is an encapsulated lesion with a lobular or multinodular architecture and lacks large caliber vessels, which is a hallmark of deep angiomyxoma. Moreover, superficial angiomyxoma is characterized by a prominent myxoid stroma (Idrees et al. 2006; Sutton and Laudadio 2012).
Angiomyofibroblastoma (AMFB), shares with deep angiomyxoma a similar histology, even if the vessels of AMFB are thin-walled, and there are areas of different cellular density. Moreover, AMFB is a well-demarcated lesion, usually smaller than deep angiomyxoma, which occurs in the superficial soft tissues and never recurs after complete excision. One peculiar histological feature is the presence of multinucleated giant cells with linearly arranged nuclei (Idrees et al. 2006; Sutton and Laudadio 2012).
Myxoid neurofibroma shows similar histology to deep angiomyxoma, with spindle-shaped cells dispersed in a myxoid stroma with interspersed vessels, but it usually occurs in the extremities and it is S100 positive (Idrees et al. 2006).
Low-grade myxofibrosarcoma usually occurs in older patients, and atypical cells tend to condense around curvilinear vessels (Idrees et al. 2006).
Myxolipoma is characterized by the presence of a prominent lipomatous component in which some vessels, as well as some benign, spindle-shape cells may be seen. The presence of a lipomatous component as the predominant histological feature of the lesion differentiates it from deep angiomyxoma (Sutton and Laudadio 2012).
Myxoid liposarcoma is marked by the characteristic lipoblastic population and thin-walled vessels in a plexiform pattern of growth (Idrees et al. 2006; Sutton and Laudadio 2012).
Myxoma is a benign lesion of muscles of the extremities, with fibroblastic cells dispersed in a myxoid stroma. Vessels are present at the periphery of the lesion. As deep angiomyxoma, it is usually an unencapsulated lesion (Idrees et al. 2006).
Cellular angiofibroma is a closely related entity to deep angiomyxoma, but usually lacks the myxoid stroma and may contain intratumoral fat (Idrees et al. 2006).
References and Further Reading
Copyright information
© Springer Nature Switzerland AG 2019