Rhabdomyosarcoma
Living reference work entry
DOI:
https://doi.org/
10.1007/978-3-319-28845-1_4931-1
Definition
Rhabdomyosarcoma (RMS) is a malignant tumor with skeletal muscle differentiation. Four subtypes are currently recognized: embryonal, alveolar, pleomorphic, and spindle cell/sclerosing. The embryonal and the spindle cell/sclerosing subtypes are by far the most common in the urogenital tract.
Clinical Features
Incidence

RMS is the most common pediatric soft tissue sarcoma, and approximately 10–15% of all RMSs originate in the bladder and prostate, making the genitourinary tract the second most common primary site.

Age

RMS is a tumor of childhood and adolescence. Only rare cases have been reported in adults.

Sex

Urinary bladder RMS shows a slight male predominance.

Site

Embryonal RMS occurs in the soft tissue of the paratesticular region, bladder, and prostate. Spindle cell RMS involves the paratesticular region, while alveolar and pleomorphic RMS are exceedingly rare in the urogenital tract.

Treatment

RMS is treated with a multimodal approach. The local control may be achieved with surgical resection and/or radiotherapy. Chemotherapy protocols are employed in the neoadjuvant setting or after incomplete tumor resection, as well as in patients with systemic disease.

Outcome

Patients with localized disease have an excellent survival (75–85% at 5 years). Patients with non-embryonal histologies and patients with metastatic disease at presentation have significant lower survival rates.
Macroscopy
In the bladder the most frequently involved site is the trigone. The botryoid variant of embryonal RMS appears as a polypoid gelatinous multinodular lesion that protrudes in the lumen. Spindle cell RMS appears as a solid, firm, fibrous lesion, while other RMS types mainly consist of a poorly circumscribed, fleshy, pale tan mass with areas of necrosis and hemorrhage that infiltrate neighboring structures.
Microscopy
Embryonal rhabdomyosarcoma is characterized by a mixture of undifferentiated round cells with a well-differentiated population of rhabdomyoblasts exhibiting an intensely eosinophilic cytoplasm, within a myxoid stroma (Fig. 1). Cross striations are sometimes present. Botryoid RMS arising in the urinary bladder shows a cellular layer of round primitive cells under the intact epithelium, which is designated cambium layer. The deeper portions of the tumor appear as paucicellular, loose, edematous, or myxoid.
The spindle cell subtype displays a fascicular proliferation of elongated cells with bright eosinophilic cytoplasm and cross striations, with focal to extensive stromal sclerosis (Fig. 2). In the alveolar subtype, neoplastic cells grow in distinct nests separated by fibrous septa. They tend to be discohesive in the central part of the nest and aggregate at the periphery. Multinucleated giant cells may be seen. The pleomorphic subtype presents as a solid growth of highly pleomorphic cells with abundant eosinophilic cytoplasm.
Immunophenotype
The most useful immunohistochemical markers for skeletal muscle differentiation are desmin, myogenin (Myf4), and MyoD1, which are sensitive and specific.
Molecular Features
The majority of alveolar rhabdomyosarcomas present a PAX3-FOXO1 or PAX7-FOXO1 gene fusion. A subset of spindle cell RMS presents MYOD1 mutations, often associated with a coexistent PIK3CA mutation.
Differential Diagnosis
Other tumors with myogenic differentiation, including inflammatory myofibroblastic tumor and smooth muscle tumors, can be easily ruled out based on the histologic and immunohistochemical findings. The distinction between solid or translocation negative alveolar RMS and embryonal RMS may be difficult. The tumor population in embryonal RMS is more heterogeneous, with the presence of round and spindle elements, while neoplastic cells of alveolar RMS are larger and show a more diffuse immunostaining for myogenin. Desmoplastic small round cell tumor (DSRCT) shows partial overlapping histologic and immunophenotypic features (desmin positivity) with embryonal and alveolar RMS. However, RMS is positive for myogenin, which is not detected in DSRCT. In the rare cases occurring in adult patients, sarcomatoid carcinoma with heterologous rhabdomyoblastic differentiation must be entered in the differential diagnosis.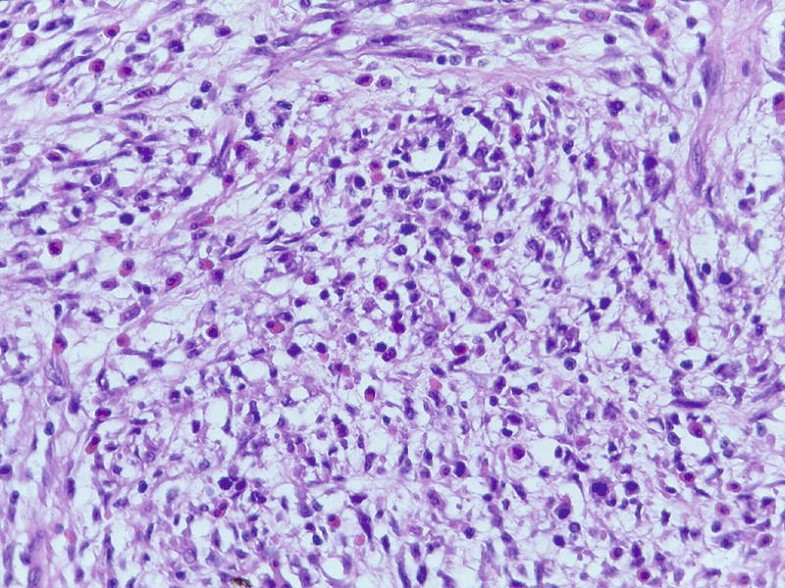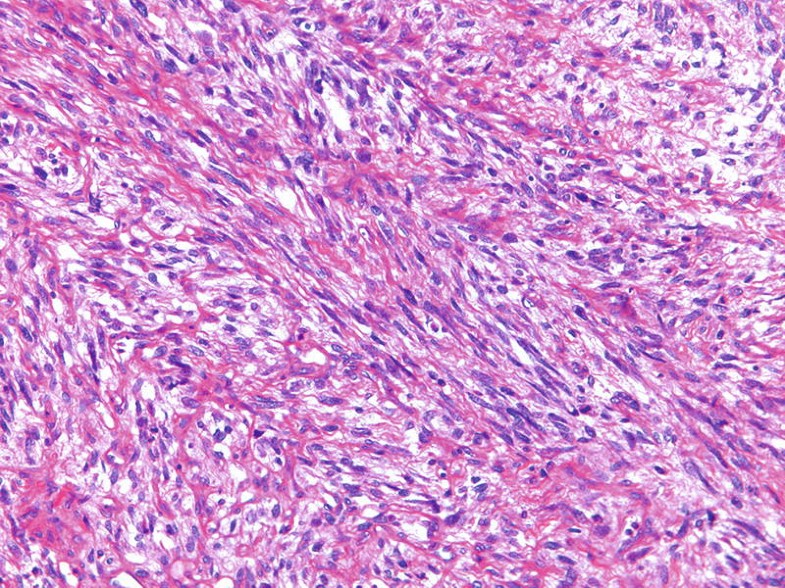 References and Further Reading
Copyright information
© Springer Nature Switzerland AG 2019