Rete Testis Dysgenesis
Living reference work entry
DOI:
https://doi.org/
10.1007/978-3-319-28845-1_4929-1
Definition
The term rete testis dysgenesis refers to the presence of a rete testis with infantile characteristics in the adult, absence of development of the rete testis cavities, and persistence of a cubic epithelium instead of the squamous epithelium of the adult. It is associated in many cases with a ductal, pseudoglandular, or papillary proliferation of this epithelium.
Clinical Features
It is a histological finding in the study of undescended testes, and in some testes with germ cell tumors.
Incidence

Frequent in the undescended testes removed in the adult (Nistal et al. 1997).

Age

It is a lesion preferably of adults although congenital forms are also observed.

Sex

Male.

Site

Both testes. No predilection of laterality.

Treatment

No treatment.

Outcome

It is a benign process that probably has its beginning in fetal life due to its association with undescended testes or germ cell tumors, so it should be included among the histological lesions of the testes with testicular dysgenesis syndrome (Nistal et al. 2017).
Macroscopy
In most cases, it is seen in small testicles.
Microscopy
Depending on the degree of development of the rete testis, the following variants are distinguished: (a) Diffuse hypoplasia. The testicles of adults present a rete testis more typical of a child testicle. The lack of development of the same joins the lack of cavitation of the mediastinous rete testis. (b) Cystic-hypoplasia. The rete testis is more developed but does not present development of its cavities in planes parallel to the testicular surface, instead there are multiple small cysts. (c) Adenomatous hyperplasia. The rete testis adopts a glandular, papillary, or cribriform pattern that closely resembles the adenomatous hyperplasia described in the adult in noncryptorchid testes (Fig.
1
) (Roosen-Runge and Holstein
1978
; Nistal and Paniagua
1988
; Nistal et al.
2003
).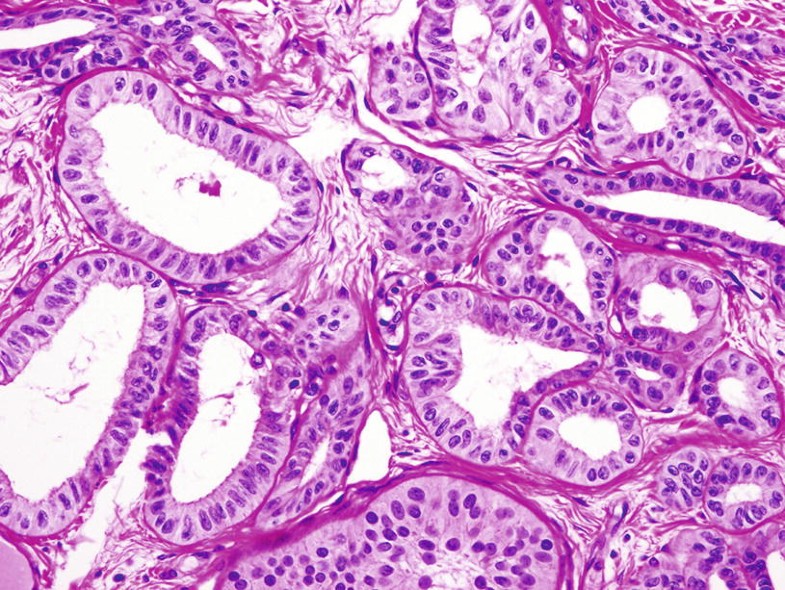 Differential Diagnosis
Microcystic and adenomatous patterns pose a more difficult differential diagnosis with other processes, both benign and malignant. They should be distinguished from: (a) The pseudohyperplasia of the rete testis that can be observed in many atrophic testes of elderly people or reactive to the underlying inflammatory process. In these cases, they are focal lesions and multiple, microscopic lesions that preferentially affect the septal rete. (b) Tumors of the rete testis. The benign tumors of the rete testis (adenomas, solid and papillary, and cystadenomas) (Paluru et al. 2018) are different because they are larger and unique lesions, while adenomatous hyperplasia is a histological finding most of the time and is a diffuse process. The adenocarcinoma of the rete testis, apart from its larger size, is a tumor with abundant mitosis and marked infiltrative capacity of the testicular parenchyma. (c) The metastases of tumors such as prostate can be located only at the level of the mediastinum, but do not produce alterations neither in the architecture nor in the epithelium of the rete testis.
References and Further Reading
Copyright information
© Springer Nature Switzerland AG 2019