Renal Mucinous Tubular and Spindle Cell Carcinoma
Living reference work entry
DOI:
https://doi.org/
10.1007/978-3-319-28845-1_4926-1
Definition
Renal cell tumor characterized by tubular formations merging with bland spindle cells in a myxoid stroma.
Clinical Features
Incidence

This tumor accounts for less than 1% of all renal neoplasms.

Age

It arises during the sixth decade of live.

Sex

There is a female predilection (M:F = 1:3).

Site

There is no site predilection.

Treatment

Partial or radical nephrectomy is the treatment of choice.

Outcome

Only rare cases have metastasized to lymph nodes and have shown sarcomatoid dedifferentiation.
Macroscopy
The tumor is solid, pale tan to yellow that may have slight focal areas of necrosis or hemorrhage.
Microscopy
Mucinous tubular and spindle cell carcinoma is circumscribed and composed of branching, elongated tubules in a bubbly, basophilic, myxoid stroma (Fig.
1
). Tumor cells are predominantly cuboidal with scant, clear to pale, acidophilic cytoplasms and low-grade nucleolar features (Ferlicot et al.
2005
).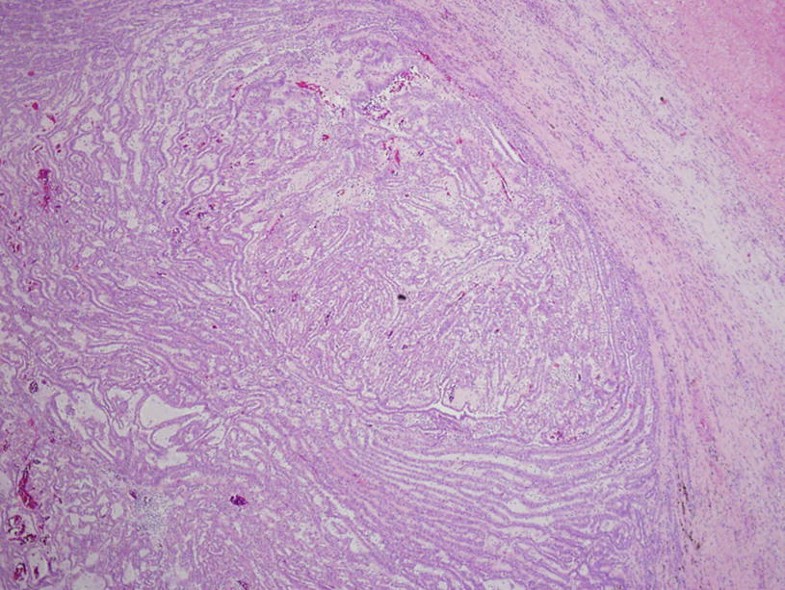 Immunophenotype
The neoplastic cells are generally positive for CK7 and AMACR.
Molecular Features
Data regarding mucinous tubular and spindle cell carcinoma indicate various chromosomal losses and gains but no loss of 3p or trisomy 7 and/or trisomy 17 (Cossu-Rocca et al. 2006).
Differential Diagnosis
Papillary renal cell carcinoma is the most important differential diagnosis. Due to the overlapping immunophenotype, FISH analysis is the most reliable tool in the routine diagnostic workup.
References and Further Reading
Cossu-Rocca, P., Eble, J. N., Delahunt, B., et al. (2006). Renal mucinous tubular and spindle carcinoma lacks the gains of chromosomes 7 and 17 and losses of chromosome Y that are prevalent in papillary renal cell carcinoma.

Modern Pathology, 19

, 488–493.

CrossRef

Google Scholar

Ferlicot, S., Allory, Y., Compérat, E., et al. (2005). Mucinous tubular and spindle cell carcinoma: A report of 15 cases and a review of the literature.

Virchows Archiv, 447

, 978–983.

CrossRef

Google Scholar
Copyright information
© Springer Nature Switzerland AG 2019