Regressed Germ Cell Tumors
Living reference work entry
DOI:
https://doi.org/
10.1007/978-3-319-28845-1_4921-1
Definition
Regressed germ cell tumors correspond to fibrotic nodules in the testis occurring after either partial or complete regression of germ cell tumors (GCTs).
Clinical Features
Incidence

Less than 5% of testicular GCTs undergo complete or spontaneous regression (Miller et al. 2009).

Age

It occurs among 0–5-year-old children.

Sex

Male.

Site

Testis.

Treatment

Ipsilateral radical orchiectomy is the standard management for patients who present with retroperitoneal germ cell neoplasms.

Outcome

Retroperitoneal so-called extragonadal GCTs are almost always associated with a regressed ("burnt-out") tumor in the testis and, that could occur as back pain secondary to retroperitoneal mass or, less commonly, as testicular enlargement (Balzer and Ulbright 2006). Testicular sonography is not specific; characteristics can be hyperechogenic, hypoechogenic, or a mixture of the two (Comiter et al. 1996). Regressed GCTs, because of their commonly occult nature, usually present at higher stages, but it is unknown whether there is a different outcome respect nonregressed tumors.
Macroscopy
The orchiectomy shows demarcated, white to tan, solitary fibrotic nodule, but they occur either single as multiple, nodular or linear, scar-like lesions.
Microscopy
Similar features are observed microscopically: Demarcated, vascularized fibrotic scar is observed in the great majority of the cases with lympho-plasmocytic infiltrate and atrophy and sclerosis of surrounding tubules (90% of the cases) (Fig.
1
). The presence of coarse intratubular calcifications are not common (15% of the cases), while Leydig cell hyperplasia is common finding generally associated with regression in seminoma. In many cases, GCNIS can be detected (Balzer and Ulbright
2006
), and it is the second pathognomic feature of a regressed GCT when associated with a scar. In a completely regressed GCT none of the features are sufficiently specific to accurately evaluate the type of GCT, also if the most common histology is seminoma, the second embryonal carcinoma, less frequently choriocarcinoma and teratoma (Scholz et al.
2002
).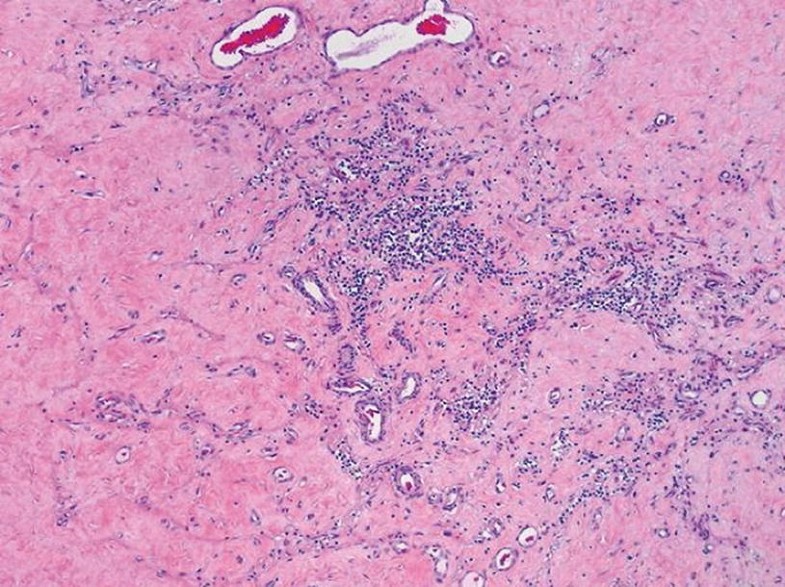 Differential Diagnosis
Postinflammatory or Ischemic Scar
Trauma or vascular disease may cause a testicular scar. Scars in a testicular biopsy without a retroperitoneal tumor are not a priori "burnt-out" tumors, unless the scar is associated with GCNIS in the surrounding tubules.
Nonspecific Orchitis
Keeping in mind that an extensive sampling is the key to rule out germ cell tumor or GCNIS, the absence of neoplastic elements and the lack of elevation of serum markers address to the diagnosis of fibrosis occurring as healing process in a chronic or granulomatous orchitis. Informations about the clinical history of these patients are necessary.
References and Further Reading
Copyright information
© Springer Nature Switzerland AG 2019