Myoepithelial Carcinoma of the Breast
Living reference work entry
DOI:
https://doi.org/
10.1007/978-3-319-28845-1_4768-1
Definition
A malignant lesion composed of myoepithelial cells with increased mitotic activity and expression of myoepithelial markers, such as high molecular weight cytokeratins, p63, smooth muscle actin, and others.
Clinical Features
Incidence
Myoepithelial carcinomas of the breast represent an extremely rare and poorly understood entity of invasive breast cancer. The exact incidence of these tumors is unknown, partially due to the disputed definition. According to the actual WHO classification, myoepithelial carcinomas are a subgroup of metaplastic carcinoma (Reis-Filho et al. 2012). Under these assumptions, the incidence is probably significantly lower than <1%.
Age
Myoepithelial carcinomas have been seen in all age groups from 25 to 81 years.
Sex
Rare cases of myoepithelial carcinoma of the breast have been described in women. The incidence in male patients is not known.
Site
A predominant site within the breast has not been described.
Treatment
Recommendations concerning the treatment of these lesions are differing. This is mainly due to the unsharp definition of this tumor entity.
Since some regard atypical adenomyoepithelioma as one end of a morphological spectrum and myoepithelial carcinoma as the other end, the treatment of these former tumors significantly differs from myoepithelial carcinoma fulfilling the criteria of metaplastic carcinoma.
Whereas atypical adenomyoepithelioma does not fulfil the criteria to justify a treatment as invasive carcinoma, myoepithelial carcinomas are treated according to the respective guidelines for metaplastic, hormone receptor-negative cancers.
Outcome
Reliable data concerning the outcome are rare. Limited follow-up data report an increased local recurrence rate and a rather low incidence of regional lymph node metastasis.
Macroscopy
Myoepithelial carcinomas might present as round to oval, well-demarcated nodules as well as tumors with irregular borders and overt infiltrating growth pattern. Hemorrhage, cystic degenerations, and calcifications can be seen. In most cases, the tumors appear as white-grey tumors with largely varying size (up to >20 cm diameter).
Microscopy
Typically myoepithelial carcinoma presents as a proliferation of spindle cells, sometimes intermingled by epithelioid appearing cells (Fig.
1
). Typically, remnants of normal breast parenchyma seem to be entrapped by the spindle cells. In some cases, the spindle cells adjacent to the normal breast remnants seem to originate from normal myoepithelial cells. This finding strongly supports the diagnosis of myoepithelial carcinoma (Tan and Ellis
2013
). Extensive sampling of the tumor is required since in most cases an adenomyoepithelial component may give hints to the myoepithelial differentiation of this tumor. In-situ carcinoma can also be observed in a large subset of tumors, indicating the epithelial origin of the malignant lesion.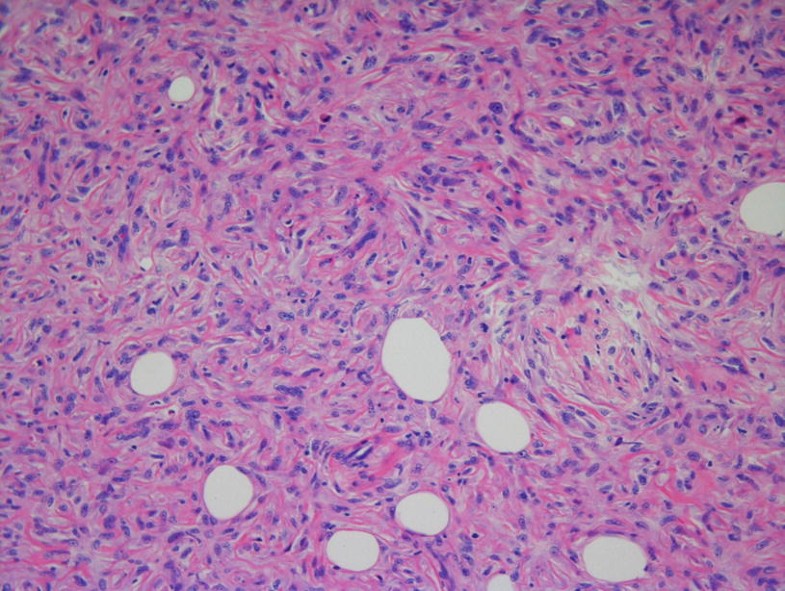 Immunophenotype
The immunophenotype reflects the expression patterns observed in normal myoepithelial cells.
This includes the expression of keratins, mainly high molecular weight cytokeratins (Ck5, 14, 17), smooth muscle actin, vimentin, caldesmon, calponin, S-100, CD10, GFAP, D2–40 (examples given in Fig.
2a
–c) and the lack of expression of estrogen receptor (ER), progesterone receptor (PR), and negativity for HER2 (Schmitt et al.
2012
).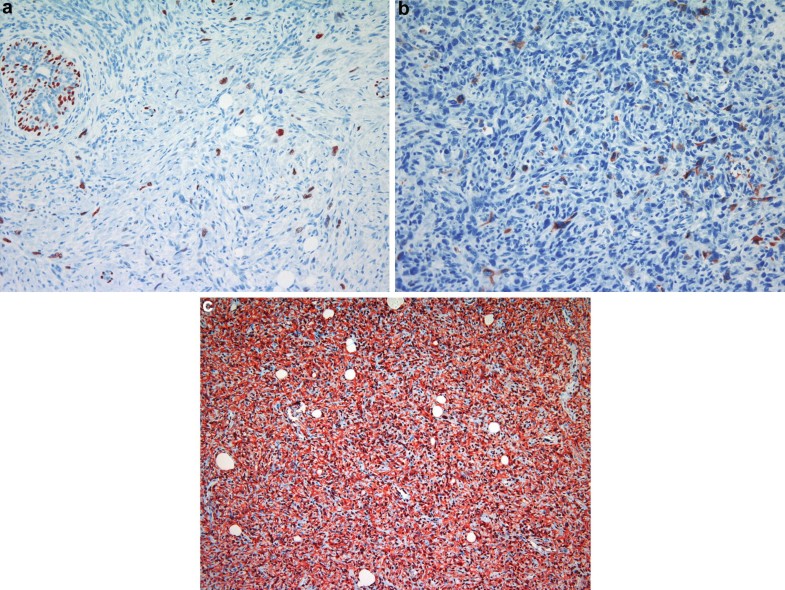 Molecular Features
Little is known about molecular features of "pure" myoepithelial carcinomas. Since myoepithelial carcinomas are nowadays regarded as a subgroup of metaplastic carcinoma, more information on the genetic status of these tumors are available (Tavassoli and Eusebi 2009).
In general, these tumors reveal a high number of genetic alterations, indicating a high genetic instability. Major hallmarks, however, only seen in rather small proportions are p53-alterations, EGFR amplification, lack of HER2 expression, and negativity for ER and PR.
However, one series described a lower rate of genetic alterations per case compared to invasive breast cancer no-special type. This discrepancy seems to be a reflection of the controversial definitions of myoepithelial carcinoma.
Differential Diagnosis
The differential diagnosis of these tumors is, despite a clear immunophenotype, complicated and reflects the current discussion concerning the exact classification of these tumors (Weidner and Dabbs 2012; Schnitt and Collins 2009; Fine and Kurdek 2016).
Therefore, myoepithelial carcinomas should be separated from all kind of spindle cell lesions of the breast, mainly spindle cell carcinomas and all forms of metaplastic carcinoma.
Since the morphological and immunohistochemical differential diagnosis between these tumors might be arbitrary, some authors regard the distinction between these tumors rather as a problem of semantics.
At the current state, it is not clear if this subgrouping is supported by other hallmarks, e.g., molecular findings. Other authors argue that due to a very close morphological relationship between myoepithelial carcinomas and adenomyoepithelial tumors, these tumors might be seen as the extreme end of a morphological continuum of tumors with a predominant myoepithelial differentiation.
Malignant phyllodes tumor can be a differential diagnosis. However, the lack of epithelial glands, expression of high molecular weight cytokeratins, p63, and other markers of myoepithelial differentiation allows a clear distinction from myoepithelial carcinomas in the vast majority of the cases.
Fibromatosis, a spindle cell proliferation rarely seen in the breast may also be considered. Lack of p63 and high molecular weight cytokeratin positivity in these lesions helps to make distinction from myoepthelial carcinoma.
References and Further Reading
Copyright information
© Springer Nature Switzerland AG 2019