Apocrine Carcinoma
Living reference work entry
DOI:
https://doi.org/
10.1007/978-3-319-28845-1_4693-1
Keywords
Invasive Apocrine Carcinoma 
Apocrine DCIS 
Molecular Apocrine Breast Cancer 
Steroid Receptor Profile 
Apocrine Differentiation 
These keywords were added by machine and not by the authors. This process is experimental and the keywords may be updated as the learning algorithm improves.
Definition
Carcinoma with apocrine differentiation (invasive apocrine carcinoma) is defined by "WHO Classification of Tumours of the Breast" as "any invasive carcinoma in which cells show the cytological features of apocrine cells" (O'Malley and Lakhani
2012
). More strictly, it is a breast cancer characterized by apocrine morphology (abundant eosinophilic and granular cytoplasm, centrally/eccentrically located nuclei with prominent nucleoli and distinct cell borders) and a distinct steroid receptor profile: Estrogen receptor (ER)-negative and androgen receptor (AR)-positive cells (Vranic et al.
2013
) (Fig.
1a–c
).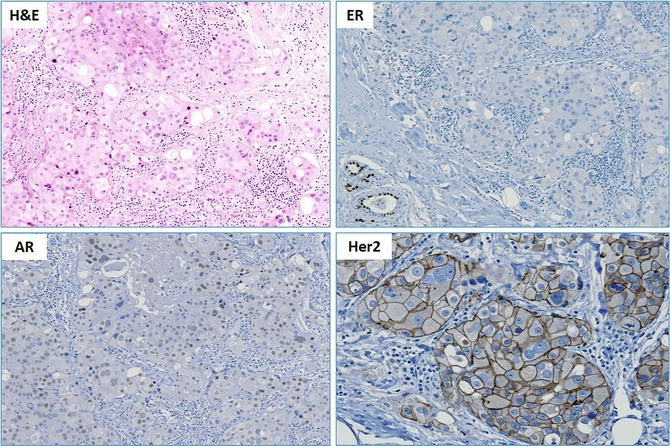 On the basis of gene expression profiling studies, several investigators defined "molecular apocrine groups" including "molecular apocrine breast cancer" [MABC] and "Luminal Androgen Receptor" [LAR] breast cancer, all of which are characterized by increased AR signaling, lack of ER, and absence of basal differentiation. It should be noted here that "molecular apocrine groups" (as defined by microarray studies) are not fully equivalent to apocrine carcinoma differentiation defined by morphology and steroid receptor profile.
Clinical Features
Incidence

Invasive apocrine carcinoma is a rare special type of breast cancer constituting 0.3–4% of all breast cancers (depending on the criteria used for its definition). When strictly defined as above, it constitutes ~1% of all breast cancers.

Age

Typically affects postmenopausal women. A recent comprehensive analysis based on the SEER [The Surveillance, Epidemiology, and End Results] data confirmed the prevalence of apocrine carcinomas among the elderly women (Zhang et al. 2017).

Sex

Invasive apocrine carcinoma predominantly affects women although rare cases of apocrine carcinoma (both in situ and invasive) among males have also been described (Vranic et al. 2013).

Site

The tumor location of invasive apocrine carcinoma does not differ from that of invasive carcinoma of no special type (NST).

Treatment

Current therapeutic approach to the patients with invasive apocrine carcinoma is similar to that of breast carcinoma NST. A subset of invasive apocrine carcinomas (30–50%) are HER-2/neu positive (amplified) and are amenable for anti-HER2 treatment modalities. Consistent AR expression and activation of AR signaling pathways may represent a new avenue for the anti-AR treatment modalities of patients with advanced and/or metastatic apocrine carcinomas.
Outcome
Clinical studies reporting outcome (overall survival and disease-free survival) of the patients with invasive apocrine carcinoma are contradictory due to the lack of consistent criteria for its definition (O'Malley and Lakhani 2012; Vranic et al. 2013). A recent SEER analysis, based on 840 patients with invasive apocrine carcinoma, revealed that apocrine carcinomas tend to behave more aggressively in comparison with NST carcinomas. However, the worse outcome was significantly diminished after matching for demographic and clinicopathologic characteristics (Zhang et al. 2017).
Macroscopy
Gross and radiologic characteristics of invasive apocrine carcinomas are not specific and are similar to those of breast carcinomas NST (O'Malley and Lakhani 2012). Apocrine carcinomas usually present as a firm, whitish mass with infiltrative borders. Mammography may reveal microcalcifications, particularly if apocrine in situ component is present. Exceptionally, apocrine carcinomas may present with nipple discharge due to encysted (encapsulated) lesions with papillary architecture and apocrine morphology (Vranic et al. 2013).
Microscopy
Apocrine cells have abundant eosinophilic/granular cytoplasm (called "type A" cells), with centrally/eccentrically located nuclei and prominent nucleoli (positive for Periodic Acid Schiff staining, PAS). The tumor cells usually show distinct cell borders (Fig.
1a
). Another, less common type of apocrine cells (called "type B" cells) exhibits foamy and vacuolated cytoplasm resembling histiocytes (O'Malley and Lakhani
2012
; Vranic et al.
2013
). The tumor cells show marked nuclear pleomorphism and atypia while the number of mitotic figures (appreciated by light microscopy) may vary. Invasive apocrine carcinomas are typically grade 2 or 3 carcinomas (graded by the Elston-Ellis modification of the Bloom and Richardson grading system). Apocrine ductal carcinoma in situ (DCIS) is commonly seen in association with its invasive counterpart. Apocrine DCIS is usually high-grade DCIS with comedonecrosis and calcifications. Similar to its ductal counterpart, a subset of apocrine carcinomas may develop through a multistep progression process ("lineal progression model"): Apocrine differentiation→apocrine hyperplasia (metaplasia)→apocrine atypia→apocrine DCIS→invasive apocrine carcinoma) (Fig.
2
) (Costa et al.
2013
; Gromov et al.
2015
). This model has also been confirmed by a molecular study that revealed common mutations in both preinvasive (e.g., apocrine DCIS) and invasive apocrine carcinomas (Costa et al.
2013
).

Immunophenotype
Breast apocrine cells including invasive apocrine carcinomas show a characteristic steroid receptor profile: no expression of estrogen receptor-alpha-66 (ER-alpha66) and progesterone (PR) receptors and strong expression of androgen receptor (AR) (Fig. 1b, c). Apocrine cells express ER-alpha36 variant that locates to the cytoplasm and cytoplasmic membrane (Vranic et al. 2011). Apocrine cells are also positive for gross cystic disease fluid protein-15 (GCDFP-15) and negative for Bcl-2 (Gatalica 1997). Celis et al. defined a specific "apocrine protein signature" that includes positive biomarkers AR, CD24, 15-PDGH [prostaglandin dehydrogenase], ACMS1 [acyl-CoA synthetase medium-chain family member 1]), and negative biomarkers (ER, PR, Bcl-2, GATA-3) (Gromov et al. 2015). Recently, additional novel biomarkers of apocrine differentiation have been identified (HMGCS2 and FABP7) (Gromov et al. 2015).
HER-2 protein is overexpressed (with underlying HER-2/neu gene amplification) in 30–50% of invasive apocrine carcinomas (Fig. 1d) (Vranic et al. 2013).
Invasive apocrine carcinomas typically stain for luminal cytokeratins including CK7, CK8/18, and CK9/19. CK20 expression has also been described in one study (Shao et al. 2012). Basal markers (basal cytokeratins [CK5/6, CK14, CK17], p63, P-cadherin, S-100, CD10, vimentin) are usually absent or positive in only small subset of invasive apocrine carcinomas, while EGFR protein is present in ~50–60% of cases (with uncommon EGFR gene alterations) (Vranic et al. 2013).
Molecular Features
"Molecular apocrine breast cancers" exhibit a poor prognostic gene signature with a high-risk recurrence score and overall poor outcome. If strictly defined by morphology and ER-/AR+ steroid receptor profile, invasive apocrine carcinomas are either triple-negative (50–70%) or HER2-positive breast carcinomas (30–50%).
Several comprehensive molecular studies revealed common mutations of TP53 and PIK3CA/PTEN/AKT genes. Interestingly, patients with germline PTEN mutations (Cowden syndrome, OMIM #158350) are prone to develop breast carcinomas with apocrine differentiation. Mutations within the mitogen-activated protein kinase [MAPK] pathway (KRAS, NRAS, BRAF) may also be occasionally seen in a subset of invasive apocrine carcinomas. Other targetable mutations are much less common (Vranic et al. 2013, 2017).
HER-2/neu gene is amplified in 30–50% of invasive apocrine carcinomas, while HER-2/neu gene mutations are rare. EGFR protein expression is common while underlying EGFR gene alterations are uncommon: EGFR gene amplification is present <10% of the cases and EGFR gene mutations have not been described so far. Similarly, cMET overexpression is present in ~25% of the cases without cMET gene alterations (Vranic et al. 2017). Growth hormone-releasing hormone (GHRH) and its receptors (GHRH-R) are also overexpressed in vast majority of invasive apocrine carcinomas. In contrast, insulin-like growth factor receptor 1 (IGF-1R) expression appears to be downregulated in apocrine carcinomas.
Differential Diagnosis
Apocrine differentiation may be seen in invasive carcinomas NST as well as some special types such as pleomorphic lobular carcinoma with which apocrine carcinoma shares some morphologic and molecular characteristics; antibody to E-cadherin can aid diagnosis in such cases as apocrine carcinomas predominantly (>80%) retain E-cadherin expression in contrast to pleomorphic lobular carcinomas. A subset of lipid-rich and secretory carcinomas may also pose diagnostic dilemmas as well as metaplastic carcinomas, which also may have morphologic characteristics similar to apocrine carcinomas (e.g., pink eosinophilic cytoplasm in squamous cells). Apocrine carcinomas may be occasionally confused with a granular cell tumor (S-100 and pancytokeratins may help), while apocrine carcinomas composed of "type B" cells may resemble a benign histiocytic (inflammatory) lesion (CD68, CD163, and pancytokeratins are helpful).
In addition, metastatic neoplasms to the breast exhibiting eosinophilic cytoplasm may mimic apocrine carcinoma. These include metastatic malignant melanoma and oncocytic carcinoma. In such cases, a comprehensive immunohistochemical workup along with the clinical history may help render the correct diagnosis.
Copyright information
© Springer International Publishing AG 2018