Ruge, Carl Arnold (1846–1926)
Living reference work entry
DOI:
https://doi.org/
10.1007/978-3-319-28845-1_4089-1
Keywords
Endometrial Carcinoma 
Squamous Metaplasia 
Uterine Cancer 
Gynecological Pathology 
Invasive Cervical Carcinoma 
These keywords were added by machine and not by the authors. This process is experimental and the keywords may be updated as the learning algorithm improves.
Date Country, City of Birth
September 24, 1846, Berlin, Germany
Date City of Death
April 15, 1926, Berlin, Germany
History of Life
Carl Ruge was born in Berlin, Germany, on September 24, 1846. His father, a senior health officer, was a well-known physician, and his mother was the daughter of the gynecologist Dr. Carl Mayer, founder of the Berlin Society of Obstetricians in 1844. His uncle, husband of his mother's sister, was the eminent professor Rudolf Virchow (1821–1902). Carl and his brother Paul studied medicine together in Jena (1865–1866) and Berlin (1867–1869), and both passed their medical exams with the note "very good." Through the advice and support of his uncle Virchow, Carl wrote his doctoral thesis on the subject of tuberculosis. He also attended the Academy of Arts in Berlin to perfect his skill in drawing, which contributed to the excellence of his microscopic illustrations. From 1870 to 1871, Ruge served as a military doctor in the war against France. After the war, the gynecologist Professor Eduard Arnold Martin (1809–1875) selected his former student, Carl, to become his assistant at the gynecological service of the Charité Hospital to carry out microscopic and chemical studies.
At the same time, he began a practice as family doctor and obstetrician to combine clinical and scientific work. In 1876, Ruge married Elise von Dechend, the daughter of the founder of the German Reichsbank. During their almost 50 years of marriage, they had seven children. Carl worked hard until late into the night, to ensure he earned enough money to support his large family. Every hour he was not needed in his practice he spent at the Charité with inspiring ideas for his many scientific studies. Both his chief, Martin, and his successor, Karl Ludwig Schröder (1838–1887), recognized the scientific importance of these studies as well as their clinical advantages; their cooperation proved exceedingly productive. Schröder also recognized early the value of Ruge's "Stückchen" diagnosis from small tissue biopsies (Ruge 1879). In 1882, when Schröder's new women's clinic was built, it incorporated a pathology department for Ruge, the first of its kind in Germany, in which gynecologists worldwide could come to attend his courses. In 1896, he was named professor and became a member of the German Society of Pathology and honorary member of the Society of Obstetrics and Gynecology of Berlin. A very productive clinicopathological relationship and close friendship developed between Ruge and Johann Veit (1852–1917), an assistant of Schröder, and later with Robert Meyer, an assistant in Veit's private clinic. Ruge tried to convince his uncle, Rudolf Virchow, of the virtues of the biopsy technique, but Virchow maintained that a histological diagnosis without intact tissue relationships was impossible. In consequence, controversies between gynecologists and pathologists urged Ruge to encourage the gynecologists to make themselves independent by acquiring knowledge of pathological anatomy. He thereby laid the keystone for gynecological pathology. He closely collaborated with Robert Meyer (1864–1947), who succeeded Ruge in 1912. On April 15, 1926, Carl Ruge died, almost 80 years old. The Society of Obstetrics and Gynecology honored him in a memorial service, many of his disciples and friends with a Festschrift, and Stoeckel, shortly after he became Director of the women's clinic at the university of Berlin, had a memorial plaque displayed at the entrance of Ruge's former department.
Main Achievements to Medicine/Pathology
Ruge published 65 scientific papers. Twelve of these dealt with his main interest, the benign and malignant lesions of the ecto- and endocervix (Ruge and Veit 1878). With his technique of studying small biopsy and curettage specimens ("Stückchen diagnosis"), refined in his clinicopathological teamwork with Veit, he could detect, evaluate, and follow physiological and pathological changes occurring in the ecto- and endocervix. Before Ruge's studies, controversial descriptions led to a confusing nomenclature. From serial sections of innumerable biopsies, Ruge and Veit could never find epithelial "erosion." The reddened areas seen clinically were always covered by a single row of columnar epithelial cells overlying occasional endocervical glands (Ruge 1880a). With healing, small round epithelial cells grew beneath the columnar epithelium and, after loss of the columnar cells, changed into a multilayered squamous epithelium (Ruge 1918). From his precise drawings, he observed a reserve cell hyperplasia maturing into a squamous metaplasia. Ruge and Veit suggested that a carcinoma of the cervix could develop from atypical epithelium even before it invaded the subepithelial stroma, whereby his drawings show a carcinoma in situ (Ruge and Veit 1878, 1881). They believed that invasive cervical carcinomas could arise either from compact growth of connective tissue transformed into "heteroplastic" atypical squamous epithelium like a carcinosarcoma or as glandular growths from carcinomatous change of endocervical glands. In addition, Ruge described a pure adenocarcinoma of the endocervix resembling an adenocarcinoma of the endometrium. Later, Ruge accepted the opinion of his critics that squamous cell carcinoma of the ectocervix originated from ectocervical epithelium, and not from the stroma. Through his publications on the importance of diagnosing early carcinomatous changes from small excised portions of the ectocervix, he became known internationally and received biopsy specimens from Russia and the USA.
In their 156 pages monograph on uterine cancer Ruge and Veit (1881) differentiated endometrial carcinoma from endocervical carcinoma. Endometrial carcinoma was previously unknown and diagnosed as late stage of an endocervical carcinoma. From their illustrations, most endometrial carcinomas were endometrioid, some with focal squamous metaplasia, developing from an "endometritis hypertrophica glandularis," the term used at that time for an atypical hyperplasia. They emphasized that an endometrial carcinoma could be diagnosed at an early stage from curettage specimens, even in the absence of destructive growth. Ruge also became interested in the functional endometrial changes. Contrary to previous opinions that decidual cells appeared only at the placental site during pregnancy, he found them in dysmenorrheic membranes and as altered stromal cells in "endometritis" (Ruge 1881). Because the histologic changes during the menstrual cycle were still unknown, Ruge referred to the changes as "endometritis glandularis" and with the physiologic appearance of small round cells in the endometrial stroma as "endometritis interstitialis" (Ruge 1880b). Later, after the publications of Hitschmann and Adler (Hitschmann and Adler 1908), Ruge revised his use of these terms.
Carl Ruge obviously should be regarded as the founder of gynecological pathology. His friend and successor, Robert Meyer, building on Ruge's sound legacy, helped to make gynecological pathology the important specialty it has become. Only when we reflect on the rudimentary knowledge and primitive methods of Ruge's era can we fully appreciate his investigations and findings. The close clinicopathological teamwork he initiated greatly stimulated progress in both gynecology and pathology. His idea of "Stückchen diagnosis" spread worldwide and was taken up virtually by every specialty in medicine for every organ (Becker
1979
). Stoeckel (
1952
) characterized Ruge's qualities especially well: "
an unerring perseverance with which he sought scientific knowledge and a modesty and altruism that he retained despite the international fame he earned and received
." In his review in 1894, Martin said: "It was here amongst us that Carl Ruge made known to the world his trailblazing studies, on which today in so many specialties our views of pathologic processes, and in the end, our views of treatment have been built" (cited by Meyer (
1926
) (Fig.
1
).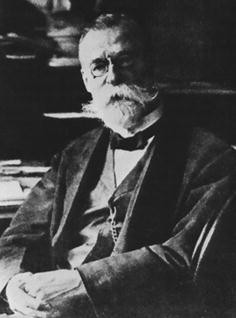 References and Further Reading
Copyright information
© Springer International Publishing AG 2016