Robbins, Stanley Leonard (1915–2003)
Living reference work entry
DOI:
https://doi.org/
10.1007/978-3-319-28845-1_4062-1
Keywords
Pregnancy Test 
Pathologic Basis 
Visceral Sense 
Washington County 
Student Reader 
These keywords were added by machine and not by the authors. This process is experimental and the keywords may be updated as the learning algorithm improves.
Date Country, City of Birth
February 27, 1915, Portland, Maine, USA.
Date City of Death
October 7, 2003, Boston, Massachusetts USA.
History of Life
Stanley L. Robbins was born in Portland, Maine, in 1915. When his mother died during the 1918 flu epidemic, his grandmother, who ran a boarding house in Old Orchard Beach, grew him and his brothers/sisters. During his high school years Stanley moved to join one of his uncles, a Brookline surgeon, and entered the Brookline High School, in Brookline, Massachusetts, where he graduated at the top of his class. Subsequently he went to the Massachusetts Institute of Technology and Tufts Medical School. Later he joined the Boston University School of Medicine, the teaching hospital of all three medical schools in Boston. The pathology department used the facilities of the famous Mallory Institute of Pathology for the third year clinical studies.
When he had completed this training at Boston City Hospital, Robbins started teaching at Boston University, Harvard, and Tufts Medical Schools and he joined the staff of the Mallory Institute. Some 20 years later (1965) he became its director and chairman of Department of Pathology. He held this position until 1980. After his retirement he was Senior Pathologist at the Department of Pathology at the Brigham and Women's Hospital in Boston (Fig.
1
) and Visiting Professor of Pathology at the Harvard Medical School. He continued to teach medical school students and pathologists in training for many years to follow.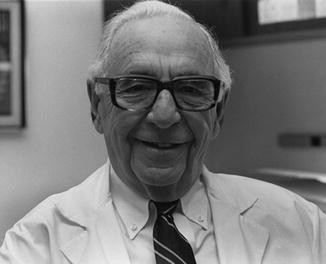 Dr Robbins changed the way of teaching pathology by bringing morbid anatomy to life as a medical discipline for generations of medical students and pathologists, for over more than 50 years. Robbins chose a completely different approach in writing the textbook of pathology, by not only describing the morphology but also by trying to identify the mechanisms of disease and their impact on patients. In 1957, the first edition of Robbins'
Textbook of Pathology
represented a cornerstone in pathology teaching. His favorite admonition was: "Lesions do not arise in cadavers!" Dr Robbins clearly described his philosophy in the first edition of his
Textbook of Pathology
, in the prologue, "The scope of Pathology" as
the study of morphology is only one facet of pathology. Pathology contributes much to clinical medicine. The pathologist is interested not only in the recognition of structural alterations, but also in their significance i.e., the effects of these changes on cellular and tissue function and ultimately the effect of these changes on the patient. It is not a discipline isolated from the living patient, but rather a basic approach to a better understanding of disease and therefore a foundation of sound clinical medicine.
In 1980, his Boston University students created a teaching award in his name. He was the recipient of the Distinguished Pathologist Award of the United States and Canadian Academy of Pathology in 1991. In 1992, he was awarded the Gold Headed Cane Award by the American Society of Investigative Pathology.
Dr S. Robbins was an accomplished cook, gardener, and craftsman, he made his own furniture. Moreover, he loved fishing and owned a small island on a lake in Washington County, Maine, as well as a second home in Wellfleet. He was married with Eleanor, who died in 1996. He had three children Jonathan of Swampscott, who became cardiologist, Janet Rebekah (Robbins) of Homestead, FL, and Jeffrey Mark of Swampscott.
Stanley Leonard Robbins died on October 7, 2003, at the age of 88, following an open-heart surgery at Brigham and Women's Hospital.
Main Achievements to Medicine/Pathology
Dr S. Robbins was a physician and author whose text made the study of diseases come to life for generations of medical students, by revolutionizing the concepts of teaching pathology. Stanley Robbins had a conversational tone in his writing. He frequently dictated his prose, heightening the sense that he and the reader were engaged in a conversation. Sometimes he interspersed serious information with jokes, little bon mots designed to maintain the reader's interest. "He was like a wonderful teacher, sitting next to them, talking to them and occasionally joking with them. I think that became his trademark," Vinay Kumar said. Yet he did not take the task of writing casually, often revising his work several times. He drafted numerous student readers to vet his chapters before publication. One of these students was Marcia Angell, later an editor-in-chief of the New England Journal of Medicine; in the Boston Globe she recalls reading Dr. Robbins's text in the late 1960s. Ready for some dry reading, she started reading the first pages, "Three chapters later, I looked up. It was like reading a novel, you saw the connection between pathology and the care of patients in a way I hadn't imagined was possible," and "He wanted to make sure everything was crystal clear to a student reader and nothing was left out." In 1971, Angell was coauthor of the "Basic Pathology" text (the so-called Baby Robbins) in response to the need for a more concise text that focused on the "core" pathology curriculum. Together, his two books have been translated into more than 13 languages, including Serbian, Chinese, Turkish, and Indonesian.
Then Dr Robbins did something quite uncharacteristic of successful authors. He completely rewrote the book shifting the emphasis further on disease mechanisms and so, in 1974, a new Robbins emerged under the title, Pathologic Basis of Disease. Both the new title and the text reflected increasing emphasis on disease mechanisms. Robbins had a visceral sense and deep conviction that pathology without pathogenesis was sterile and that the time had come to proclaim this in the title of the book. Thus, a greatly expanded Pathologic Basis of Disease was published. Beginning from 1979, Dr Cotran became the main author in Robbins Pathologic Basis of Disease. V. Kumar joined as coauthor of the Basic Pathology in 1981 and Pathologic Basis of Disease in 1984, and he took over the main responsibility with the seventh edition in 2004. There is little doubt that, through his texts, Robbins became the most influential teacher of pathology over the past 50 years.
Among his scientific activities is, together with Dr Frederic Parker, the first pregnancy test developed on frogs imported from South Africa. The frog pregnancy test became the standard test for pregnancy worldwide before the advent of the rabbit pregnancy test. He also conducted early research into angiography, coronary arteriolosclerosis, myocardial infarction and general cardiac pathology and on the relevance of autopsies.
References and Further Reading
Copyright information
© Springer International Publishing AG 2016