Definition
The "Reading the Mind in the Eyes" test is a test of mental state recognition where participants are required to match the mental state of a person, shown in a photograph of their eye regions with one of four mental state words.
Introduction
Social cognition is a vital part of social interaction and involves the processing of complex mental state and other social stimuli prior to produce an appropriate response. It is essential for interpersonal relationships and for mental well-being. Individual and group differences exist in social cognition. Difficulties in aspects of social cognition such as emotion recognition and "theory of mind" (the ability to imagine other people's thoughts and feelings and to use such information to make sense of and predict another person's behavior) can cause difficulties in social interaction and these in turn contribute to some mental health conditions. Different...
Keywords
Social Cognition

Emotion Recognition

Asperger Syndrome

Borderline Personality Disorder

Cognitive Empathy
These keywords were added by machine and not by the authors. This process is experimental and the keywords may be updated as the learning algorithm improves.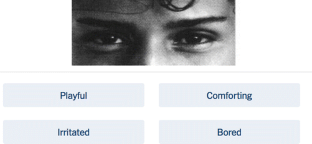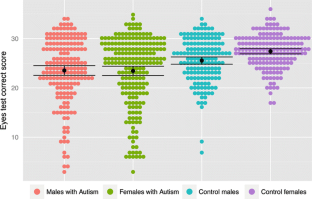 References
Baron-Cohen, S., Ring, H. A., Wheelwright, S., Bullmore, E. T., Brammer, M. J., Simmons, A., & Williams, S. C. (1999). Social intelligence in the normal and autistic brain: An fMRI study. European Journal of Neuroscience, 6, 1891–1998.

Baron-Cohen, S., Wheelwright, S., Hill, J., Raste, Y., & Plumb, I. (2001). The "Reading the mind in the eyes" test revised version: A study with normal adults, and adults with Asperger syndrome or high-functioning autism. Journal of Child Psychology and Psychiatry, and Allied Disciplines, 42(2), 241–251.

Baron-Cohen, S., Bowen, D. C., Holt, R. J., Allison, C., Auyeung, B., Lombardo, M. V, Smith, P., Lai, M.-C. (2015). The "reading the mind in the eyes" test: Complete absence of typical sex difference in ~400 men and women with autism. PloS One, 10(8), e0136521.

Holt, R. J., Chura, L. R., Lai, M. C., Suckling, J., Von dem Hagen, E., Calder, A. J., Bullmore, E. T., Baron-Cohen, S., & Spencer, M. D. (2014). 'Reading the mind in the eyes': An fMRI study of adolescents with autism and their siblings. Psychological Medicine, 44(15), 3215–3227.

Kirkland, R. A., Peterson, E., Baker, C. A., Miller, S., & Pulos, S. (2013). Meta-analysis reveals adult female superiority in "Reading the mind in the eyes" test. North American Journal of Psychology, 15(1), 121–146.

Lucht, M. J., Barnow, S., Sonnenfeld, C., Ulrich, I., Grabe, H. J., Schroeder, W., & Rosskopf, D. (2013). Associations between the oxytocin receptor gene (OXTR) and "mind-reading" in humans – an exploratory study. Nordic Journal of Psychiatry, 67(1), 15–21.

Mitchell, R. L. C., & Young, A. H. (2015). Theory of mind in bipolar disorder, with comparison to the impairments observed in schizophrenia. Frontiers in Psychiatry, 6, 188. http://doi.org/10.3389/fpsyt.2015.00188.

Rodrigues, S. M., Saslow, L. R., Garcia, N., John, O. P., & Keltner, D. (2009). Oxytocin receptor genetic variation relates to empathy and stress reactivity in humans. Proceedings of the National Academy of Sciences of the United States of America, 106(50), 21437–21441.

Siegal, M., & Varley, R. (2002). Neural systems involved in "theory of mind". Nature Reviews Neuroscience, 3(6), 463–471.

Van Honk, J., Schutter, D. J., Bos, P. A., Kruijt, A.-W., Lentjes, E. G., & Baron-Cohen, S. (2011). Testosterone administration impairs cognitive empathy in women depending on second-to-fourth digit ratio. Proceedings of the National Academy of Sciences of the United States of America, 108(8), 3448–3452.
Section Editor information
Copyright information
© 2017 Springer International Publishing AG
About this entry
Cite this entry
Warrier, V., Bethlehem, R.A., Baron-Cohen, S. (2017). The "Reading the Mind in the Eyes" Test (RMET). In: Zeigler-Hill, V., Shackelford, T. (eds) Encyclopedia of Personality and Individual Differences. Springer, Cham. https://doi.org/10.1007/978-3-319-28099-8_549-1
DOI: https://doi.org/10.1007/978-3-319-28099-8_549-1

Received:

Accepted:

Published:

Publisher Name: Springer, Cham

Print ISBN: 978-3-319-28099-8

Online ISBN: 978-3-319-28099-8

eBook Packages: Springer Reference Behavioral Science and PsychologyReference Module Humanities and Social Sciences