Definition
A theory of emotion and emotional consequences for cognition, personality, and psychotherapy derived from an evolutionary perspective. Plutchik's theory established the foundation for conceptualizing the domain of emotion (primary and secondary) in animals and humans. Emotional processes are placed in a complex chain of events, cognitions, feelings, and actions that have evolved in order to maintain behavioral homeostasis. This theory provides a structural model for interactions among emotions, distinguishing primary and secondary emotional experiences, as well as a mechanism for the formation of complex emotions. The model of eight primary emotions placed on a circle derives from semantic differential and similarity assessment methodologies through the use of emotional words. The circle model was found to represent not only emotional terms, but also personality...
Keywords
Personality Trait

Emotional State

Basic Emotion

Semantic Differential

Personality Domain
These keywords were added by machine and not by the authors. This process is experimental and the keywords may be updated as the learning algorithm improves.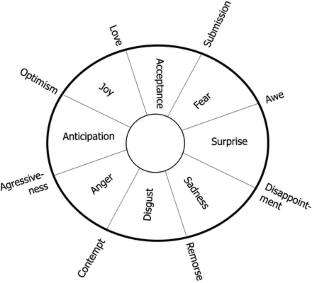 References
Buck, R., & Oatley, K. (2007). Robert Plutchik (1927–2006). American Psychologist, 62(2), 142. doi:10.1037/0003-066X.62.2.142.

Conte, H. R., & Plutchik, R. (1981). A circumplex model for interpersonal personality traits. Journal of Personality and Social Psychology, 40(4), 701–711. doi:10.1037/0022-3514.40.4.701.

Damasio, A. (2010). Self comes to mind: Constructing the conscious mind. New York: Pantheon.

Haidt, J. (2012). The righteous mind: Why good people are divided by religion and politics. New York: Pantheon.

Kellerman, H., & Plutchik, R. (1968). Emotion-trait interrelations and the measurement of personality. Psychological Reports, 23(3f), 1107–1114.

Osgood, C. E., Suci, G., & Tannenbaum, P. (1957). The measurement of meaning. Urbana: University of Illinois Press.

Panksepp, J. (1998). Affective neuroscience: The foundations of human and animal emotions. New York: Oxford University Press.

Panksepp, J. (2005). Affective consciousness: Core emotional feelings in animals and humans. Consciousness and Cognition, 14, 30–80. doi:10.1016/j.concog.2004.10.004.

Plutchik, R. (1958). Outlines of a new theory of emotion. Transactions of the New York Academy of Sciences, 20, 394–403. doi:10.1111/j.2164-0947.1958.tb00600.x.

Plutchik, R. (1962). The emotions: Facts, theory and a new model. New York: Random House.

Plutchik, R. (1970). Emotions, evolution, and adaptive processes. In M. B. Arnold (Ed.), Feelings and emotions (pp. 3–24). New York: Academic Press.

Plutchik, R. (1980a). Emotion: A psychoevolutionary synthesis. New York: Harper & Row.

Plutchik, R. (1980b). A general psychoevolutionary theory of emotion. In R. Plutchik & H. Kellerman (Eds.), Emotion: Theory, research and experience, Theories of emotion (Vol. 1, pp. 3–33). New York: Academic Press.

Plutchik, R. (1990). Emotions and psychoterapy: A psychoevolutionary perspective. In R. Plutchik & H. Kellerman (Eds.), Emotion: Theory, research and experience, Emotion, psychopathology and psychotheraphy (Vol. 5, pp. 3–42). New York: Academic Press.

Plutchik, R. (2001a). The nature of emotions human emotions have deep evolutionary roots, a fact that may explain their complexity and provide tools for clinical practice. American Scientist, 89(4), 344–350.

Plutchik, R. (2001b). Integration, differentiation, and derivatives of emotion. Evolution and Cognition, 7(2), 114–125.

Plutchik, R. (2003). Emotions and life: Perspectives from psychology, biology, and evolution. Washington, DC, US: American Psychological Association.

Plutchik, R., & Kellerman, H. (1974). Manual for the emotion profile index. Los Angeles: Western Psychological Services.

Plutchik, R., & Platman, S. R. (1977). Personality connotations of psychiatric diagnoses: Implications for a similarity model. The Journal of Nervous and Mental Disease, 165(6), 418–422.

Plutchik, R., Kellerman, H., & Conte, H. R. (1979). A structural theory of ego defenses and emotions. In C. E. Izard (Ed.), Emotions in personality and psychopathology (pp. 227–257). New York: Plenum.

Schaefer, E. S., & Plutchik, R. (1966). Interrelationships of emotions, traits, and diagnostic constructs. Psychological Reports, 18(2), 399–410.

Spielberger, C. D. (1983). Manual for the state-trait anxiety inventory STAI (form Y). Palo Alto: Consulting Psychologists Press.

Zajonc, R. B. (1980). Feeling and thinking: Preferences need no inferences. American Psychologist, 35, 151–175. doi:10.1037/0003-066X.35.2.151.
Acknowledgments
Kamil Imbir was supported by Polish funds for science.
Section Editor information
Copyright information
© 2017 Springer International Publishing AG
About this entry
Cite this entry
Imbir, K.K. (2017). Psychoevolutionary Theory of Emotion (Plutchik). In: Zeigler-Hill, V., Shackelford, T. (eds) Encyclopedia of Personality and Individual Differences. Springer, Cham. https://doi.org/10.1007/978-3-319-28099-8_547-1
DOI: https://doi.org/10.1007/978-3-319-28099-8_547-1

Received:

Accepted:

Published:

Publisher Name: Springer, Cham

Print ISBN: 978-3-319-28099-8

Online ISBN: 978-3-319-28099-8

eBook Packages: Springer Reference Behavioral Science and PsychologyReference Module Humanities and Social Sciences