Definition
The International Affective Picture System (IAPS, pronounced "eye-apps"; Lang et al. 2008) is a set of emotionally evocative color photographs representing a wide variety of events and objects encountered in human experience that have been rated on dimensions of pleasure, arousal, and dominance by men and women. IAPS stimuli are widely used in studies of human emotion throughout the world.
Introduction
If scientists wish to study the effects of background noise on the efficiency of factory workers, noise levels are easily measured and controlled, using commonly accepted scales for determining loudness and frequency. Because these established scales are in general use, retest results can be exactly evaluated (even in another laboratory), replicating or disconfirming the original results. In the study of emotion, a similar need for calibrated stimuli exists in laboratory studies of affect. The International Affective Picture Systemis a collection of photographic scenes...
Keywords
Arousal Rating

International Affective Picture System

Unpleasant Picture

Defensive System

Pleasant Picture
These keywords were added by machine and not by the authors. This process is experimental and the keywords may be updated as the learning algorithm improves.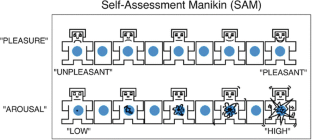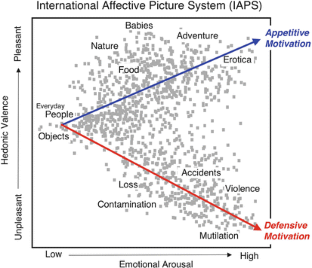 References
Bradley, M. M., & Lang, P. J. (1994). Measuring emotion: The self-assessment manikin and the semantic differential. Journal of Behavioral Therapy and Experimental Psychiatry, 25, 49–59.

Bradley, M. M., & Lang, P. J. (2007). Studying emotion with the International Affective Picture System (IAPS). In J. A. Coan & J. J. B. Allen (Eds.), Handbook of emotion elicitation and assessment. Oxford: Oxford University Press.

Cook III, E. W., Atkinson, L., & Lang, P. J. (1987). Stimulus control and data acquisition for IBM PC's and compatibles. Psychophysiology, 24, 726.

Greenwald, M. K., Cook, Edwin W., III., & Lang, P. J. (1989). Affective judgment and psychophysiological response: dimensional covariation in the evaluation of pictorial stimuli. Journal of Psychophysiology, 3, 51–64.

Lang, P. J. (1980). Behavioral treatment and bio-behavioral assessment: Computer applications. In J. B. Sidowski, J. H. Johnson, & T. A. Williams (Eds.), Technology in mental health care delivery systems (pp. 119–137). Norwood: Ablex Publishing.

Lang, P. J., & Bradley, M. M. (2010). Emotion and the motivational brain. Biological Psychology, 84, 437–450.

Lang, P. J., Greenwald, M. K., Bradley, M. M., & Hamm, A. O. (1993). Looking at pictures: Affective, facial, visceral, and behavioral reactions. Psychophysiology, 30, 261–273.

Lang, P. J., Bradley, M. M., & Cuthbert, B. N. (2008). International Affective Picture System (IAPS): Instruction manual and affective ratings, Technical Report A-8. Gainesville: The Center for Research in Psychophysiology, University of Florida.

Mehrabian, A., & Russell, J. A. (1974). An approach to environmental psychology. Cambridge, MA: MIT Press.

Osgood, C., Suci, G., & Tannenbaum, P. (1957). The measurement of meaning. Urbana: University of Illinois.

Russell, J. (1980). A circumplex model of affect. Journal of Personality and Social Psychology, 39, 1161–1178.

Wundt, W. (1896). Lectures on human and animal psychology (trans: Creighton, J. E. & Titchener, E. B.). New York: The Macmillan Co.
Section Editor information
Copyright information
© 2017 Springer International Publishing AG
About this entry
Cite this entry
Bradley, M.M., Lang, P.J. (2017). International Affective Picture System. In: Zeigler-Hill, V., Shackelford, T. (eds) Encyclopedia of Personality and Individual Differences. Springer, Cham. https://doi.org/10.1007/978-3-319-28099-8_42-1
DOI: https://doi.org/10.1007/978-3-319-28099-8_42-1

Received:

Accepted:

Published:

Publisher Name: Springer, Cham

Print ISBN: 978-3-319-28099-8

Online ISBN: 978-3-319-28099-8

eBook Packages: Springer Reference Behavioral Science and PsychologyReference Module Humanities and Social Sciences