Dark Cube
Living reference work entry
DOI:
https://doi.org/
10.1007/978-3-319-28099-8_2302-1
Definition
The Dark Character Cube (Garcia and Rosenberg
2016
) is a model of malevolent character theoretically based on Cloninger's biopsychosocial model of personality (Cloninger
2004
) and in the assumption of a ternary structure of malevolent character (Paulhus and Williams
2002
). In short, personality is a complex adaptive biopsychosocial system and malevolent character is suggested as a Dark Triad, thus, the Dark Character Cube is composed of eight possible malevolent character profiles based on people's high/low levels in Machiavellianism (M for high, m for low), narcissism (N for high, n for low), and psychopathy (P for high, p for low): MNP "maleficent," MNp "manipulative narcissistic," MnP "antisocial," Mnp "Machiavellian," mNP "psychopathic narcissistic," mNp "narcissistic," mnP "psychopathic," and mnp "benevolent"
1
(see Fig.
1
).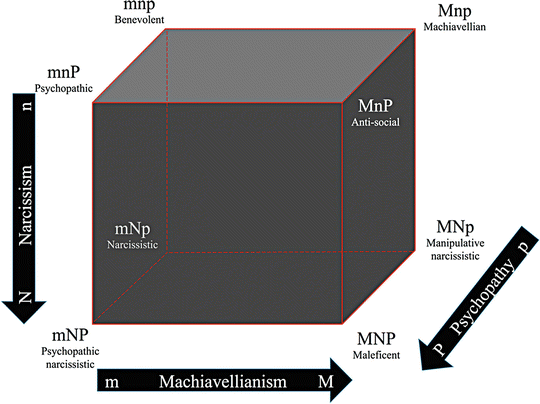 Section editors and affiliations