Yana River
Reference work entry
DOI:
https://doi.org/
10.1007/978-3-319-24237-8_577
Yana River – a river in the Republic of Sakha (Yakutia). The river begins at the confluence of the Sartang and the Dulgalakh rivers which rise in the Verkhoiansk Range. The Yana River is 872 km long. Its drainage basin covers 238,000 km2. Below the confluence point, the Yana River flows along a wide valley which becomes narrower as the river (with rapids in the main course) crosses the Kular Ridge and further flows along the Yana–Indigirka lowland. The Yana River flows into the Yana Bay of the Laptev Sea, forming a huge river delta (6,600 km2) that takes up much of the bay's coastline. The river delta presents itself lowland marshy tundra intersected by tributaries of various sizes. The principal tributaries are Adycha (right) and Bytantay (left). The annual discharge of the Yana River totals approximately 27–32 km3. It is unevenly distributed throughout the year. The period between July and August accounts for 82 % of the annual discharge. The river is fed primarily by rainfall and snowmelt. In summer, however, the river receives considerable glacier feeding from its upstream area. The annual salt runoff of the Yana River is 1.5 million tons. The annual sediment runoff is 3 million tons. The mean water discharge in the lower reaches is 1,000 m3/s.
The freeze-up period is between October and April – early May upstream and October and early June downstream. There are approximately 40,000 lakes in the Yana basin. The navigable part of the river begins from the city of Verkhoyansk. There is commercial fishing of omul, pickerel, broad whitefish, grayling, vendace, muksun, etc. The largest administrative center of the Yana area is the city of Verkhoyansk.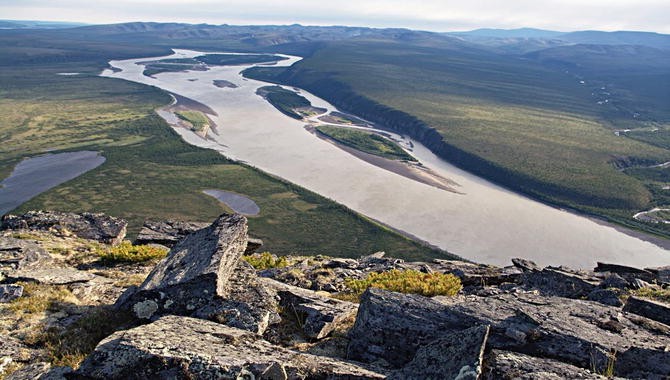 Copyright information
© Springer International Publishing Switzerland 2016