"Vega"
Reference work entry
DOI:
https://doi.org/
10.1007/978-3-319-24237-8_552
"Vega" – a steam sailing ship from the polar expedition of the Norwegian explorer A. Nordenskiöld. It was the first in history to traverse the Northeastern Route (later called Northern Sea Route). It was built in Bremerhaven (Germany) in 1873 for sea fish hunting. Made of oak, the length is 42 m, width is 8.4 m, draft is 3.5 m, water displacement is 357 gross tons, and speed is 7.5 knots. It was bought by Nordenskiöld and refitted into an expedition ship in Karlskrona (Sweden). In July 1878, it left Göteborg (Sweden) and through the Yugorsky Strait entered the Kara Sea. In August it reached Cape Chelyuskin at the northern end of the Taymyr Peninsula. Later after passing through the Laptev Sea and the East Siberian Sea, it got trapped in ice at the end of September and stopped for winter a little bit more than 200 km from the Bering Strait. Only on the twentieth of July 1879 it reached the Bering Strait, thus proving the existence of a northeast passage from the Atlantic to the Pacific Ocean along the coast of Siberia. On the twenty-fourth of April 1880 the expedition returned to Sweden through the Indian Ocean. Later the ship was used for fish hunting and sank in the ice of the Greenland Sea at the end of the nineteenth century. The Swedish Society for Anthropology and Ethnography established a medal called "V." to annually reward persons who make significant contributions to geographic explorations.
To commemorate the "V.," its name was given to a cape on Taymyr Island in the Kara Sea, the Nordenskiöld Archipelago, a cape in Vilkitsky Strait, and a strait not far from Dikson Island.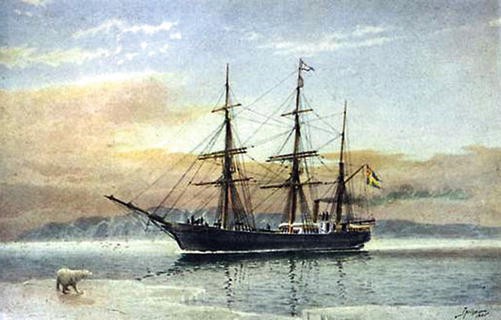 Copyright information
© Springer International Publishing Switzerland 2016