Badigin, Konstantin Sergeevich (1910–1984)
Reference work entry
DOI:
https://doi.org/
10.1007/978-3-319-24237-8_51
Badigin, Konstantin Sergeevich (1910–1984) – an Arctic explorer, sea captain, Candidate of Geographic Sciences, writer, and Hero of the Soviet Union (awarded in 1940). In 1929 began his naval career as a sailor on merchant ships in the Far East. In 1932, he graduated from the Marine Technical School in Vladivostok. As a navigation officer, he served on the icebreaker "Krasin" in 1935–1936 and afterward on the icebreaker "Sadko" which in October 1937 got trapped in fast ice in the Laptev Sea together with the icebreakers "Malygin" and "G. Sedov." In March 1938, he was appointed captain of "G. Sedov" and continued drifting with a crew of 14 members up to January 1940. The drift lasted for 812 days. All the crew were bestowed the title of the Hero of the Soviet Union. At the beginning of the World War II, B. was the chief of the Soviet icebreaker fleet in the White Sea. In 1942, he was transferred to the Northern Sea Route Authority and appointed chief of the staff of the Arctic Sea operations. B. initiated winter escorts of the Soviet transport to Arkhangelsk by the White Sea. Together with M.P. Belousov was in charge of the White Sea Ice Operation Authority. At the end of 1943, he became captain on the ships of the Northern Sea Route Authority and the Ministry of Navy. In 1954–1955, he was the head of the Sea Navigation Department of the Central Research Institute for Water Transport Operations.
B. is well known for his works in history of polar navigation. Among his books are
On Board the Icebreaker "Georgy Sedov" Across the Arctic Ocean. Captain's Notes
(1941),
The Mystery of Andreev's Land Resolved
(1953, in co-authorship with N.N. Zubov),
Across the Cold Seas
(1956),
On the Sea Roads. Captain's Notes
(1958), and
Three Winters in the Arctic Ice
(1960). He created several works about the history of the Russian Fleet: "The Way to Grumant. Foreign Sails" (1960), "Corsairs of Ivan the Terrible. A Chronicle from the sixteenth-century" (1977), "Conquerors of the Cold Seas," "Keys to the Haunted Castle," and "Shipwreck at the Cape of Good Hope." All the abovementioned works were published in Moscow in 4-volumed collected works in 1988–1990.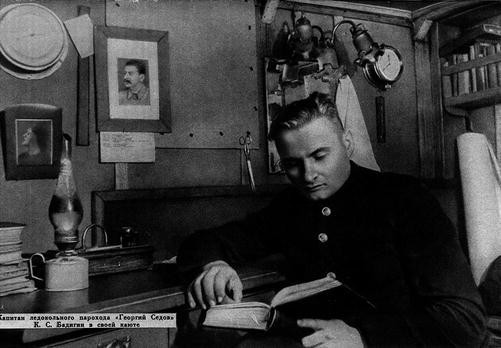 Copyright information
© Springer International Publishing Switzerland 2016