Shirshov Institute of Oceanology, Russian Academy of Sciences (IORAS), Federal State Budgetary Scientific Institute
Reference work entry
DOI:
https://doi.org/
10.1007/978-3-319-24237-8_474
Shirshov Institute of Oceanology, Russian Academy of Sciences (IORAS), Federal State Budgetary Scientific Institute – one of the oldest and the largest Russian research centers in the field of oceanology, the core research establishment of RAS that explores nature and conducts a complex study of the World Ocean relying on the idea of unity of physical, chemical, biological, and geological processes observed there. SIO lays scientific foundations for Earth climate variability prediction, marine resources conservation, and environmental safety in the interests of stable human development. It was established on the premises of the Oceanology Laboratory of the USSR Academy of Sciences by a resolution of the Presidium of the USSR Academy of Sciences in 1946. In 1968, it was named after Academician P. P. Shirshov who was its founder and first Director. Academician L. A. Zenkevich, corresponding member of RAS V. G. Bogorov, S. V. Bruevich, as well as A. D. Dobrovolskiy, P. L. Bezrukov, I. D. Papanin, V. B. Shtokman, G. A. Ushakov, and others took active part in the formation of the institute.
The scientific interests of the Institute are:
(1)

Physical research – hydrology, hydrophysics, hydrooptics, and acoustics; the formation of physical structure and water motion systems of seas and oceans as they accumulate solar energy and interact within the ocean-atmosphere-continents system;

 

(2)

Biological research – anthropogenic ecology, primary production and the ways of its monitoring, commercial populations; development of fundamental principles of the organization and functioning of the ecosystems of the Russian seas and the World Ocean and biodiversity conservation;

 

(3)

Geological research – mineral resources, paleooceanology, global tectonics, geophysics, elucidation of peculiarities of the geological structure and evolution of the ocean floor, geophysical fields and geochemical process;

 

(4)

Chemical research – biogeochemistry of organic matter, oil and gas genetic characteristics of the World Ocean, physical-chemical state of sea water; chemical composition analysis of the major elements of ecosystems in seas and oceans, biogeochemical transformation and evolution processes;

 

(5)

Marine engineering – technical means for ocean studies and for ocean information retrieval, development of technical methods and means for long-term observations of physical, chemical and biological parameters of the ocean based on distributed intellectual networks of self-contained submerged and remote-operated bed scanning stations with observation data reading function.

 
The institute is a team of more than 1,000 scientists and specialists that work in the following areas: ocean physics (13 laboratories that study hydrodynamics, hydrology, hydrooptics, and hydroacoustics of seas and oceans, as well as climatology and the ocean–atmosphere–continent system interactions), marine geology (13 laboratories that carry out research of tectonics, geomorphology, lithology and mineralogy, geochemistry, geophysics, micropaleontology, shore and depth processes, stratigraphy, and paleoceanography, along with seabed mineral resources), marine ecology (seven laboratories that conduct inquiries into hydrochemistry; phyto-, micro-, and zooplankton ecology; benthos and ichthyofauna; interactions between physical and biological processes in ecosystems, taxonomy, modern and historical biogeography, ecology, and acoustics of marine mammals), and marine facilities department (seven laboratories that develop and operate oceanological equipment and improve measurement methods and data processing).
In the Institute of Oceanology, there is a subdivision of scientific expeditions and fleet that manages vessel operations and subdivisions in charge of interagency and international ocean exploration coordination, IT department, and the IORAS History Museum.
The Institute has several branches: Atlantic (the city of Kaliningrad), Southern (the city of Gelendzhik), and Northwest (the city of Arkhangelsk). Besides, it has a Caspian subdivision in Astrakhan and a Saint Petersburg Department. Scientists of the Institute contributed substantially to world oceanology. Thus, in 1946, V. B. Shtokman was the first to show a fundamental role of spatial inhomogeneity of wind in the formation of ocean circulation and create a theory of equatorial countercurrents in the oceans. Very long distance sound propagation in the ocean was discovered, the so-called underwater sound channel. The concept of ocean biological structure as a global natural law governing life distribution in the ocean was advanced, which allowed to estimate total biological resources of the ocean. In 1957, scientists of the Institute pioneered in ultra-abyssal research and registered the maximum depth of the World Ocean – 11,022 m in the Marianas Trench (Pacific Ocean). In 1966, generalizing 9-volume monographic work, "The Pacific Ocean" was presented for publication and, later, awarded the USSR State Prize. In 1967, the theory of ocean turbulence was developed. In 1970, a large-scale experiment undertaken in the Atlantic Ocean resulted in a discovery of synoptic eddies; the discovery was registered in the State Register of Discoveries of the USSR. In 1977, the first expedition with Pisces-manned submersibles (diving depth, 2 km) marked the beginning of a new stage in ocean exploration. In 1978, the theory of phosphorite formation in the upwelling zones of the World Ocean was advanced, registered later as a discovery. In 1980s, the Institute conducted a series of unique laboratory experiments which showed that divers can survive under 500-m depth pressure. Man's capability of active behavior under respiratory mixture pressures corresponding to 2,000-m depth was proved.
In 1987, MIR-1 and MIR-2 deep manned submersibles (DMS) capable of operating as deep as 6,000 m performed an introductory dive. Together with the carrier ship "Mstislav Keldysh," MIR submersibles form the unique research complex that made possible the largest discovery of the twentieth century – hydrothermal systems on the ocean floor. Ore formation processes were studied at ocean depths of 3,000–5,000 m under 300–500 atm pressure and at a hydrothermal fluid temperature of 300–400 °C. Various investigations carried out during the IORAS marine expeditions allowed to describe, for the first time, the ecosystem of hydrothermal fields in the World Ocean, estimate its biological productivity, explain principle laws governing the functioning of pelagic ecosystems, and study and give a quantitative description of sedimentation processes in the World Ocean. The recent decade saw a conceptually new step in exploration of the Arctic Ocean by means of long-use self-contained instrumentation under the "Acoustic Thermometry of Ocean Climate" project. In the North Atlantic, a new type of hydrothermal ore formation system was found; data on the ecosystem of the high-latitude ice regions was obtained for the first time; a sharp change in the heat flows at the North Atlantic surface was recorded as a cause of essential variations in the water structure and circulation regime; and detailed studies of the ecosystems in the frontal zones of the North Atlantic gyre were made.
From 1949 to 2003, academic fleet of the Institute was composed of altogether 23 vessels varying in tonnage. The "Geolog" and the "Truzhenik" displacing 51.4 t each are the lightest of those. In 1949, the Institute obtained its first research ship "Vityaz" that displaced 5,700 t.
The Institute's research fleet homeported in Kaliningrad and Gelendzhik included three large-capacity research vessels (displacement more than 6,000 t) ("Akademik Sergey Vavilov," 6,700 t (1988); "Akademik Ioffe," 6,700 t (1989); "Akademik Mstislav Keldysh," 6,300 t (1980)), two medium-capacity research vessels (exceeding 1,000 t) ("Professor Shtokman," 1,700 t (1979); "Rift," 1,300 t (1989)), and three small-capacity research vessels (less than 1,000 t) ("Shelf," 280 t (1977), "Akvanavt," and "Akvanavt-2," alongside with deep (to 6 km)-manned submersibles "Mir-1" and "Mir-2").
The vessels are equipped with up-to-date navigation systems, scientific instruments, and hardware for comprehensive field research. Fleet of the Institute had five manned underwater vehicles – two "Mir" class diving up to 6 km, two "Pisces" class that can submerge to 2 km, and "Argus" for operations at a depth of up to 600 m.
The institute performs a set of research projects devoted to investigation of the Arctc and Sub-Arctic seas.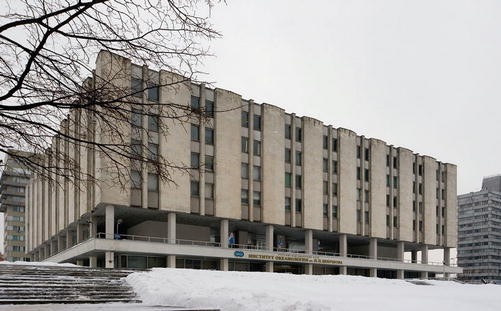 Copyright information
© Springer International Publishing Switzerland 2016