Seward Peninsula
Reference work entry
DOI:
https://doi.org/
10.1007/978-3-319-24237-8_467
Seward Peninsula – located in the west of Alaska between Norton Sound and Kotzebue Sound, United States. S. P. is extended in direction of the Chukchi Peninsula, being separated from it by the Bering Strait. Its terminal point is Cape Prince of Wales. The area is around 54,000 km2. Most part of the surface is solid mass (up to 1,438 m high), formed by volcanic and sedimentary rocks. The vegetation is mostly tundra, in some areas of river valleys (mainly in the eastern part) – fir forest. The population is concentrated on the south coast. Reindeer breeding and fur animal hunting. Deposits of stannum and gold. The south coast is also where the port and the city of Nome – the center of the gold-bearing region – are located.
West off the cape is Clarence Bay, formed by a sand spit stretching from the mainland. Port Clarence is located in the inner part of the bay.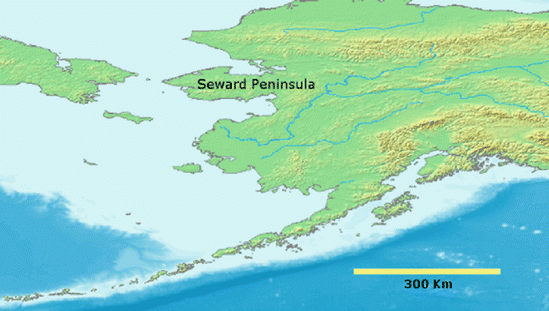 Copyright information
© Springer International Publishing Switzerland 2016