"Arktika 2007"
Reference work entry
DOI:
https://doi.org/
10.1007/978-3-319-24237-8_46
"Arktika 2007" – a research and geopolitical expedition conducted by Russian and foreign explorers in the Arctic zone of the Russian Federation. There were two stages in this expedition. The first was performed in the period from May to June 2007 on a nuclear icebreaker "Rossiya" and aimed at geological and geophysical studies in the zone where the Lomonosov mid-ocean ridge joins the Laptev Sea and the East Siberian Sea shelves. The expedition was meant to justify the external border of the Russian Federation continental shelf. In concordance with the UN Convention on the Law of the Sea of 1982 ratified by Russia in 1997 its participants may claim an expansion of 200 miles of exclusive water area economic zone and a spread of its sovereign rights for the continental shelf within 10 years after its ratification. This stands if it is proven that the subaqueous shelf part is the continuation of the mainland, the continental massif of the littoral state.
The second stage of "Arktika 2007" took place in the period from July to August 2007. It was conducted on board the research ship "Akademik Fedorov" that left St. Petersburg and was led to the North Pole by the nuclear icebreaker "Rossiya" belonging to Murmansk Shipping Company. On August 2, 2007, after the participants reached the Pole, they performed a descent to the bottom in two manned submersibles "Mir 1" and "Mir 2," on board the first there being three Russian citizens (A. Sagalevich, A. Chilingarov, and V. Gruzdev) and the second being manned by an international team of three people as well (a Russian citizen E. Chernyaev, a citizen of Sweden F. Paulsen, and an Australian citizen M. McDowell). "Mir 1" descended to the depth of 4,261 m and "Mir 2" to the depth of 4,302 m. They took samples of the bottom soil and planted a flag of the Russian Federation made of a titanium alloy.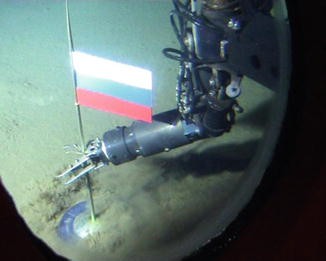 Copyright information
© Springer International Publishing Switzerland 2016