"Sadko" ("Lintrose" Before 1915)
Reference work entry
DOI:
https://doi.org/
10.1007/978-3-319-24237-8_442
"Sadko" ("Lintrose" Before 1915) – a Soviet icebreaker. Built in 1913 in Newcastle upon Tyne, the Great Britain, by "Swan Gunter and Wilhelm Richardson" with the name "Lintrose." Purchased from Canada in 1914 with the name changed to "S.," after the main hero of an old Novgorod story. The height is 78 m, width 11.4 m, hull height 7.5 m. Deadweight 3,800 t, machine capacity 3,500 hp, and speed 14.5 knots. In 1916 the icebreaker sank as the result of the navigation error in Kandalaksha Gulf of the White Sea. In 1933 lifted by Special Purpose Underwater Work Expedition (EPRON) and repaired in Arkhangelsk in 1934. Used for ice channeling in the White Sea. Participated in expeditions to explore the Arctic seas. In 1935 "Sadko" went for the first high-latitude expedition of the Northern Sea Route authority under the command of G. A. Ushakov, during which depths and currents of the Arctic Basin were explored (a branch of the North Atlantic Current found), set a world record in free floating in the Arctic Circle. "S." reached 82°41′N in ice and discovered an island named after Ushakov. In 1937–1938, along with icebreakers "Sedov" and "Malygin," it stayed for winter and drifted in the eastern part of the Laptev Sea. Before 1941 it went for several expeditions along the Northern Sea Route. Perished in 1941 in the Kara Sea, hitting an unknown underwater bank to the far east of the Izvestiy TSIK Islands. The crew was saved by the icebreaker "Lenin."
An island in the Nordensheld Archipelago was named in the honor of "S." The icebreaker contributed significantly to the exploration of the Arctic Region and the Northern Sea Route.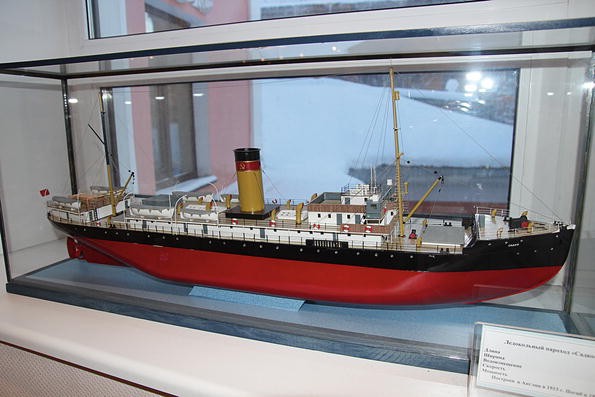 Copyright information
© Springer International Publishing Switzerland 2016