Ponomarev, Pavel Akimovich (1896–1970)
Reference work entry
DOI:
https://doi.org/
10.1007/978-3-319-24237-8_407
Ponomarev, Pavel Akimovich (1896–1970) – a Soviet sea captain, headed the first nuclear-powered icebreaker "Lenin," and an active participant in the development of the Northern Sea Route. From the age of 16, he served as a sailor on sailing ships in the White Sea. He graduated from the Kemskie nautical classes in 1915 and then was a sailor in the Navy in the Baltic and the North. In 1919, he graduated from the Arkhangelsk Naval College. Since 1922, P. sailed as a navigator on the icebreakers "Lenin" and "Ermak" in the Baltic Sea. In 1928, as a senior assistant captain of the icebreaker "Krasin" he participated in search and rescue in the Arctic Ocean of the crew of the crashed Italian airship "Italy" of U. Nobile. Since 1932, P. was a captain of "Krasin." In 1934, onboard of "Krasin," he sailed from Leningrad to the Chukchi Sea through the Panama Canal to assist the expedition of O. Schmidt on the steamship "Chelyuskin." Since 1935, P. served as a captain of cargo ships on the Northern Sea Route. In 1941, onboard of the icebreakers, "Siberia" and "Admiral Lazarev" supported ice convoys in the White Sea under bombing of Nazi aircraft. In 1956, P. was in charge for the construction of the world's first nuclear-powered icebreaker "Lenin," who was then appointed as a captain and held this post until 1961.
His name was given to the supply-icebreaking ship "Pavel Ponomarev" of the Murmansk Shipping Company.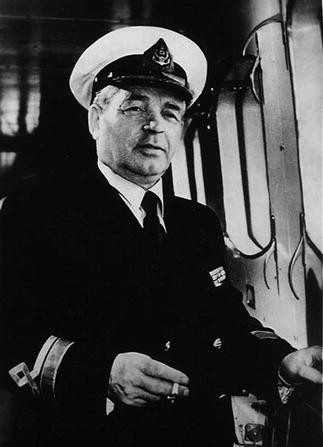 Copyright information
© Springer International Publishing Switzerland 2016