Palander af Vega, Adolf Arnold Louis (1842–1920)
Reference work entry
DOI:
https://doi.org/
10.1007/978-3-319-24237-8_388
Palander af Vega, Adolf Arnold Louis (1842–1920) – a Swedish naval officer and polar researcher. He was born in Karlskrona, Sweden. His father was an admiral of the Royal Swedish Navy and director of the Royal Navy dockyard in Karlskrona. At the age of 14, P. became a naval cadet. In 1864, he graduated from the Naval Academy as a second lieutenant and took part in an expedition to the Mediterranean Sea, Sierra Leone, and Liberia on the corvette "Gefle," as well as in a voyage to the USA. In 1868, P. participated in the expedition of A. Nordenskiöld to Spitsbergen on the steamer "Sofia." In 1869–1870, on the ship "Vanadis," he took part in the expedition in the Mediterranean Sea. Then he became the ship's captain on the postal steamer "Polhem," first cruising during the winter of 1870–1871 between Gotland and mainland Sweden and then during 1871–1872 to secure the postal route across the Öresund in severe winter conditions. He was also the ship's captain on the steamer "Polhem" during Nordenskiöld's winter expedition to the Spitsbergen islands in 1872–1873, where he displayed exceptional courage and skill and significantly contributed to the scientific work. From the base camp at Mossel Bay, Palander and nine other men accompanied Nordenskiöld on the unsuccessful attempt to reach the North Pole in May–June 1873. Upon return to Sweden, Palander's request for an honorable discharge from the navy was granted, and he took employment first as a captain on cargo ships en route to England and later as a captain for a steamer line based in Gothenburg. In 1877 Palander returned to the Royal Navy and became the captain on the successful expedition of A. Nordenskiöld on "Vega" in 1878–1879, which first navigated the Northeast Passage. Upon return to Sweden, he was made a noble by the Swedish King Oscar II under the name of "Palander af Vega." During 1881–1883, Palander served as an aide-de-camp to the director of the Royal Navy shipyard in Karlskrona. In 1900 he was promoted to full rank of rear admiral, and in 1903 he became a vice admiral. In 1905 he resigned his post as cabinet minister together with the rest of the government and resumed his post in the Swedish Royal Navy.
His name was given to a bay in the northwestern part of the Taymyr Peninsula and a strait in the archipelago of Nordenskiöld southwest of Taymyr, the Kara Sea.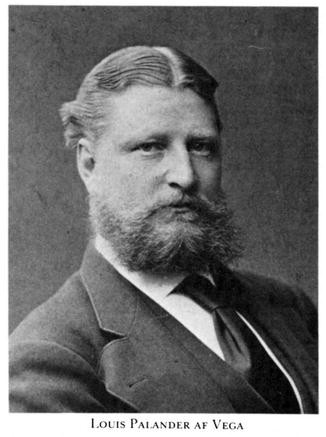 Copyright information
© Springer International Publishing Switzerland 2016