Lena River Delta
Reference work entry
DOI:
https://doi.org/
10.1007/978-3-319-24237-8_303
Lena River Delta – is rather a rare case of a huge alluvial deltaic cone formation (the area is up to 28,500 km2). The top of the estuary is a head of the forest left arm – Burlukskaya Protoka. 70 km down the river close to the cliffy cape Krest-Tumsa and Stolb Island, there is a main point of the Lena's division into large arms (protokas) – Olenyokskaya, Tumatskaya, Trofimovskaya, and Bykovskaya. L.R.D. presents a product of sea gulfs filling up with river drift and a result of advancement estuaries formation by separate river arms. In a current day there are remains of the bedrock relief left (Stolb Island, America-Khaya Mountain), as well as the areas of older seashore lowland. The hydrographic network of the delta includes 6,089 stream flows of the total length of 14,626 km and 58,728 lakes with the total area of 3,196 km2; in the delta there are 1,600 islands.
Olenyokskaya Protoka forms a vast stream-flow bar 28 m long in the place of flowing into the Olenyok Gulf. Tumatskaya Protoka flows to the northwest, and a large Arynskaya Protoka extends outward from it. Trofimovskaya Protoka (with a system of arms of itself) is the only natural continuation of the Lena bed. It flows northward. Here there is a resource reserve "Lena Delta." The territory of the Lena Delta is a part of the State Natural Reserve "Ust-Lenskiy." In the delta, there are two polar stations: "Khabarovo" close to Stolb Island and "Dunai" on the archipelago of the same name. The water area of the Lena River is a place of spawning and feeding of Siberian white salmon, Arctic cisco, muksun, sterlet sturgeon, and other valuable fish species. Here there are also wintering holes of the sturgeons. In times of the Great Patriotic War (1941–1945), the German soldiers built a secret stronghold with fuel supplies for their submarines in the Lena Delta. In the spring of 1945, a Nazi submarine U-534 reached this place. The documents, found inside the submarine, prove the existence of the stronghold. The Lena Delta is a claimer for entry into the list of UNESCO World Heritage Sites.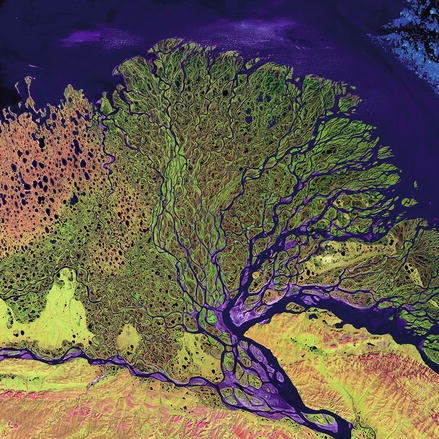 Copyright information
© Springer International Publishing Switzerland 2016