Lavrov, Aleksey Modestovich (1887–1942)
Reference work entry
DOI:
https://doi.org/
10.1007/978-3-319-24237-8_298
Lavrov, Aleksey Modestovich (1887–1942) – Russian hydrographer, cartographer, explorer of the Eastern Arctic, and engineer rear admiral. Upon graduating the Marine Corps, L. served in the Baltic. Since 1911 he was on the Siberian flotilla, sailing on the transport ship "Taymyr." L. was an auditor, a watch officer, and an assistant chief of the Arctic Ocean Hydrographic Expedition, during which Severnaya Zemlya (Northern Land) was discovered. In 1914–1915, during the passage from Vladivostok to Arkhangelsk on the Northern Sea Route, L. wintered in the Taymyr Peninsula.
L. was a participant of the World War I (1916) and Civil War in Russia (1918–1920). Later, he was a member of two expeditions – the Kara Trading Expedition on "G. Sedov" (1926) and the Rescue Expedition on "Malygin" (1928) in the search for U. Nobile. In 1930, L. was one of the organizers of the All-Union Arctic Institute; then he became the secretary of the Polar Commission of the Academy of Sciences and the chairman of the Commission for the Study of the Arctic Ocean. In 1932, L. led the Taymyr scientific expedition on board of "Taymyr." In 1937, he headed the navigation of two hydrographic ships from Leningrad to Vladivostok on the Northern Sea Route. In the beginning of the Great Patriotic War (1941–1942), L. worked as chief editor of the special Navy department, which issued maps for the Red Army. His name is given to a bay (the coast of the Wilkes Land, Antarctica), a cape, and an island in the Laptev Sea (Severnaya Zemlya); a cape in the Kara Sea; and a strait in the Barents Sea.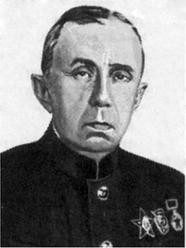 Copyright information
© Springer International Publishing Switzerland 2016