Anjou, Petr Fedorovich (1796–1869)
Reference work entry
DOI:
https://doi.org/
10.1007/978-3-319-24237-8_23
Anjou, Petr Fedorovich (1796–1869) – an admiral and explorer of the Arctic, the Caspian, and the Aral seas. In 1814 he graduated from Marine Cadet Corps. He served in the Baltic Fleet. In 1815 he was promoted and became midshipman. In 1817 Petr Anjou traveled to Spain (Cadiz) from Kronstadt. In the period from 1820 to 1823 in command of Ust-Yanskaya Expedition, he described the northern coast of East Siberia between the rivers Olenyok and Indigirka. He also was the first to map the New Siberian Islands. Petr Anjou traveled 10,000 km in dog sledges in winter and about 4,000 km riding a horse or in a boat in summer thus proving that the coast can be described from the sea and from the frozen sea surface in winter. He was the first to study drift and pack ice in the Laptev Sea, the dominating currents and winds, day and seasonal fluctuation of air and water temperature, and soil character and made measurements of the depths and determined the magnetic declination and magnetic dip and their yearly changes, the flood and ebb sea level variations, etc. He discovered the northern shore of Kotelny Island and Figurina Island. In 1825–1826 as captain-lieutenant (1824) took part in a geodesic description of the northeastern shores of the Caspian and the western shores of the Aral Sea. In command of a battery on the battleship "Gangut" he distinguished himself in the battle of Navarino (1827) in which he was badly wounded. In 1828–1844 Petr Anjou served in the Baltic Fleet again and was promoted to the rank of rear admiral (1844). Beginning from 1849 he was a member of the Marine Academic Committee and from 1855 director of mast timber department. In 1860 he became a member of the council of the Ministry of State Property. In 1866 he was promoted to the rank of admiral.
A northern group of the New Siberian Islands, a cape on Kotelny Island, and a spit on Faddeyevsky Island (both the islands are part of the New Siberian Islands) in the Laptev Sea were named after Petr Anjou.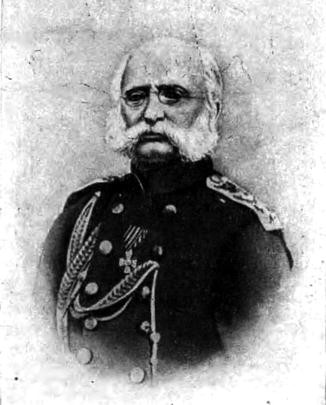 Copyright information
© Springer International Publishing Switzerland 2016