"Iosif Stalin" ("Sibir")
Reference work entry
DOI:
https://doi.org/
10.1007/978-3-319-24237-8_227
"Iosif Stalin" ("Sibir") – the first Soviet icebreaker named after I. V. Stalin, the Soviet statesman. It was built in 1937 at Baltic Shipyard in Leningrad. The icebreaker could carry three seaplanes for ice reconnaissance and was fitted out with weatherproof quarters, repair shop, and refrigerators designed to store year's food supply. The vessel set out on its first voyage in August 1938. At the same time, the icebreaker under the command of M. P. Belousov was engaged in operation to free the "G. Sedov," an icebreaker with steam engine, trapped in ice on the Greenland Sea. Here, the "Iosif Stalin" reached 80
°
42′N that was the record for free floating during polar night. In 1939–1940, it passed through the Northern Sea Route twice in one shipping season. In 1940, it was awarded the Order of Lenin. During the Great Patriotic War (1941–1945), the icebreaker was armed, in 1942, and reassigned to the chief directorate of the Northern Sea Route from White Sea Flotilla. After the navigation in the eastern sector of the Arctic in 1942, it went to Seattle, Alaska, and the USA, for repairs. In 1956, it was renamed "Sibir," overhauled, and improved with boilers being switched to oil fuel. In 1958, the icebreaker was converted in Vladivostok. It was in operation in the Arctic region until 1972 and was consigned for breakup in 1973.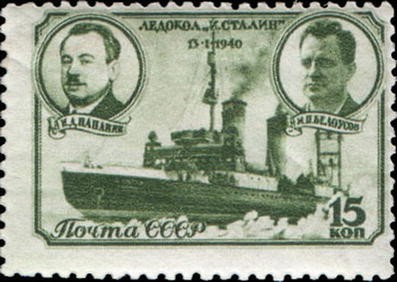 Copyright information
© Springer International Publishing Switzerland 2016