Anjou Islands
Reference work entry
DOI:
https://doi.org/
10.1007/978-3-319-24237-8_22
Anjou Islands (Yakut name "Anjou aryylara") – central and largest islands in the New Siberian Archipelago. They are situated on the border of the Laptev and the East Siberian Seas, Russia. The archipelago consists of the islands Kotelny, New Siberia, Belkovskiy, Faddeyevsky, and Bunge Land. Total area is around 29,000 km
2
. The landscape is predominantly plain and 60–80 m high. From September to June, the islands are surrounded by massive ice cap. The southern shores and Sannikov Strait are traversed by a line of the eastern part of the Northern Sea Route. The islands are included into the Lena Delta Wildlife Reserve. They were discovered by industrialists I. Lyakhov in 1772–1773 (Kotelny Island) and Y. Sannikov in 1805 (Faddeyevsky and Stolbovoy islands). The archipelago is named after the Russian Arctic explorer admiral P. F. Anjou who was studying the islands in 1821–1823. Sometimes they are called the New Siberian Islands proper. Earlier they included Faddeyevsky Island and Bunge Land, but they cannot be found as separate islands on modern maps.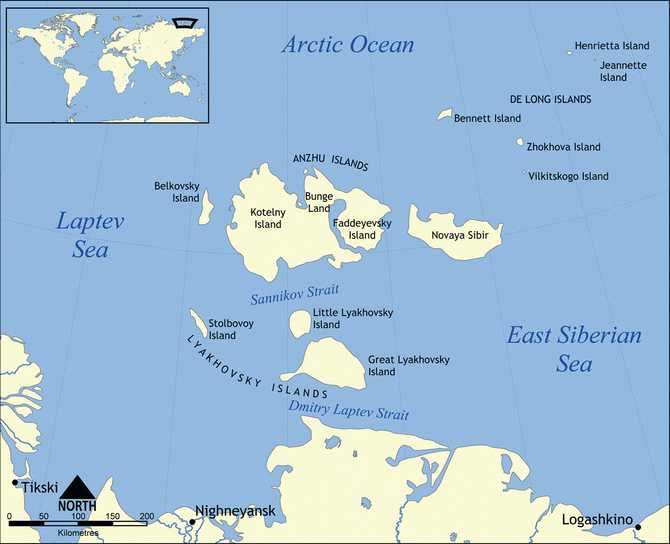 Copyright information
© Springer International Publishing Switzerland 2016