Alaska Maritime National Wildlife Refuge (AMNWR)
Reference work entry
DOI:
https://doi.org/
10.1007/978-3-319-24237-8_2
Alaska Maritime National Wildlife Refuge (AMNWR) – established in 1980 by the decision of the US Congress to conduct national and international scientific research of marine resources. It was organized to protect marine mammals, marine, and other migratory birds. It is composed of 2,400 islands, headlands, cliffs, islets, rocks, and reefs of Alaska with a total area of 20,000 km
2
, of which 10,700 km
2
are inhabited by wildlife. The refuge extends from Cape Lisburne to the Chukchi Sea, to the end of the Aleutian Islands in the west and from Forrester Island in the southern part of Alaska Peninsula to the east. Here are various forms of landscapes and territories, including tundra, volcanoes, cliffs, beaches, lakes, and rivers. The refuge is well known for the abundance of seabirds. Here are 75 % of Alaskan seabirds – from 15 to 30 million of 55 various species. Forty millions of seabirds accounting for 80 % of all seabirds in North America inhabit this area. Sea lions, seals, walruses, whales, and otters are also present. The administration of the refuge is located in the city of Homer, Alaska.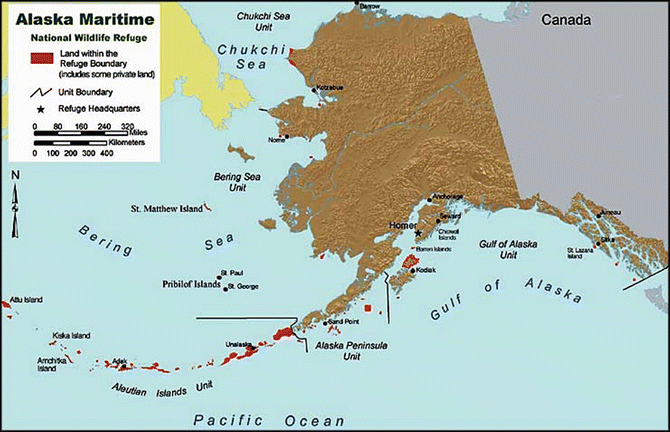 Copyright information
© Springer International Publishing Switzerland 2016