De Long Islands
Reference work entry
DOI:
https://doi.org/
10.1007/978-3-319-24237-8_146
De Long Islands – northeastern group of islands in the East Siberian Sea, which is included into the New Siberian Archipelago (Jeannette, Henrietta, Bennett, Vilkitsky, Zhokhov Islands), the Sakha Republic (Yakutia), Russia. De long islands lie to the northeast of Novaya Zemlya Island. The total area comprises of 217–228 km
2
. The height is up to 426 m (Bennett Island). Jeannette, Henrietta, and Bennett Islands were discovered in 1879–1881 during the expedition of the American polar explorer lieutenant G. De Long on the USS "Jeannette." Two other islands were discovered by the hydrographical expedition of Vilkitsky on the ships "Vaygach" and "Taymyr" in 1914.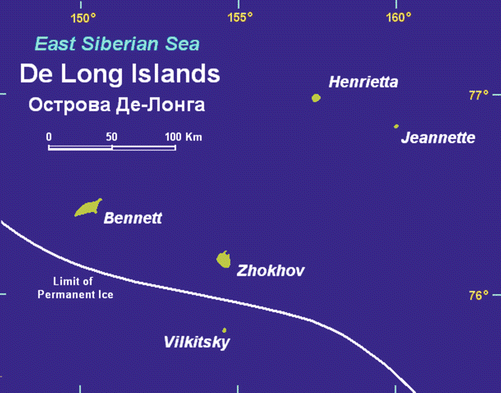 Copyright information
© Springer International Publishing Switzerland 2016