Davydov, Boris Vladimirovich (1884–1925)
Reference work entry
DOI:
https://doi.org/
10.1007/978-3-319-24237-8_145
Davydov, Boris Vladimirovich (1884–1925) – a Russian count, sea officer, hydrographer, and geodesist. Upon graduation from the Sea Cadet Corps, he participated in the Russo-Japanese War. In 1919, he was appointed a commander of the icebreaker "Taymyr" on which he identified the position of several points from Cape Dezhnev to the Kolyma River. In 1913, he led the hydrographical expedition in the Pacific Ocean. He created the "Sailing Directions of the RSFSR coasts, the Okhotsk Sea and the East shore of the Kamchatka Peninsula including Karaginsky Island" (1923), for which the Russian Geographical Society awarded him the F. Litke Gold Medal. After the establishment of the Soviet government in Vladivostok (1922), D. became the head of the Ship Navigation Security Protection Authority in the Far East. In 1924, he commanded the navigation of the gunboat "Krasny Oktyabr" in Wrangel Island, the Chukchi Sea. The expedition removed the American colonists from the island and restored the rights of the USSR for it installing the state flag on the island.
In the grip of ice. The navigation of the Gunship "Krasny Oktyabr" in Wrangel Island," Leningrad, 1925.
Davydov gave his name to bays in Wrangel Island, the Chukchi Sea, and Dobrynya Nikitich Island in the Kara Sea and to capes in Bolshevik Island in the Laptev Sea and in the Chikhachev Bay in the Sea of Japan. The gunship "Krasny Oktyabr" was renamed into "Davydov." Now an oceanographic ship and a fishing refrigerator in the Pacific Ocean bear the name of Davydov.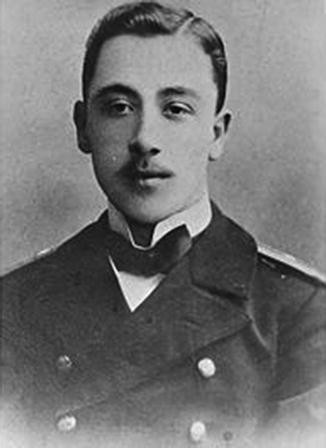 Copyright information
© Springer International Publishing Switzerland 2016