"Chelyuskin"
Reference work entry
DOI:
https://doi.org/
10.1007/978-3-319-24237-8_120
"Chelyuskin"– a steam vessel constructed in 1933 in Denmark by the "Burmeister og Wain" Company, by the order of the USSR under the name "Lena." Subsequently, it received the name of the Russian polar explorer of the eighteenth century, captain Semyon Chelyuskin. The vessel is 100 m in length, 16.6 m in width, and has a displacement of 3,600 tons, with the engine capacity of 2,450 hp. It had minor ice protection in the bow, but the vessel was not classified an icebreaker. In July 1933, the vessel arrived in Leningrad. The first head of the Chief Directorate of the Northern Sea Route (Glavsevmorput or GUSMP), O.Y. Schmidt, decided to replicate the voyage of the icebreaker "A. Sibiryakov" in one navigation along the Northern Sea Route from east to west toward Vladivostok, unaccompanied by an icebreaker, thus proving that it was possible to navigate this route on a conventional transport ship.
He also became the leader of the expedition; V.I. Voronin was appointed captain of "Chelyuskin" (in 1932, Voronin first navigated this route on board the "A. Sibiryakov"). The decision to have it through the voyage was made at the government level. "Ch." set out from Leningrad on July 16, 1933, went to Copenhagen for minor repairs, and then voyaged to Murmansk. On August 10, 1933, "Ch." left Murmansk and in storm conditions navigated through the Laptev Sea, East Siberian Sea, and in the Chukchi Sea where it was clobbered by ice and began drifting. In November 1933 it was in the Bering Strait, 500 m from clean water, but a typhoon drove the ship, already frozen into the ice, in the opposite direction. On February 13, 1934, in the Chukchi Sea, on the 212th day of the voyage and on 120th day of drifting, the vessel was crushed by ice and sank.
One person died (supply manager B.G. Mogilevich), and 104 members of the crew of "Chelyuskin" (including ten women and two young children) landed on an ice floe and were later rescued by the Soviet polar aviation pilots. All members of the expedition who were on the ice (except children) were awarded the Order of the Red Star, and seven pilots – M. Vodopyanov, I. Doronin, N. Kamanin, A. Lyapidevsky, S. Levanevsky, V. Molokov, and M. Slepnev – were the first to be awarded the title "Hero of the Soviet Union." Subsequently, some of the ship's crewmembers were persecuted and perished in the camps of the Gulag.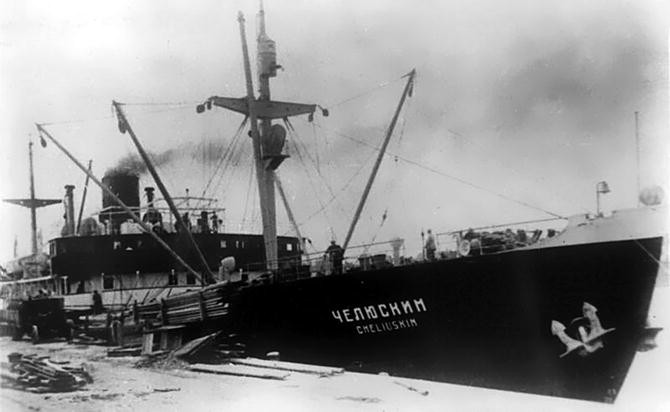 Copyright information
© Springer International Publishing Switzerland 2016